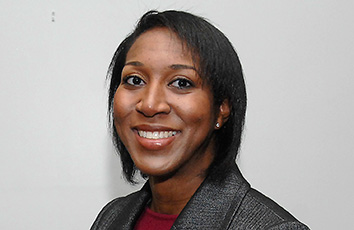 Oni N. Harton's career is on an upward trajectory. Oni, who practices in the litigation, appellate and insurance groups, has been recognized by her firm for successes on behalf of her clients, receiving the Rainmaker Award and the Appellate Advocacy Award. She attended law school as a fellow of the Indiana Conference for Legal Education Opportunity and received multiple honors for her academic achievement. Before joining Bose McKinney & Evans LLP, Oni clerked for former Indiana Justice Frank Sullivan Jr., who said he was extremely impressed by her intelligence, warm personality and ethical standards. Oni is active on several firm committees and participates in the Indianapolis Bar Association's Pro Bono Hospice Program and Low Asset Will Program.
What's the most important thing your mentor has taught you?
Think it through. That is, not to jump in and start working on a problem thinking it will save time and money, but to think through the process before I start. The extra time spent on the front end will result in time saved in the back end.
If you could take a sabbatical from the law for a year to work your fantasy job, what job would you choose?
I would choose not to work at a "job." Rather, I'd be a stay-at-home mom and community volunteer.
If you could meet and spend a day with one lawyer from history, who would it be and why?
Sandra Day O'Connor. She's not only a great legal mind and a pioneer but also seems plain-spoken and humorous, yet enigmatic.
If you could go back in time, "when" would you go to and what would you do?
It's asking a lot (and I'm certainly not worthy) but I'd go back to "In the beginning." I'd also request the sensory capability to take it all in for several days.
What civic cause is the most important to you?
Family preservation and promotion.
In life or law, what bugs you?
When there's something that we can do to minimize the effects of unfairness or "bad luck" in people's lives but fail to do so.
If a drink or sandwich were to be named after you, what would it be called and what would be in it?
"The Flow." It's a sandwich that uses the best ingredients working together to create gustatory bliss. My choices would be pesto, provolone cheese, tomato, fresh spinach or lettuce, avocado and a squirt of olive oil between toasted Ezekiel bread.
If you could pick a theme song to describe your life, what would it be?
"Unwritten."
Please enable JavaScript to view this content.