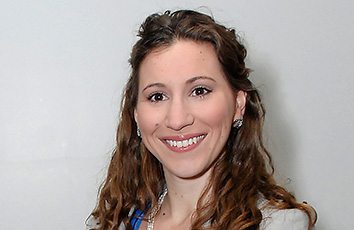 In the three years since she graduated from law school, Anna (Obergfell) Kirkman's development and leadership of the Medical-Legal Partnership at Wishard Health Services has not only improved the health of patients and influenced the way care is provided, it has become a national model for similar partnerships. The MLP, which intervenes when patients have health problems that require a legal remedy, has expanded to five Wishard locations under Anna's watch. Through her work, she's developed her knowledge of general health care law and demonstrates true compassion for Wishard patients.
What's the most important thing your mentor has taught you?
To be responsive and thorough.
Would a world without 24/7 technology be a good or bad thing?
It's great to sometimes shut down and get away from the constant buzz of email and social media, but technology also supports life-saving medical equipment and many other tools that we rely on to keep us safe.
If you could take a sabbatical from the law for a year to work your fantasy job, what job would you choose?
I would be a reporter for the radio program "This American Life."
If you could meet and spend a day with one lawyer from history, who would it be and why?
Gandhi began as a lawyer, and in many ways, that laid the groundwork for his zealous and compassionate advocacy.
What civic cause is the most important to you?
Reinvesting in the local community. Whether by going to the farmer's market, volunteering with local nonprofits or participating in local professional organizations, it's important to develop our surroundings.
If you could go back in time, "when" would you go to and what would you do?
Since much of history is marked by war and tragedy, instead of choosing a significant historical event, I'd like to go back and be a fly on the wall of the "Saturday Night Live" set during the late '70s when Gilda Radner, Dan Aykroyd and Bill Murray were part of the cast.
Please enable JavaScript to view this content.