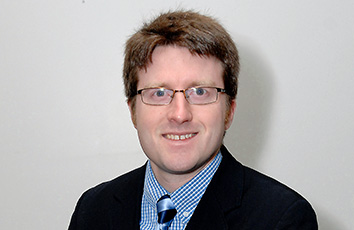 Adam C. Mueller combines competence, compassion, efficiency and just plain hard work in providing legal services to vulnerable segments of the population. Adam is a great mentor to interns, law students and new attorneys who work with him in serving clients through his Medical-Legal Partnerships. Not only has Adam developed several MLPs with health care providers in the Indianapolis area to address people's health and legal problems, but he's been instrumental in assisting a variety of firms and organizations with developing their own MLPs. He's also taken it upon himself to develop and implement reform and a transition plan at the Indiana Legal Services Inc.'s Indianapolis office, which will improve operations and future viability.
If you could take a sabbatical from the law for a year to work your fantasy job, what job would you choose?
Run a hobby farm.
If you could meet and spend a day with one lawyer from history, who would it be and why?
Chief Justice John Marshall. Professor David Williams' class on Native American law was the bright spot of my legal education. I think tribal sovereignty issues are incredibly interesting, and Marshall had as much as anyone to do with the legal framework.
Would a world without 24/7 technology be a good or bad thing?
Bad. I'm generally in favor of more information being available to more people.
What civic cause is the most important to you?
Access to affordable health care.
Numerous TV shows center around lawyers and their practices. Are any of them close to realistic?
No. But as a kid, I loved watching Ben Matlock get the true killer to admit his/her crime on the witness stand.
What's the most important thing your mentor has taught you?
How to stake out reasonable positions on behalf of a client.
In life or law, what bugs you?
Not having enough time to do all of the things I'd like to.
What class in law school did you find the most difficult?
Income Tax.
If a drink or sandwich were to be named after you, what would it be called and what would be in it?
If it were named after me, wouldn't it be called the "Adam Mueller?" But, if you ask anyone, it would be filled with pulled pork.
If you could have one superpower, what would it be?
The ability to be in two places at once.
Please enable JavaScript to view this content.