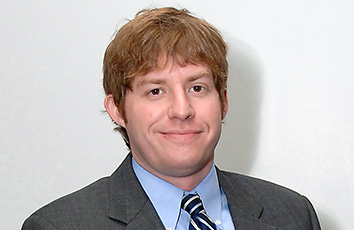 Weston E. Overturf stands out among his peers in the bankruptcy bar due to his significant experience representing both creditors and debtors in complex business restructurings. He's also been able to argue a variety of issues before the federal courts in Indiana and has risen to become a key player in the firm for his outstanding work. He is known to avoid taking his work on cases unnecessarily personal – something all too easy for newer lawyers to do. Weston has frequently volunteered with the Ask-a-Lawyer program and is active in the Noblesville Swim Club.
What's the most important thing your mentor has taught you?
The process and preparation of a task or matter is very often more important than the legal aspects and/or outcome.
What civic cause is the most important to you?
Education and mentoring of young people.
If you could pick a theme song to describe your life, what would it be?
"'Till I Collapse."
If you could take a sabbatical from the law for a year to work your fantasy job, what job would you choose?
Management/executive in the New York Yankees organization (of course if I got that job the sabbatical would last much longer than one year!); an IndyCar driver; or in a more realistic world – high school soccer/swim coach.
What class in law school did you find the most difficult?
Constitutional Law.
Numerous TV shows center around lawyers and their practices. Are any of them close to realistic?
None that I have ever seen. … None of them show the actual amount of work that goes into taking a position in a matter or making a legal argument – the preparation is the most important part and the least "sexy" part of the practice of law.
In life or law, what bugs you?
People who lack respect for others around them.
If you could have one superpower, what would it be?
The ability to freeze time.
What do you find scary?
Failure.
If you could go back in time, "when" would you go to and what would you do?
Back to the Future.
Please enable JavaScript to view this content.