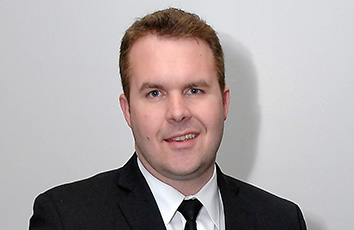 While prosecution is often a thankless job with no real winners in the end, Eric D. Schmadeke has committed himself to work tirelessly and zealously as a deputy prosecutor for more than six years. He's prosecuted more than 60 major felony cases, with a success rate of more than 90 percent. Eric partnered with the Office of the Indiana Attorney General on the Conference of Western Attorneys General Alliance Partnership, where he trained Mexican judges, prosecutors, investigators and forensic scientists. He's also partnered with the Western Regional Child Advocacy Center in Salt Lake City, Utah, to prepare medical and legal teams for child abuse court cases. Eric has volunteered as a guardian ad litem and court-appointed special advocate.
What civic cause is the most important to you?
It has been estimated that for every $7 spent on non-working adults, the federal budget allocates $1 for children. I would like to see that change in my lifetime.
What's the most important thing your mentor has taught you?
There is not a case worth winning or bad guy worth taking down at the expense of your honor, integrity and reputation.
If you could take a sabbatical from the law for a year to work your fantasy job, what job would you choose?
Snow ski tester – Vail, Colorado.
Numerous TV shows center around lawyers and their practices. Are any of them close to realistic?
A TV show (even the closest to reality) about a criminal jury trial (which most of them are) is like taking the eight most dramatic five-minute segments from a 200-plus-hour documentary. You get to watch all the fun, but not everything you do to get there. And whereas Jack McCoy gets to focus all of his energy on one rape, murder or molest at a time, right now I have 41 open and active.
What class in law school did you find the most difficult?
The ones that took attendance. But seriously … Professor Jegen's Income Tax. You had to be test-ready every day in preparation for his barrage. I loved that challenge.
If you could meet and spend a day with one lawyer from history, who would it be and why?
I would be standing behind Abraham Lincoln at Ford's Theatre waiting to snatch that little J.W.B. and toss him over the balcony (it only broke his leg). "Sic Semper Interfector," I would say. He stole the three-and-a-half years our country had left with Lincoln. I want it back.
In life or law, what bugs you?
It bugs me that the great deputy prosecuting attorneys – the John Keiffners, the Steve Owenses, the Janna Skeltons, and the scores of others – here, and around the state – aren't often recognized in the legal community for being top-notch lawyers in their own right. Also, you know when windshield wipers leave streaks worse than the raindrops? Ugh. That is the worst!
Would a world without 24/7 technology be a good or bad thing?
Objection. Calls for speculation.
If you could have one superpower, what would it be?
I really didn't read comic books, so my known options are limited. I guess to be able to always write my thoughts on paper as they are in my mind or Jedi mind-tricks to speed my way through motions hearings?
What do you find scary?
I have phobophobia. I'm frightened of being afraid.
Please enable JavaScript to view this content.