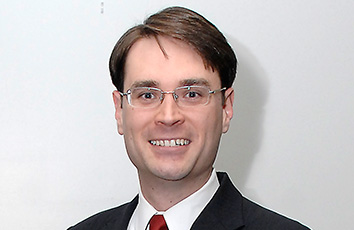 Since he was 12 years old, Josh S. Tatum has known he wanted to be an attorney because the lawyers he knew were some of the finest people he encountered. His sense of ethical commitment is highlighted by his graduating from school with a Juris Doctor and a Master's in Divinity. Josh practices in appeals, participating in more than 35 cases before state and federal appellate courts in just two years of practice. He is especially proud of the amicus brief he authored in the Indiana school voucher case that the Indiana Supreme Court ruled on in March 2013. Josh is bright, able and enthusiastic and is considered by his mentor George Plews as someone who will have a longstanding and significant impact on the legal community.
If you could take a sabbatical from the law for a year to work your fantasy job, what job would you choose?
President of Wabash College. Wabash is an institution that changed my life starting with my enrollment and continuing today. The faculty, fellow alumni, friends and family have been a close community that challenged me to shape my identity more than any other. It's my fantasy job because it would be a thrill to help lead that community in striving toward its mission.
If you could go back in time, "when" would you go to and what would you do?
I would meet my first ancestors who immigrated to the United States and learn about what motivated them to make such a dramatic change in their lives.
In life or law, what bugs you?
Bad writing.
If you could meet and spend a day with one lawyer from history, who would it be and why?
Abraham Lincoln. His writing and rhetoric are the most concise and powerful I have come across from any lawyer. I'd love to talk to him about how he developed closing arguments, brought cases to resolution, and drafted his speeches. His great accomplishments as president too often overshadow his great skill as an attorney.
If you could have one superpower, what would it be?
The ability to slow down time.
What's the most important thing your mentor has taught you?
Kindness demonstrates strength rather than weakness.
What do you find scary?
Student loans.
What class in law school did you find the most difficult?
Contracts.
What civic cause is the most important to you?
Indiana YMCA Youth and Government. It's a civic-education program that brings high-school students from across the state to participate in a model government at the Indiana Statehouse for a weekend. Students play the roles of legislators, the governor, secretary of state, Supreme Court justices, media correspondents and others. My wife and I are alumni of the program and both want young Hoosiers to internalize the Y's values and Youth and Government's motto, "Democracy must be learned by each generation."
If you could pick a theme song to describe your life, what would it be?
"Back Home Again in Indiana."
Would a world without 24/7 technology be a good or bad thing?
I'm agnostic on this. Electronics can be used for good or bad. Technology has always posed problems. Advances in metallurgy made for better plows and for better weapons. The printing press similarly had two sides. "Technology" is just another aspect of life we have to deal with.
Please enable JavaScript to view this content.