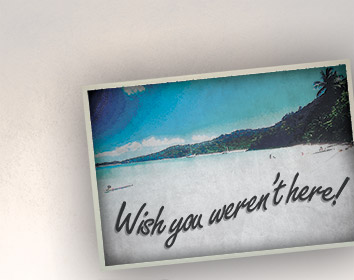 Just because a dispute might be ugly, it doesn't mean the surroundings have to be.
Mediators have long known that a serene, comfortable setting can be conducive to helping parties resolve their differences, but a Fort Wayne firm has taken the concept farther – thousands of miles farther.
Tracey L. Rosswurm and partner Christopher L. LaPan a few months ago founded Destination Divorces of Indiana LLC. The venture's name says it all: Parting couples choose an exotic location where they travel with a mediator to call the marriage off.
Rosswurm said the idea arose from a client in a divorce case who believed the familiar surroundings in Fort Wayne seemed to be blocking a resolution and suggested escaping to the Bahamas. "It got us to thinking," Rosswurm said. "It's kind of an uplifting and unconventional way of getting a divorce done."
Recently, Destination Divorces settled its maiden mediation in Scottsdale, Ariz.
"We booked it for three days – Friday, Saturday and Sunday – and got it done on the first day," Rosswurm said. "The rest of the time was spent sightseeing."
Couples who choose Destination Divorces are in control of the process from the start because they're choosing where they want to go, booking the trip themselves and paying for their own travel. Rosswurm said the firm doesn't charge clients for attorney travel or expenses, instead writing them off as business expenses.
The divorcing parties have a vested interest in resolution. After all, they're on vacation after they resolve their issues. "They each understand what they're getting into and what's going to happen," Rosswurm said, noting both have agreed in advance to arbitration if the mediation reaches impasse. "They're both in the driver's seat. They're both determining the outcome."
Rosswurm believes the concept can't help but lead people to resolution. "When you're talking about walking over to the Metro Building here downtown versus sitting on the beach or in a clubhouse with palm trees all around, it lightens the mood.
"It could only be helpful, I think, if they're in a place where they want to be."
Serene settings
Not everyone will opt for a desert oasis or calm blue ocean for mediation, but many practitioners go the extra mile to remove the trappings of law offices, opting instead to establish a comfortable and serene getaway.
Elodie Ann Meuser, Lori Anne Perryman and Carol Terzo had worked together on family and juvenile matters for more than a decade in the Marion County Prosecutor's Office before they formed The Mediation Option on Indianapolis' far north side a little more than two years ago.
Starting from scratch, they knew what they wanted: space with windows and natural light, comfy furnishings and soft colors. "The three of us, we've looked at what felt like hundreds of office spaces before we found what we wanted," Meuser said.
"We were planning this a good six months to a year before we opened the firm," said Meuser, who heads the Indianapolis Bar Association's Alternative Dispute Resolution Section. "We did a lot of research into the colors we wanted to use, and the comfort and the setting. We didn't want to have any office furniture." The partners tried out furniture before making selections.
"We kind of thought about the furniture we'd like to have in our living room. People are in here six, eight, 10 hours sometimes," she said. Overstuffed pillows allow clients to take out their frustration with a harmless punch or to hold on tight to something. It's all helpful, Meuser said. "It's good for them to get that out."
Zionsville mediator Patrick Brown is the immediate past chair of the Indiana State Bar Association's ADR Section. He sometimes breaks out the essential oils to help parties come together. "It literally calms the brain," he said of the aromas he uses.
"From my perspective, the setting you start with is the image you project," Brown said. "It's not legal work, it's mediation. It's not about the big things, it's about the little things," including smells, sounds, textures, colors, temperatures and so on. Brown even excludes fluorescent lighting because some people are sensitive to it.
"When people come through that door, they're pretty highly charged emotionally," he said. "They're very fearful … they have no idea what to expect.
"A big part of what I do is help people get back on top of that emotional roller coaster they're riding."
Brown said his clients have an interest in pursuing an ongoing relationship post-mediation, whether they are families or people with business associations. That's why he said there are no tables in his office, because they represent separation. That also may be why there's a lawyer doll with Velcro arms and legs that people can rip apart if the mood strikes.
Brown, who holds a bachelor's degree in psychology, said that in his experience, the adversarial legal process doesn't benefit people who seek an ongoing relationship. "As an outcome of that focus, I began to look at how does the brain function in disputes?" he said. "The biggest thing is adrenaline. How do you act in a way to create a circumstance to counteract the adrenaline … and give people the freedom to be rational?"
Mobile mediation
Indianapolis mediator Mary Hoeller takes her dispute resolution services where parties agree to meet, and she said she believes that first step of getting parties in an agreeable location sets the stage for success.
"They want to get it done, too, and it's a nice incentive for them to think about where they would feel comfortable," she said.
The location may be a law office, a home or some other site. She once met with nine children in a family matter in one of their homes. With siblings visiting from a number of locations, ADR in a familiar setting helped put everyone at ease.
"Going to someone's house is a pretty intimate thing, so already you build a level of trust," said Hoeller, a registered nurse, attorney and mediator.
If she is in an office setting, Hoeller tries to situate people so they are facing each other. She, too, tries to make sure tables aren't in the way.
Meanwhile, Hoeller is working on developing a getaway at her northwest-side home that she hopes will be attractive for people who want to resolve their differences.
In her backyard, she's creating something of a bird sanctuary. House finches, woodpeckers, mourning doves and grosbeaks are already among the menagerie, and she's hoping to lure some chimney swifts on return from their winter migration to Peru.
She hopes the setting will become a natural and inviting spot for mediation. "I think that would be really cool," she said.•
Please enable JavaScript to view this content.