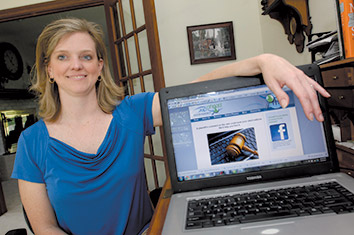 What happens on Facebook stays on Facebook – forever – and attorneys conceivably run into risk if they fail to investigate pertinent posts, a judge suggested during a recent presentation about social media evidence.
"There are a lot of lawyers in the state in their 70s and 80s who don't know how to turn on a computer," Marion Superior Court Master Commissioner David Hooper said. "Are you incompetent if you don't know about Facebook and Twitter?" he asked.
Whether attorneys do the work themselves, have staff work on social media discovery or hire a digital detective, experts say lawyers should develop practices to cover cases where there's reason to believe social media might come into evidence.
Hooper suggested that investigating social media to find evidence is becoming so commonplace that attorneys must consider how and when they undertake such searches. Still, proliferation of social media has created a fast-evolving legal landscape, he said, in which influential cases are being handed down every month.
The increasing body of caselaw also presents a unified basis for getting social media evidence admitted. "They key is the information sought must be relevant," said Judge Tanya Walton Pratt of the U.S. District Court for the Southern District of Indiana.
Relevance alone isn't enough, though. Printing out a social media post and submitting it as a piece of evidence won't get it admitted. Judges can be expected to insist on stipulations that the evidence is authentic, and many judges are uncomfortable admitting such evidence.
"I think this is going to be a big issue for judges for a lot of reasons," Marion Superior Judge David Shaheed said of authentication. "You have to be able to capture that website or blog on that particular day" when it's alleged that the post was made, Shaheed said.
Hooper, Pratt and Shaheed were panelists during a recent presentation, "Litigation and Discovery: How to Get Social Media Evidence In and Keep It In," sponsored by the Marion County Bar Association. Panelists said the bar is set high for admitting social media evidence.
"Judges are skeptical," Hooper said. "We know there's Photoshop … . We know an ex-girlfriend may still have someone's password."
The judges agreed that authenticating early is crucial. It can be done during discovery through depositions – confronting someone with a post and substantiating it's his or hers – or in some instances by obtaining information about the posts from the website where it appeared.
Court of Appeals Judge Paul Mathias said Facebook, for instance, tracks the computer or device used to post a comment. That kind of detail can help nail down authenticity, but that information standing alone might not be sufficient.
An Indianapolis public relations company that specializes in monitoring and promoting social media mentions of brand names expanded its services a few months ago, identifying a niche of catering to attorneys looking for help in sleuthing social media.
"The system we use pulls public data back to 2008," said Lyn Mettler, owner of Step Ahead Social Research. Even if a post has been deleted from Facebook, the proprietary software her company uses will bring it to light "so you'll know you're not missing anything," Mettler said.
"We have access to their firehose, they call it," she said. "Typically, if it's public, we have access to their database." The system Step Ahead uses has such agreements with numerous social media sites.
"We tend to find some of our best information going back to 2008," she said, before people were thinking so much about what they posted.
Step Ahead currently is working with a law firm representing a Fortune 500 company involved in defending a class-action lawsuit from plaintiffs claiming medical injury.
"It's amazing what we find," she said. For instance, a plaintiff claiming an inability to do daily chores bragged online about running a mile and visiting a theme park. The company also was able to track a plaintiff who posted frequently on a gaming forum and to identify plaintiffs who had died.
Step Ahead also was able to produce a litigant's MySpace post declaring, "Wish I could find someone to sue for lots of money!"
Even if the evidence isn't directly admitted, it can be useful to match up birthdates, email accounts or other personal identifiers, or even to confirm information, Mettler said. "Frequently, the information is just used as fodder for depositions, such as, 'Is it true you visited Disney Land on this date?'"
Mettler has been pleased with the interest expressed in her company's services, especially during a recent Defense Trial Counsel of Indiana rookie seminar.
"We are ultimately less expensive than paying a paralegal by the hour," she said, because the search system is automated. The company's fees can be negotiated by the hour or on a per-person monitoring basis.
Cathryn Goodman, vice president of marketing at X1 Discovery in Pasadena, Calif., said the company began providing software to users in 2011, and year-over-year sales have increased 400 to 500 percent. She estimated about 80 percent of business has been reactive versus about 20 percent proactive.
"That's slightly changing. We're starting to see a shift," Goodman said. The increasing use of social media as evidence and the emerging body of caselaw has more people using advanced searching as a matter of course. "People are now realizing they need to check that box as well."
The software provides access to social media databases for sites such as Facebook, Twitter, LinkedIn and YouTube that, upon a narrow search, yield dozens of data points, Goodman said. "It's all the fine, fine details," including the location from which the post was made, device identification and more.
A tweet, for instance, will provide data such as a timestamp, the poster's ID and screen name, usernames of people who re-tweeted, and the kind of application used to send the tweet.
Facebook returns metadata such as user ID; account ID; recipients of a post; whether the post is a wall item, news item, photo or other content; associated links; and number of comments to a post, among others. "Right away they can see how the (search) time will be shortened," Goodman said of people who've sampled the software.
Goodman said X1 licenses its software on an annual basis for less than $1,000 or perpetually for about $2,400, which includes future updates. "Literally, you own the software and go and do what you want with it," Goodman said.
Meanwhile, the judges who offered advice to lawyers on social media evidence also took the opportunity to caution that what an attorney or judge posts online is fair game, too. Lawyers can run into trouble if they're Facebook friends with a litigant, Shaheed said.
Pro se litigants, particularly, would be likely to point out such relationships. "Automatically, the presumption is, they're behind the eight-ball," Shaheed said.
Pratt said that while lawyers have to be vigilant about social media, the bar is much higher for judges and court staff. "We don't allow people in our chambers to have Facebook pages," she said. •
Please enable JavaScript to view this content.