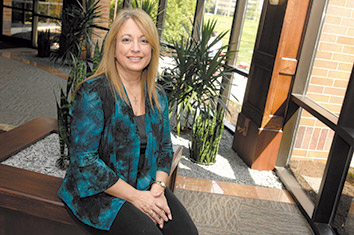 To understand how difficult the work of a court interpreter is, try this simple test.
Turn on the television and repeat everything the commentator says. Word for word, say exactly what is spoken. Do not summarize. Do not substitute or change the words. Do not leave out or add words and sentences.
Now, using a different language, repeat everything the commentator says.
Court interpreters are the conduit through which individuals not proficient in English can speak and understand the judicial system. In translating what the judges, attorneys, defendants, and witnesses say in the courtroom, the interpreters are key to ensuring the rights of non-English speakers are protected.
Marion Superior Judge Jose Salinas does not have to imagine what courtrooms would be like without these interpreters. He remembers when he started practicing law in the mid-1990s the system by which interpreters were supplied to defendants was practically nonexistent. His Spanish-speaking clients often had to rely on a family member or friend to tell them what the judge was saying.
Now, the Marion County courts have a pool of educated, well-trained interpreters to call upon. These people repeat, word for word, what is said during the proceeding so the defendant or witness understands what is happening.
"In Marion County, we have come a long way in protecting the rights of the individual," Salinas said in reference to the interpreter program. "The main thing is protecting people's rights."
Words, words, words
Vivian Kurzendoerfer is among the interpreters who have translated court proceedings in Marion and some of the surrounding counties. She became certified through the Indiana Supreme Court in 2009.
Working in the court system, Kurzendoerfer has realized attorneys and judges often have to learn how to function when an interpreter is in the room. Primarily, they need to speak directly to the non-English-speaking individual and, for the most part, ignore the interpreter.
She recounted an incident where a lawyer addressed Kurzendoerfer and not the witness. The attorney said, "Ask her if … , " so Kurzendoerfer interpreted literally with, "Ask her if …" to which the witness replied, "Ask who?"
What ensued was almost a comedy of errors until Kurzendoerfer told the judge she, as the interpreter, wanted to interrupt and explain what was happening.
A native of Puerto Rico, Kurzendoerfer grew up not only speaking Spanish but also learning legal terminology from her lawyer father. Yet, even with her background and extensive training, she said interpreting is "mentally exhausting."
By herself, Kurzendoerfer can interpret for about two hours before she needs a break. When she tag teams a trial with another interpreter, she gets a break every 30 minutes.
Outside of the courtroom, she will cluster with the other interpreters.
"We are so boring," Kurzendoerfer said. "We're such nerds, all we talk about is words."
Usually the interpreter will sit next to the defendant and interpret, in a low voice, everything that is being said in court. When the defendant responds to the judge or asks questions, the interpreter will relay the communication in English.
Interpreters have to be well-versed in legal terms. The Spanish language alone has three words for "probation" and DNA translates as ADN. Moreover, clichés and colloquialisms can provide special obstacles. For example, the phrase "drop in the bucket" will lose its meaning if interpreted directly.
Tippecanoe Superior Judge Michael Morrissey has used interpreters for native speakers of Spanish, Mandarin Chinese and Hindi. Occasionally there have also been Russian and Vietnamese speakers.
"It's so vital to give everyone who appears in court a fair hearing," he said.
Morrissey does not see the need for interpreters declining in the future. He noted even second and third generations still speak their parents' native language. On top of this, even if they speak English, they want an interpreter in court because they feel more comfortable in their native language.
In Marion County, Salinas does not anticipate needing fewer interpreters. In fact, he believes more languages will have to be covered going forward.
Carrillo
Certification
In 2002, Indiana joined the National Center for State Courts' Consortium for State Court Interpreter Certification and created a certification program especially for interpreters. It is universally described as a rigorous program that produces qualified and capable court interpreters.
"I think the certification process our Supreme Court has implemented is a good thing," Morrissey said. "It assures the relay of information between the individual and the court, and vise versa, is accurate."
The certification process consists of two exams, one written and the other oral. For the oral section, the candidates are tested by having to interpret what is being said both simultaneously and consecutively. Also, they must read a document and interpret it by sight.
Carlos Carrillo, attorney at Ball Eggleston P.C. in Lafayette, became certified after being encouraged to do so by a colleague. He compared the difficulty of passing the certification exam to that of passing the bar.
To prepare for the oral exam, Carrillo spent four hours after dinner each night studying over a period of two and a half months. Much of his time was devoted to listening to the radio or television and simultaneously interpreting what was being said.
"I don't think that I'd want to do it again," he said of becoming certified. "I don't regret doing it. It made me a better attorney. I will always be grateful for the training I got from it."
The difficult part of the oral exam was matching the registers, Carrillo said.
Spanish and English have three registers. The high register includes professional language or the legal terms and phrases used in the judicial system. The middle register is common, everyday language while the lower register is mostly slang and profanity.
Interpreters must retain the register of the speakers. For example, if the judge tells the defendant, "You will be incarcerated," the interpreter cannot translate that to the defendant as, "You're going to jail."
Changing a register and not interpreting everything exactly as it is said can mean the difference between a conviction and an acquittal, Carrillo said.
As an attorney with many Spanish-speaking clients, Carrillo has witnessed bad interpreting. During a custody hearing, the mother brought her own interpreter but that interpreter, he said, left out 40 percent of what was being discussed.
He conceded that having qualified interpreters in courtrooms is an added expense but, echoing Salinas, emphasized the need to protect the rights of the individuals.
"It is important that all persons have their day in court and that they have an opportunity to present their case," Carrillo said. "The only way this is possible for non-English-speaking persons is by having properly trained interpreters. This is why interpreters have become an integral part of our legal system."•
Please enable JavaScript to view this content.