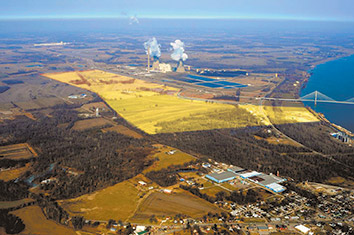 Lawmakers ended the 2013 legislative session by nearly driving a stake through the heart of a widely criticized deal for construction of an experimental power plant that promised to turn coal into substitute natural gas. Legislators bowed to the Indiana Supreme Court to rule on the politically charged matter.
 
That deference to the court, plus the likelihood of a new round of state regulatory review, are outlined in Senate Enrolled Act 494. Plant backers provided the subtext: They said even if the justices keep alive a contract to finance the Rockport facility along the Ohio River in part by guaranteed gas rates above current market prices, the Legislature's action already may have doomed a project estimated to cost at least $2.4 billion.
"Since this conscious decision was made, the judgment of the state is very clear: neither the Legislature nor the governor support the contract or the project," Indiana Gasification LLC, a subsidiary of hedge fund Leucadia National Corp. said in a statement. Leucadia announced April 30 it was suspending work on the Rockport site pending judicial review.
"Therefore, the claim made by legislative leadership and the governor that everything is fine if the Supreme Court sides with us is a
false promise; no one would invest $750 million where such clear opposition from the government is evident," the company said, referring to passage of the legislation. "The institutions that provide the capital to build a plant of this size will not do business in a state that is so cavalier about the $20-plus million dollars we have already invested."
But critics of the proposed plant celebrated the General Assembly's rejection of a plan that had been pushed by former Gov. Mitch Daniels and that lawmakers passed just two years ago. Even if the state has to pay Leucadia $20 million for its trouble, opponents said that would be getting away cheap from a project they claim would saddle ratepayers with a 30-year contract to buy gas at rates upwards of double the current market price.
Opponents also cast the plant as an untested design, an environmental menace and a brazen example of crony capitalism benefiting former Daniels adviser Mark Lubbers, now project director for Indiana Gasification.
"The whole reason that a Republican governor and a Republican Legislature decided to have the government step in and buy the gas was because nobody in the marketplace would do it," said Jermone Polk, an attorney representing plant opponents Sierra Club and ValleyWatch.
"It was one of the most perverse and bizarre arrangements that I've seen," Polk said. "We could be paying billions of dollars and not see any benefit. … The only people who benefit from the plant are the investment company pushing the project, Leucadia and coal interests."
Polk wrote an amicus brief for the environmental groups that formed an unlikely alliance with Vectren Corp. and other utilities to oppose the deal. A divided Indiana Court of Appeals last year nullified Leucadia's contract with the Indiana Finance Authority.
Attorneys have requested the Supreme Court grant transfer in Indiana Gas Company, Inc. and Southern Indiana Gas and Electric Co., et al. v. Indiana Finance Authority and Indiana Gasification, LLC, 93A02-1112-EX-1141. The court has been fully briefed, but justices have yet to decide if they'll take the case. (Indiana Gas Co. and Southern Indiana Gas and Electric Co. do business as Vectren).
Rockport attorney Jeff Lindsey chairs the Lincolnland Economic Development Corp. of Spencer County, an amicus party that supported plant construction. He said Vectren's clout rather than environmental or fiscal concerns was most responsible for lawmakers all but pulling the plug.
"It's a tremendous blow for economic development and economic growth in the Southwest Indiana region," Lindsey said. "It's truly unfortunate that Vectren Corp. seems to be so determined to prevent this type of beneficial economic growth.
"I don't know of any other single entity that lobbied harder, invested more time, energy, effort and money in their lobbying effort and legal fight, and unfortunately, I have to pay Vectren rates," Lindsey said, calling the utility's rates among the state's highest. He said the agreement to build the plant through the Indiana Finance Authority provided for rates that are not outside historic price fluctuations.
"I don't believe (Vectren's) opposition to this has anything to do with benefiting the ratepayers. It has everything to do with benefiting their stockholders and their executives," he said.
Tom Funk, a Krieg DeVault LLP partner representing Vectren, declined to comment, citing the pending litigation. Attorneys representing Indiana Gasification in the pending litigation did not respond to messages seeking comment.
Lindsey compared the plant's promise for the region to the Toyota plant in nearby Princeton. "I think it would have brought a lot of jobs here. I think it would have been a game-changer," he said. "The area would have received a huge amount of focus nationally and internationally on the type of clean-coal usage that should be done."
John Blair of ValleyWatch in Evansville is an outspoken critic of the proposal. "Rockport is already one of the most polluted places on Earth," he said. Based on data from the Environmental Protection Agency, emissions in the town of about 2,300 people are greater than those of industrialized American cities with a combined population of more than 34 million, he explained.
"We've been making the case with the Department of Energy that this is a serious environmental justice issue," he said.
Blair ridicules claims of an economic or environmental boon from the plant. He noted fertilizer companies recently began seeking permission to build plants near the proposed Rockport site that would dwarf the facility that recently exploded and leveled much of the town of West, Texas. That's the kind of development a new coal-based energy plant attracts, he said.
"Just because you spend a lot of money in a community doesn't mean that it makes you healthy or wealthy," Blair said. "My observation is anywhere coal goes, it depresses a community. … There are zero prosperous coal communities in the United States, and I suspect the world."
Blair argues that Justice Mark Massa, a Daniels appointee who was the former governor's chief counsel, should recuse himself from consideration of the pending case. Lubbers, Indiana Gasification's project manager, hired Massa in 1985 to be a speechwriter in the administration of former Gov. Bob Orr. Lubbers also delivered remarks during Massa's investiture.
Massa did not respond to a request for comment through court public information officer Kathryn Dolan.
Rockport's backers, meanwhile, said they'll fight for the project in court and signaled a willingness to apply political pressure to keep it alive.
"We will work hard for a win if the Supreme Court takes the case," Indiana Gasification said in its statement. "If we win, however, only a clear reversal of position by the governor would enable the project to go forward."•
 
Please enable JavaScript to view this content.