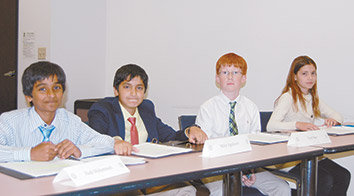 Bar Crawl highlights bar association news around the state. Indiana Lawyer strives to include bar association news and trends in its regular stories, and we would like to include more news from specialty and county bars. If you'd like to submit an update about your bar association or a photo from an event your bar association has hosted, or if you have questions about having your bar association news included in the newspaper, please send it to Marilyn Odendahl at [email protected], along with contact information for any follow-up questions at least two weeks prior to the issue date.
5th graders show off their constitutional knowledge
A total of 350 fifth-grade students from seven schools around Indiana demonstrated their knowledge of the U.S. Constitution May 17 at the state capitol during the We The People elementary showcase.
The showcase was structured like a congressional hearing with teams of students answering questions posed by a panel of attorneys, judges and members of the community. Gov. Mike Pence welcomed the youngsters, and First Lady Karen Pence gave the general address.
 
"Programs like We The People benefit our state as a whole," she said. "I suspect a number of you will serve in this building (the Statehouse) one day."
The schools that participated were Frank Hammond School, Munster; Kahler Middle School, Dyer; Grimmer Middle School, Schererville (three classes); Clark Middle School, St. John (two classes); Canterbury School, Fort Wayne (three classes); William Tell Elementary School, Tell City; and Maconaquah Elementary School, Bunker Hill.
All of the schools received either superior or outstanding assessments regarding the students' knowledge.
The annual elementary showcase, along with the We The People civic education program, is organized by the Indiana Bar Foundation.
Indianapolis Bar Foundation awards 7 scholarships
The Indianapolis Bar Foundation has awarded seven scholarships to law students to assist with their academic careers and to law school graduates preparing to take the Indiana Bar Exam in the summer of 2013.
Academic scholarships were presented to three students at the Indiana University Robert H. McKinney School of Law. Michelle Langdon received the Rosalie F. Felton Scholarship; Kelli Liggett was given the Hon. William E. Steckler Scholarship; and Roya Parter received the Neil E. Shook Scholarship.
In addition, four individuals were given educational scholarships for the summer 2013 Indy Bar Review Course. The individuals are Christopher Gines, Andrea Kochert, Brandon Tate, and Adam Willfond.•
 
Please enable JavaScript to view this content.