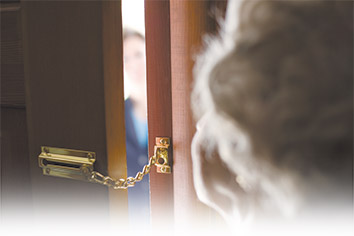 Indiana seniors get some new consumer protections July 1. As a group, they also get a little younger.
The Senior Consumer Protection Act, Senate Enrolled Act 382, signed into law by Gov. Mike Pence, applies to Hoosiers age 60 or older, instead of starting at age 65, a difference that elder law attorneys say reflects the realities of an aging population that easily can fall prey to financial predators.
"With things like early onset Alzheimer's and multiple sclerosis, we're seeing a lot of people that age being taken advantage of," said Keith P. Huffman, a Bluffton attorney with Dale Huffman & Babcock and chairman-elect of the Elder Law Section of the Indiana State Bar Association.
Senate Minority Leader Tim Lanane, D-Anderson, carried SEA 382 which had the backing of Republican Attorney General Greg Zoeller. The measure passed without any opposition votes in either house.
Lanane, an attorney, said he was motivated by tough cases he encountered in his private practice where it was apparent a senior citizen was being taken advantage of by family members, but there were no clear remedies under the existing law.
He described a particular case in which an older person was pressured to provide assets or lose care. "It wouldn't rise to the level of outright theft," he said. "It's hard to say the senior didn't willingly turn property over" to ensure that care was provided. In that case, the parties working with attorneys were able to come to an understanding, Lanane said.
Family members and caregivers will have the most to lose if they commit an act of financial exploitation by deception or intimidation under the new law. It gives attorneys the means and a true incentive to pursue cases where exploitation is suspected: the prospect of recovering treble damages, legal fees and civil penalties of up to $10,000. Those awards are authorized against persons the law describes as being in a position of trust or confidence of a senior citizen, which can include a fiduciary relationship.
Double damages and civil penalties up to $5,000 are allowable in cases of financial exploitation where a relationship of trust or confidence does not exist, according to the law.
"Hopefully it's not something that has to happen often, but with more and more of the population aging, attorneys could be looking at situations like this as just another tool they can use to protect seniors under these circumstances," Lanane said.
The statute authorizes the attorney general to bring an action to enjoin an alleged financial exploitation. It also allows the AG's office to seek injunctions and ask a court to freeze assets of a person alleged to have committed financial exploitation, among other remedies.
Deputy attorney general and legislative director David Miller worked with Lanane and lobbied lawmakers to pass the legislation, patterned after a senior consumer protection law in Illinois. Miller said Indiana is in the forefront of states with such statutes, estimating only eight to 10 have enacted similar protections.
"Practically speaking, there may have been some legal remedies, but realistically, they were not functional," Miller said. The law will fill a gap he said the AG's office has seen in the past.
"We've received lots of complaints over the past several years in which we have unfortunately had to say, 'You're going to have to contact a private attorney,'" he said, estimating that number to be at least 100 over the last two to three years. Miller believes that the statute has sharp enough teeth that parties contacted by a private lawyer or the AG's office and notified of potential penalties will comply or stop the offending actions.
Huffman, who also has served as president of the Indiana Chapter of the National Academy of Elder Law Attorneys, has been traveling the state briefing lawyers about the new law.
While most of the focus is on the provisions regarding financial exploitation of senior citizens by people in positions of trust, he said the Act will make a dent in recurring scams such as those perpetuated by unscrupulous home-repair contractors or door-to-door solicitors who deceive or intimidate older people in order to make a sale. "It's broader than most people think when they look at it at first blush," Huffman said of the statute, I.C. 24-4.6-6.
Along with recoverable double damages in such "door-to-door" cases, "The court can also assess fines against these people and attorney fees," Huffman said. "Seniors are going to have some means of enforcing their rights, and hopefully this will stop people from taking advantage of seniors."
But Huffman said he's disappointed that the law didn't go further and allow elder-law practitioners to go after people who victimize senior citizens with unscrupulous sales of insurance or securities.
Huffman
"One of the things I see a lot of is someone selling a person who's 85 years old an annuity that's going to be paid out over 20 years," Huffman said. "Some of the areas that have the greatest problems that seniors are exposed to are not covered by this Act."
The law refers complaints regarding insurance and securities to the Indiana Department of Insurance and the Office of the Secretary of State, respectively. Those complaints may be acted on by the agencies or forwarded to the AG's office.
Huffman said the state has increased training to ensure agents aren't marketing improper products to seniors, but he believes more protections are needed. "We've seen a lot of abuse of that system, and in my opinion the state doesn't do a good job of enforcing that."
Lanane, too, believes there's still work to be done to safeguard vulnerable seniors, and not only in terms of financial protections.
"The whole idea of adult protective services is something Indiana can take a look at," he said.
"Families more and more are having to look at issues involving seniors not capable of taking care of themselves and making unwise choices, and what do you do?" Lanane said. "I think families are going to increasingly need assistance dealing with those issues."•
—————————————————————
A look at the law
Senate Enrolled Act 382 – the Indiana Senior Consumer Protection Act – takes effect July 1. Here are some of the law's key provisions:
PROTECTS seniors against financial exploitation by acts of deception or intimidation in order to obtain control over a senior's property or assets.
PROVIDES as recoverable legal fees and civil penalties of $5,000 to $10,000, plus enhanced damages. Damages may be double the financial exploitation; treble damages may be awarded if the person committing the exploitation is a person in a position of trust or confidence of the senior victim.
LOWERS the age of someone defined as a "senior consumer" from 65 to 60 for purposes of the Act.
ALLOWS the intervention of the Office of the Indiana Attorney General in some cases. The AG's office will be empowered to, among other remedies, seek injunctions and ask a court to freeze assets of people alleged to have committed financial exploitation of a senior.
EXEMPTS sales of insurance and securities from private civil claims. Directs those complaints, respectively, to the Indiana Department of Insurance and the Office of the Indiana Secretary of State, which may enforce regulations or refer complaints to the attorney general.
 
Please enable JavaScript to view this content.