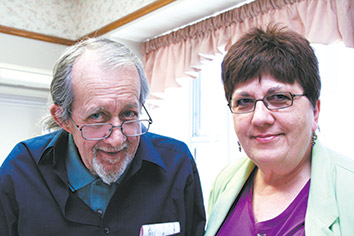 Although a will may be described as "simple," for patients in hospice care having a completed will and knowing their wishes are recorded in a legal document can bring a peace that makes the word "simple" seem like a misnomer.
Some hospice patients are said to be so relieved to know their affairs are in order that within hours of signing the legal forms, they pass away. And the attorneys providing the legal assistance say the work brings rewards they had not anticipated.
Diane Sargeant, attorney at Cox Sargeant & Burns P.C., said helping the hospice patients teaches her lessons in life and death.
"It just reminds me how precious life is, how much we need to stop and think about that every day rather than getting wrapped up in tasks," she said.
Sargeant does her volunteer work through the Indianapolis Bar Association's Hospice Program. This pro bono effort pairs volunteer attorneys with hospice patients to handle legal matters such as a will, power of attorney, or health care directive.
Typically, the volunteer attorneys travel to one of the hospitals in the Indianapolis area and meet with the patients. Usually, the lawyers will draft and file documents related to end-of-life issues, but sometimes they just answer general questions. Patients may be worried their debt will get passed along to their children. In one instance, a man was concerned that his felony conviction would prevent him from being buried where he wanted.
These attorney-client relationships are limited to the patients themselves. Other family matters are outside the scope of this work.
Because the need for these lawyers may arise at any time, the program schedules the volunteers to be "on call" for a few weeks each year.
Diana Moers, coordinator of the IBA's Hospice Program, described herself as the dispatcher. When she gets a referral from a social worker at a hospital, she contacts the attorneys on call and makes the assignment.
"I don't stop until I get somebody who says, 'Yeah, I can help that person,'" Moers said.
The program is especially attractive to attorneys who practice in elder law or wills and estates. Sargeant noted that as an estate planning and administration specialist, she does not have a tremendous number of opportunities to do pro bono work that uses her technical skills. Helping hospice patients allows her to combine her knowledge with her desire to volunteer.
"It's become personally rewarding for me," she said. "The clients I've worked with have been so grateful for the work I do for them. It's been very touching."
Serving as the coordinator fits well for Moers, an attorney in the Office of the Secretary of State's Securities Division. Her job keeps her tied to her office all day, but through the hospice program she is able to perform pro bono work.
"It feels good to know when somebody needs help they can just reach out and someone will come in a day or two at the most," Moers said, adding the patient can then focus on being with family.
Larry Lawhead, partner at Barnes & Thornburg LLP serving in the corporate department, not only volunteers in the IBA's Hospice Program but also will be educating other attorneys as part of a CLE "End of Life Care and Probate 101."
"Everybody has the same fears," Lawhead said. "Obviously, we don't have the ability to do complex planning for them, but we provide peace of mind for people."
When he works with those in hospice care, Lawhead is most concerned about making sure they are competent to understand what they are doing and that they are not signing papers under pressure from family members or other individuals.
He always tries to meet the patient in person and discuss what legal issues need to be addressed. After going to his office to draft the documents, he returns to visit the patient again and complete the work.
Wilhelm
Before the individual signs, Lawhead will have any family members leave the room. The patient can ask questions, bring up concerns or make changes privately with the attorney without worrying what others may think or do.
When the volunteer lawyers walk into the room, Rev. Karen Estle has seen the hospice patients sit a little straighter and be very respectful. They are often surprised that someone so important has come to see them.
Estle, spiritual advisor with the Palliative Care Team at Wishard Health Services, has worked with the IBA's Hospice Program since its beginning. The program, she said, has made a "tremendous difference." Before the attorneys were available, the staff would struggle to find a way to help these patients with their legal needs.
Now she fills out a referral form and passes it along to the IBA. When the attorneys arrive at the hospital, Estle meets them at the front desk and then escorts them through the labyrinth hallways to the Palliative Care Unit.
Along the way, she will talk to them. Once in a while, an attorney may be overcome with memories of family members who have died, so Estle will walk the lawyer around the corner and provide a shoulder to lean on.
Among the attorneys she has greeted at the entrance is Michael Wilhelm, an elder law attorney at DeFur Voran LLP in Fishers.
"I like that the people that we're serving are in true need of pro bono services," he said.
Wilhelm often arrives at the hospital with the documents prepared and ready for a signature. He knows the process can become very emotional, so he always tries to make a personal connection to help the patient through the situation.
Taking time is necessary, Estle said. The attorneys cannot just hand a form to a patient with instructions to fill it out. They have to sit with the patient, maybe cry for a minute, and then get the task done.
For one woman, battling terminal cancer, Wilhelm made a call to her house. He had prepared a will which the neighbors came over to witness.
"We did what we could for her given the circumstances," he said, "but it was very tough."•
Please enable JavaScript to view this content.