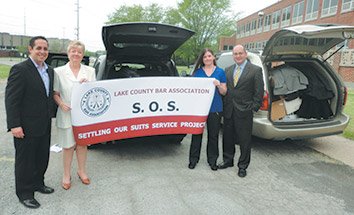 Bar Crawl highlights bar association news around the state. Indiana Lawyer strives to include bar association news and trends in its regular stories, and we would like to include more news from specialty and county bars. If you'd like to submit an update about your bar association or a photo from an event your bar association has hosted, or if you have questions about having your bar association news included in the newspaper, please send it to Marilyn Odendahl at [email protected], along with contact information for any follow-up questions at least two weeks prior to the issue date.
Bar foundation inducts 30 new fellows in 2013 class
Thirty new members were inducted as fellows of the Indiana Bar Foundation during the fellows' annual meeting and dinner May 31 in Chicago.
The 2013 class includes 14 attorneys from central Indiana, nine from northwest Indiana, four from southern Indiana and three from Fort Wayne. Two of the fellows are also members of the judiciary.
Fellows are nominated by another fellow and are then approved by the foundation. Fewer than 1,000 lawyers in Indiana have been accepted.
Chuck Dunlap, a master fellow and executive director of the Indiana Bar Foundation, praised the attorneys for having demonstrated excellent legal professionalism and service to their communities.
Members of the 2013 Fellows Class are Bart L. Arnold, Scott L. Barnhart, Andrew L. Campbell, Robert L. Clark, Stephanie J. Hahn, Bart A. Karwath, Deborah M. Leonard, David A. Lewis, Eric Mathisen, Todd Relue, Christopher M. Ripley and J. Todd Spurgeon.
Master Fellows are Stephen E. Arthur, James F. Bohrer, Jon A. Bomberger, John S. Capper IV, Leane English Cerven, Richard McDevitt Jr., David R. Schneider and Hon. Diane Kavadias Schneider.
Life Fellows are Jerald I. Ancel, Robert D. Brown, Julia Spoor Gard, Kara M. Kapke, Charles P. Schmal and Hon. Martha Blood Wentworth.
Patron Fellows are Gerald M. Bishop, Linda K. Meier, and Tony Walker.
Finally, Steven Ancel, retired attorney, was inducted as a Life Patron Fellow.
IndyBar Foundation gives grant to help ILS military program
The Indianapolis Bar Foundation has awarded the 2013 Impact Fund Grant to Indiana Legal Services Inc. The $35,000 grant will fund an expansion of ILS' Military Assistance Project (MAP), which provides free civil legal services to low-income military members, veterans and their dependants.
The ILS MAP program was one of three finalists selected from the initial pool of more than 15 grant applications. The foundation's distinguished fellows chose the 2013 grant recipient.
"It is an honor and privilege to award our Impact Fund Grant to a project that helps those who have served our country," said Kelly Johnson of Cohen & Malad LLP and the 2013 president of the Indianapolis Bar Foundation.
Lake County Bar opens closets, donates clothes to program
 
Lake County Bar Association members recently donated their gently used professional clothing to help the participants in the Community Transition Court.
As part of the CTC program, individuals transitioning from the Indiana Department of Correction back to their communities have to appear in court regularly. These individuals need professional clothing not only to wear in the courtroom but also for job interviews. However, they often do not have proper attire.
The S.O.S. Settling Our Suits Service Project, spearheaded by President Michael Jasaitis, collected clothing from April 15 through May 1. The response was overwhelming with delivery of the items requiring four trips in two large vans.
A friendly competition was held among the attorneys as part of this service project. The winner of the Most Men's Clothing donated was attorney Shontrai Irving, and the winner of the Most Women's Clothing donated was attorney Carolyn Fehring.•
Please enable JavaScript to view this content.