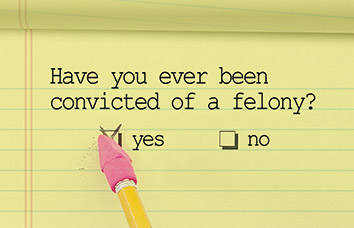 Crowds rushed the Marion County Clerk's Office on July 1 under the misunderstanding that was the only day people could petition to have their criminal records expunged. "We probably had 200 to 300 people," said Scott Hohl, chief of staff for the office.
Indiana's new expanded expungement law took effect July 1, but the crowd that day also illustrated a fear voiced by many lawyers and court staff – that rushing to the courthouse is likely a big mistake. Those familiar with the complex law say the best advice is the same as the usual for second chances: Don't screw it up.
"You have one opportunity to have your records restricted," Hohl said. If the petition fails, the law requires a three-year wait before trying again.
Another caution for people seeking expungement: Represent yourself at your own risk.
"I would not advise individuals to try this by themselves," said Jerome Ezell, a sole practitioner in the Porter County town of Kouts. Ezell retired three years ago as a legal adviser for the Indiana State Police where he assisted the attorney general's office when it opposed expungement requests under prior laws.
Formerly on "the other side, so to speak," Ezell now finds himself counseling people who may be able to clear a much wider range of
criminal records under House Enrolled Act 1482. Ezell, a member of the Lake County-based James C. Kimbrough Bar Association, will be a presenter at an informational forum on the new law in Gary on July 20. Attorneys will be on hand to advise people seeking expungement.
"A lot of people think it's an automatic grant," Ezell said of another common misconception. The law permits expungement of conviction records for offenders who have not been convicted or charged with subsequent crimes for a number of years. In general terms, the more serious the offense, the longer the clean criminal record must be to qualify.
Ezell said while the new law is more complex in its requirements, it lowers a petitioner's burden to obtain an expungement. Under prior laws, petitioners had to prove an arrest was improper, the result of mistaken identity or there was lack of probable cause. "It was just about impossible to prove," he said.
While the fact burden on a petitioner now is lower, the new law raises a financial burden for many: The statute requires payment of the $141 state court civil filing fee and forbids fee waivers for many expungement requests.
Bennie Muhammad, executive director of forum sponsor Gary Commission on the Social Status of Black Males, said the filing fee requirement is no small hurdle for many people who want to expunge their records. Nonetheless, interest in expungement is great. He said the group has received calls from people in Virginia, Dallas and Chicago inquiring about getting their Indiana conviction records expunged.
"From what I am seeing and hearing in our promotion of this forum, it is actually lifting hope in the lives of many," Muhammad said. Felony convictions cast a long shadow not just on employment prospects, he said, but also in terms of eligibility for federal education and housing aid, among other things.
Still, the various requirements in the five categories of expungement have raised plenty of questions for attorneys.
"It's really pretty complicated," Indianapolis private practice attorney Libby Milliken said of the statute. "The requirements for petitions are pretty specific and pretty technical."
Milliken is working on about a half-dozen expungement requests under the new law and gets calls almost daily about it. Some callers ask about forms they might be able to use to do it themselves. She counsels against it, and besides, the forms for pro se litigants aren't yet available. For some categories of expungements, even developing forms for attorneys is proving to be a puzzle.
"The statute is so detailed and there are so many different case types to file for … .It is very difficult to formulate forms for this," said Tracy Beechy-Nufer, director of trial court management for the Indiana Division of State Court Administration. "It's a huge project."
The hope is to have most forms available on the state court website by mid-August, Beechy-Nufer said. Some forms are rather straightforward. A petition to seal records for an arrest that didn't result in conviction, for instance, has far fewer requirements than a request to expunge records for a 20-year-old armed robbery conviction. Serious felony convictions require the consent of a prosecuting attorney and are left to the discretion of a judge.
Marion County deputy prosecuting attorney Andy Fogle has been researching the law's requirements. He expects requests for expungement that trigger prosecutor consent also are likely to require hearings and victim notification. It's not unrealistic to expect prosecutors may get requests from people wanting to expunge records of serious felonies they committed as far back as the 1950s or 1960s.
Fogle is puzzled about victim notification in such cases. "How do you do that?"
People seeking expungement who have convictions in multiple jurisdictions will have to petition courts in all locations where judgment was entered, and those must be completed within one year of the first request for expungement, attorneys said.
Marion Superior Court administrator Andrea Newsom said expungement cases, which are civil in nature, will be assigned to the court that entered judgment on the highest-level offense. In cases of multiple offenses of the same severity, the petition will be assigned to the court with the most recent adjudication.
"The challenge for us is an anticipated increase in filings. We looked at this from an operational viewpoint" of how to best assign the petitions, she said.
Milliken has lots of questions about the new law, too. It's unclear, for instance, whether people who have felony convictions expunged are no longer prohibited from possessing a firearm. "I think the way the law is written, there's a strong chance (a person whose conviction is expunged) would be permitted to possess a firearm even under federal law."
She also focuses on the statute's wording requiring "successful completion" of a conviction and sentence in order to qualify for expungement. She wonders if that would bar someone who violated probation and therefore did not "successfully complete" a sentence. Fogle thinks it might.
"If you read the law verbatim, I think there's a strong argument that, no, you can't qualify because you did not 'successfully complete' the sentence," he said. The same could apply for cases in which restitution was ordered but not successfully completed, no matter how long ago, Fogle suggested.
"These are going to be questions of first impression the courts are going to have to determine," he said, "and I don't have a clue what the answers will be."•
 
Please enable JavaScript to view this content.