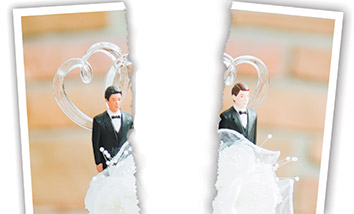 "A marriage between persons of the same gender is void in Indiana even if the marriage is lawful in the place where it is solemnized." – Indiana Code 31-11-1-1.
Indiana statute makes clear the state's position on same-sex marriage, but it also leaves murky the rights of Hoosier couples who, despite the law, are legally married.
"We are supposed to, if a marriage is legal somewhere else, honor it," said attorney Karen Jensen. "Equally placed people should have the same rights."
But because same-sex marriage isn't recognized in Indiana, neither is same-sex divorce. In 2009, Jensen unsuccessfully sought a dissolution of marriage for Larissa Chism and Tara Ranzy, who had been wed in Canada before moving to Indiana.
Marion Superior Master Commissioner Jeff Marchal at the time denied the petition, citing I.C. 31-11-1-1. But in that case and one other same-sex dissolution that's come before him, he found a tightrope to walk. Rather than grant the dissolution, he ordered the marriage null and void.
"It seemed the only other thing I could do. The only other option was to say, 'You're still married,' and I can't fathom that's what the General Assembly intended," Marchal said.
Jensen and Marchal recalled a parking garage conversation they had some time later in which Marchal told Jensen that he had hoped the parties would appeal his decision to perhaps settle the law. They chose not to appeal, and Jensen said she couldn't discuss the reasons without breaching confidentiality.
In the cases where Marchal has voided unions, there have been no children, no assets to divide and the dissolutions were uncontested. Whether denial of a dissolution petition for same-sex couples
violates the Full Faith and Credit Clause of the U.S. Constitution is an unanswered question, he said, but it's also a question that's never been pleaded before him. "I didn't think it was appropriate for me to start raising issues," he said.
Jensen had hoped that the case would find a basis in the state's divorce statutes, which make no mention of gender. Denying application of those laws to same-sex couples seems to conflict with the Full Faith and Credit Clause, she believes.
How family law attorneys counsel same-sex couples has swiftly evolved and will continue to do so, particularly in light of last month's Supreme Court of the United States decision striking down the definition of marriage in the Defense of Marriage Act.
Kathy Harmon, a partner at Mallor Grodner LLP in Indianapolis, is representing Donald Schultz Lee in his dissolution petition against Justin Chad Schultz Lee. The couple married in Massachusetts, and Harmon counseled her client to wait until the SCOTUS ruled on DOMA to file the divorce action. The case is pending before Marion Superior Judge David Shaheed.
"Whether you approve or believe in same-sex couples or not, we're going to have to address what you do with same-sex couples married in other states," Harmon said. "What's the remedy?"
After Harmon filed the petition, she said "the phone started blowing up" with media inquiries.
"We weren't planning on doing a media tour, so to speak. This isn't something he's doing for the purpose of being a trailblazer or a pioneer. … He just wants to get a divorce and move on with his life," she said.
Harmon's firm counsels many same-sex couples, and she explained that the issues they face can be addressed contractually in most instances. Cohabitation agreements, general power of attorney arrangements and health care power of attorney agreements can protect same-sex couples in much the same way a marriage license assures the rights and benefits of couples as defined by Indiana law.
Still, "Indiana has been fairly progressive whether it knows it or not" on matters that impact same-sex couples, Harmon said. Elimination of the inheritance tax, for instance, benefited same-sex couples by removing taxes on asset transfers that were higher than those for recognized families. She noted the state also was among the first to allow adoption by same-sex couples.
Donald Lee
Kokomo attorney Megan Schueler of Noel Law blogged about the Supreme Court's June decisions on same-sex marriage, which also included a ruling that held proponents of California's Proposition 8 did not have standing to appeal a federal court order holding the initiative defining marriage as between a man and a woman violates the 14th Amendment. She said that even as the court gave momentum to same-sex couples, its decisions left open questions for Shaheed and other judges.
"I wouldn't want to be that judge," she said, noting the question of standing is among the unsettled issues. "This is the kind of case that can go up and overturn DOMA Section 2," which says states shall not be required to recognize same-sex marriages performed elsewhere.
Bryan Corbin, spokesman for Indiana Attorney General Greg Zoeller, said the office has not been named or served notice of the Schultz Lee case as would be required if the constitutionality of state law were being challenged. "It would not be appropriate for us to make assessments or predictions at this early phase" about whether the AG's office might become involved, he said.
Indiana University School of Public and Environmental Affairs associate professor Beth Cate said it's also unclear whether the recently decided Supreme Court cases might grant couples another avenue if their union dissolves by going back to the state or jurisdiction where the union was made official.
"Can you get into another state's court without being a resident? … I think that's an unknown, and at this point I wouldn't say it's out of the question," she said.
Cate compared recognition of same-sex marriage to heterosexual marriages performed elsewhere in which parties were married when they were younger than the laws of a different state would allow. Those marriages nonetheless are recognized. "It may not be a wholly new issue," she said.
"By eliminating a uniform federal definition of marriage, it creates a need to resolve these issues," she said. It will be up to the states to decide questions such as same-sex divorce, but she anticipates that as the cases arise, there could be changes in attitudes for opponents of marriage equality.
"I think that to the extent that these cases put a face and a real set of facts and circumstances and relationships on same-sex marriage … hopefully that will deepen the analysis of what the policy considerations should be," Cate said.
Jensen is more blunt. "We live in a civil society, and this issue of homosexuality is a civil issue, not a religious issue," she said.
Harmon said it's difficult to predict other issues that may arise from the SCOTUS ruling on DOMA. "The ruling is so new that I don't know that we're going to know for several months what's flowing out of it."•
Please enable JavaScript to view this content.