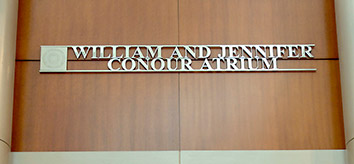 Now that former high-profile personal-injury attorney William Conour has pleaded guilty to accusations that he defrauded dozens of clients of more than $4.5 million, his victims hope for some measure of restitution. At least a fraction of the loss will be covered by the law school to which Conour gave $450,000.
Dressed in faded black-and-white Marion County Jail scrubs and shackled at the wrists and ankles, Conour pleaded guilty July 15 to a single count of wire fraud that could earn him a federal prison sentence of up to 20 years and a fine of as much as $250,000. Victims include widows and children of people who were killed in workplace accidents, and the money involved came from settlements Conour won for them and was supposed to have held in trust.
 
Chief Judge Richard Young of the U.S. District Court for the Southern District of Indiana said Conour would be sentenced at 2 p.m. Oct. 17, at which time victims will be able to testify.
"I think quite a few of them are going to want to exercise their right to address the court," federal prosecutor Jason Bohm told Young.
Conour admitted to the government's stipulated facts, though he told Young, "I'm not sure the figures are accurate," regarding the asserted loss of $4.5 million.
IU returning donation
Conour's alma mater Indiana University said in a statement it intends to use money Conour gave the school to help compensate his victims. In a statement, IU President Michael A. McRobbie said he would recommend to the school's board of trustees that Conour's name be removed from the atrium at Indiana University Robert H. McKinney School of Law in Indianapolis.
"McKinney School Dean Andrew Klein announced his full support of this decision, as well as returning all of the funds received by the law school from Mr. Conour for the naming of the atrium to an appropriate fund for compensating the victims of Mr. Conour's crimes," the university said in a statement.
Conour asked the court in a filing July 3 to waive a trial that had been scheduled for Sept. 9. The change of plea was entered six days after a judge ordered him jailed for dissipating assets in violation of terms of bond.
The plea says Conour realizes, "I will have to pay restitution," but it's unclear where additional money to pay victims might come from. The court fund established for victim restitution last month contained about $21,000.
Daughter speaks out
As victims hope for some level of restitution, Conour's eldest daughter from his first of three marriages shares that desire. Tonja Eagan was in court July 15 as was a daughter from Conour's second marriage, Rachel Boehm. Conour spoke with them briefly before U.S. marshals led him back to jail.
Eagan said she saw her father become more focused on material wealth after his third marriage in 1998 to Jennifer Conour. Jennifer Conour filed for divorce in Kosciusko County days after Conour was charged.
When Young revoked Conour's bond last month, the judge noted that the federal court hadn't been made aware of the divorce filing, nor was the divorce court informed of the federal case against Conour. Young called the divorce "a way to transfer a significant amount of assets." Jennifer Conour has not been charged, and Conour's public defender said she had a pre-marital claim to many of the assets she was awarded in the divorce.
Eagan issued this statement regarding her father's guilty plea:
"Today felt like the first nail was driven into the coffin for my dad's future. It is heartbreaking for me as his eldest daughter because I am constantly haunted by the pain and suffering of the victims, who were legally awarded funds for their long-term care and protection that they did not receive.
"I am also haunted by the pain and suffering of my family as we realize dad may never again be an active part of the lives of his four adult daughters, two minor children and four young grandchildren. I hope that his ex-wife decides to return all of the assets that she took in their recent divorce so any possible funds that could go to the victims, will indeed go to the victims. As much as our family is in pain, we are equally devastated for all of the families affected.
"Although sentencing will feel like the final nail in the coffin to my family, I pray it enables the victims to begin healing and to access assets through a victim fund to repay them."
Boehm said after the hearing that her father "really does want to recoup money for the victims."
Conour said little on his own behalf during the short hearing July 15. When Young asked if he had been treated for substance abuse or mental-health issues, Conour said he had received treatment for alcohol abuse and was taking a prescription antidepressant.
'A banking system'
Conour described to Young how funds he received for settlements were used to pay his legal fees and used to pay other expenses when he or the firm encountered cash flow problems.
"I treated it more like a banking system," he said. He also admitted to accepting a $450,000 settlement for a client without his knowledge and converting the money to personal use. "I did not tell him," Conour said when Young asked if he ever informed the client.
Another victim, Zackery Condon, 20, of Mishawaka, was a toddler when his father, Michael Condon, died in a workplace accident in South Bend in 1994. Condon's family says Conour won a six-figure settlement in 1996 that was to be held in trust and available for Zackery Condon's education and living expenses. Condon says he received just $10,000.
"I'd like to show everybody at least what happened," Condon said after Conour petitioned the court to plead guilty. "I have one thing left of my father, and that is his motorcycle jacket.
"The money he took from everybody, they could be in hard times right now and they could have needed that," Condon said. "He did whatever with it."•
Please enable JavaScript to view this content.