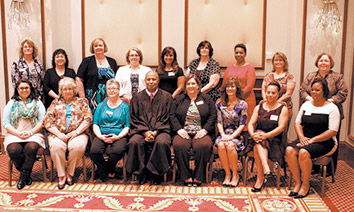 Marion Superior Judge David Shaheed paid tribute to the professionals of the Indiana Paralegal Association at the group's annual meeting July 17.
"You are the unsung heroes of the legal profession in my opinion," Shaheed told the Indianapolis gathering. "You're the voice of reason in the chaos."
But within the profession there's a recurring debate – the question of how a paralegal's professionalism should be measured.
"That, of course, is open to discussion," said Edna Wallace, IPA treasurer and a registered paralegal at Whitham Hebenstreit & Zubek LLP in Indianapolis. What's proposed is a voluntary regulation system with some level of minimum standards.
A similar proposal was put forth back in 2006 and won the support of the Indiana State Bar Association and several local bar groups, Wallace said. But after a comment period and some consideration, the Indiana Supreme Court in 2008 said it was disinclined to promulgate such rules.
"We feel like some time has passed, and we just want to explore and see if it's worth bringing up again," Wallace said. To that end, Wallace sent surveys to paralegals around the state to get a feel for their interest. Survey responses were still coming in toward the end of July, but she said early results looked encouraging.
"We would like to see either the state bar or the Supreme Court regulate the paralegal practice," she said. "We don't want it to be mandatory. The problem is finding just the right size program for Indiana."
Wallace is a registered paralegal by virtue of having passed the Paralegal Advanced Competency Exam administered by the National Federation of Paralegal Associations. Another test given by NFPA — the Paralegal CORE Competency Exam — permits those who pass to carry the title of core registered paralegal.
Registered paralegals are expected to meet minimum continuing legal education requirements – 18 hours over three years, half the requirement for attorneys.
Indiana currently has no minimum standards for paralegals, and Wallace is hopeful the state will move toward a model of voluntary regulation as have states such as Florida, Kentucky and North Carolina.
IPA President Monica Dabio, a Benesch paralegal, is beginning her second term leading the group. Dabio was president when the last proposal was being considered.
"I think maybe we do have a better chance, particularly with what's going on in other states," Dabio said. Those models from other states and their experience, data and information might help convince the court this time to approve a voluntary registration system.
"The majority of our members have been very supportive of those endeavors," she said.
But Wallace stressed any program the group endorses will be voluntary.
"We are aware there are those who don't want anything to do with it, who say, 'I've been a paralegal for 30 years and my reputation and the job I do speaks for itself,'" Wallace said. "And that's OK. Many of us came up through the ranks as legal secretaries, and there are paralegals who are just as knowledgeable with on-the-job training as those who have the education behind them. We don't want to put anyone out of a job."
What a voluntary system likely would do is institute some form of professional registration, set minimum standards and track those who've passed a competency exam.
Debi Binkley, a registered paralegal at Bose McKinney & Evans LLP, said although Indiana lacks a regulatory framework for paralegals, the state leads the nation in those with PACE certification who can thereby identify themselves as registered paralegals.
Binkley hopes that any regulation that might be considered would recognize those who've gained such a certification on their own. She said paralegals who've independently gotten some level of certification show how they view their work.
"You're making a statement to yourself, your employer and potential employers that you take your profession seriously and you're willing to validate your credentials," she said. "It goes to the credibility of the profession. We welcome the idea of being registered and having to take exams to boost credibility."
The IPA counts 362 active members. Next year will mark the association's 35th anniversary, Dabio said. The group traditionally has marked every five-year milestone with a celebration event, and 2014 will be no different.
Dabio said in the coming year she wants to reach out to areas outside downtown Indianapolis, where the majority of paralegals practice, and slate events in suburban counties and perhaps beyond.
Job outlook
Bose paralegal Julie Johnson oversees the job bank for the IPA and said instability in the legal market is having an impact on the career prospects for paralegals.
Johnson said the Bureau of Labor Statistics forecasts 18 percent growth in paralegal jobs between 2010 and 2020, a much lower rate than in prior decades. Generally, about 70 percent of paralegals work for law firms, with others working for banks or in other in-house capacities outside law firms.
When law firms cut back, "in some ways, it can actually be a benefit for paralegals," Johnson said. Firms reducing associate positions, for instance, may choose instead to staff more paralegals.
The IPA's job bank typically carries about eight to 10 postings at any given time, Johnson said.
"If you know someone at a firm or have contacts with attorneys or other people at the firm, sometimes that is the best way to get a foot in the door," Johnson said.
According to the BLS, 3,910 Hoosiers were employed as paralegals or legal assistants in 2012, earning a mean salary of $39,620.•
Please enable JavaScript to view this content.