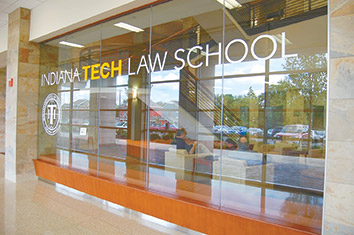 Indiana Tech Law School recently held a series of open houses to give professors, lawyers and community members a peek inside its new building.
Constructed especially to house the law school, the three-story building sits on the Indiana Tech's main campus in Fort Wayne. Large windows flood the interior with natural light and many soft-seating areas fill the open spaces.
 
Indiana Tech Law School's new 70,000-square-foot building (top) sits on the school's Fort Wayne campus. Its courtroom (center) is positioned in a rounded space and includes seating on the second level. The law library (bottom) spans three floors.
 (IL Photos/ Kelly Lucas)
"We want teaching and learning to go on everywhere in the building, not just in a classroom or in an office," said Dean Peter Alexander.
The central atrium flows into the courtroom which has been built in a round space. On the back wall hangs the large silver seal of Indiana Tech. Underneath is the bench with room for five judges and two witnesses.
Gallery seats are wrapped around in a semi-circle with the jury box filling the first two rows. On the second level, additional seating circles the courtroom.
The second and third floors contain the classrooms and faculty offices.
Spanning all three levels is the law library. The first and second levels house the materials while the third level includes a large student study area situated above the courtroom.
Classes at Indiana Tech, the state's fifth law school, are scheduled to begin Aug. 26 with orientation starting Aug. 21. The inaugural class is expected to have 30 students, below the school's original goal of 100.
Students are coming from across the United States, with a majority arriving from outside the Fort Wayne area. The school visited 109 pre-law programs and recruited in an area bounded by Des Moines, Iowa; Jackson, Miss.; Harrisburg, Pa.; and the upper peninsula of Michigan.
The new building has the capacity for 350 students or separate classes of 110 to 115 students each. It also has 28 faculty offices with full-time faculty expected to eventually fill 21 offices and the reminder being used by visiting and adjunct professors.
"We want to make sure the building is always comfortable, and the wide-open feeling you feel when no one is in the building is the same as when we're at capacity," Alexander said.•
 
Please enable JavaScript to view this content.