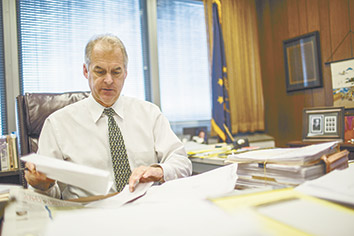 While some legal scholars lament the deterioration of Gideon v. Wainwright 50 years after the landmark Supreme Court of the United States decision, Marion Superior Judge David Dreyer is calling for an expansion of the principle to include civil litigants.
Marion Superior Judge David Dreyer (IL Photo/ Aaron P. Bernstein)
He has put his ideas into an academic article and plans to continue his research for his dissertation work at the National Judicial College. The basic premise of his paper is that in almost every civil case, people should be assured of having access to legal advice and representation. Without that, the fairness of the judicial system becomes questionable.  
"What's at stake to me is the rule of law because, to me, ensuring access to justice in civil cases for everyone is a basic tenant of national security and civil order," Dreyer said. "If people felt like they had redress, which we say we do in America, then there would be less alienation."
His paper, "Déjà vu All Over Again: Turner v. Rogers and the Civil Right to Counsel," which is to be published in Drake Law Review, examines the history and court opinions on civil right to counsel. It also pays attention to the barriers to obtaining counsel and the consequences of not having representation.
Dreyer looks at the idea of civil right to counsel through the U.S. Supreme Court case Turner v. Rogers, 131 S. Ct. 2507 (2011).
In that case, a South Carolina man who was $5,728.76 behind in child support payments was jailed for 12 months after a civil contempt hearing. Both parties were unrepresented by counsel at trial.
Once the man was released, he argued the U.S. Constitution entitled him to counsel at his contempt hearing. The majority found that the Due Process Clause of the 14th Amendment does not require civil counsel be provided to indigent individuals at contempt hearings even if that individual's liberty is at stake.
Dreyer believes the court accepted the case because it wanted to take a close look at the notion of civil right to counsel. In fact, he maintains, the justices really wanted to grant this right but, in the end, they couldn't.
Some advocates for civil counsel see progress in the ruling, or at least read it as better than nothing. Dreyer understands that point of view but also agrees with the opposite interpretation that the decision is really the same decision that has been handed down by courts in years past.
Hence, he turned to baseball legend Yogi Berra to encapsulate what the Turner v. Rogers ruling is: "Déjà vu all over again."
Dreyer asked: How can it be fair when people do not have access to advice and representation from lawyers because they do not have money? He, along with others, thinks that question has never been satisfactorily answered, and he is not convinced it could ever be fair.
"If you don't have a lawyer, you're not represented," Dreyer said. "What we're being pushed to is the acceptance of a system where people won't have lawyers and that's OK. And we shouldn't be having that."
Getting the data
Dreyer now wants to shift his focus to putting hard numbers to the debate over civil right to counsel. Currently, the arguments are all theoretical since no tangible, practical calculation exists.
Indeed, he noted, the idea that we cannot have due process in some situations without lawyers is not based on any hard data or empirical evidence.
Dreyer plans to compare the experiences and outcomes between those who are and are not represented by an attorney. He hopes to reach beyond Indiana and include other jurisdictions in the United States and, perhaps, abroad.
His tentative hypothesis reflects his concerns over fairness: "The data will show that a lack of access to advice and representation almost always, if not always, is a significant and substantial impediment," he said. "It affects results. It affects justice. It affects the quality of people's lives who are involved in the system."
Mandatory access
Dreyer's call for a civil right to counsel is an extension of his earlier push to change the legal profession's thinking about pro bono. In his 2009 paper, "Culture, Structure, and Pro Bono Practice," Dreyer advocated for the profession to help indigent clients by moving away from primarily relying on the attorneys' personal preference to do pro bono and instead mandate lawyers to provide access to the courts, although he left open what that exactly means for attorneys.
Coining the term "mandatory access" to replace the "outdated 'pro bono' professional idea," the Marion County judge wrote in 2009, "Instead of considering only what is preferred by the profession, we must focus on what is necessary to maintain the system."
Four years later, Dreyer sees a real chance for creativity and ingenuity in determining how to provide civil litigants access. He is welcoming to all approaches that achieve that goal.
Some of the new ideas for providing civil representation, he said, might involve bolstering financial resources, possibly through higher filing fees. Another possibility is that money could be shifted within pro bono programs to pay attorneys, or a voucher system could be created where the indigent clients could pay with a voucher, which the lawyers could then cash.
Dreyer also suggested that resources could be diverted from poor relief into legal services. This, in turn, might eventually alleviate some of the need for government assistance like food stamps and unemployment benefits because the legal issue, which is often at the root of the problem, is resolved.
In the courtroom
Dreyer has regular interaction with pro se litigants in court. Some are individuals who prefer to represent themselves, but most are people who appear without a lawyer because they cannot afford one.
He leads the process, talking to the pro se litigants, explaining what will happen during the hearing, and asking for the evidence to be presented. If the opposing parties start arguing with each other, Dreyer will take over questioning the witnesses on the stand.
Unlike other judges, Dreyer said he does not hate having self-represented individuals in court, but he acknowledged the system works much better when attorneys handle the cases. Attorneys and judges can talk to each other in legal terms where sometimes with pro se litigants, judges will struggle to understand their argument.
Dreyer sees the reasons for not providing civil counsel as centering around the practical, political and financial rather than constitutional concerns. Overcoming those obstacles, he concedes, will take time.
"We didn't get here overnight so it can't be changed overnight," Dreyer said. "But obviously what we've done hasn't worked as well as it should and it has to be changed."•
Please enable JavaScript to view this content.