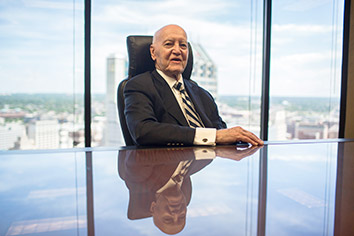 World War II had just ended and the Baby Boom generation was making its debut when Philip "Skip" Kappes graduated from the University of Michigan Law School. It was 1948 and, for those who were not alive or just too young to remember that time, the following are a few facts that might help you gain perspective on the differences in American society between then and now.
Men wore hats and women wore dresses (with pantyhose).
The average annual salary was $3,600, and a loaf of bread cost 14 cents.
Neither I-70 nor I-65 existed. And Hamilton County, which includes Carmel, Fishers and Noblesville, had a population of less than 30,000. (It was nearly 290,000 in 2010.)
It certainly was a different world – legally as well as culturally. Kappes, who was born in Detroit and moved with his family to Indianapolis in the 1930s, was the first of his clan to pursue law. After completing his undergraduate degree at Butler University, he found law school to be very different from his previous academic experiences. One big difference was his age.
"I was the youngest in my class when I started law school," Kappes said. "I was 19 and the rest of the class was made up of men who had been in the war. They were 26, 27 and they had a lot more experiences than I had."
Another difference was the study of law itself. Unlike the pre-law courses he completed at Butler, Kappes found that law school sought analysis and interpretation of concepts as opposed to rote memorization of facts.
These differences ultimately gave Kappes a unique perspective on law, as did his first position as an attorney with the Indianapolis Legal Aid Society. After representing a client in what he describes as a lengthy and somewhat ridiculous case, he was asked to become counsel for the defendant – the very business he'd successfully sued.
"If you do good work, word gets around and that probably is your most successful form of marketing," he said, "unlike the client that you get from marketing, because you've gone to the client. When the client comes to you there's an entirely different relationship that evolves."
Learn as you go
Kappes moved from ILAS to a position as associate at Armstrong and Gause where he occupied a desk behind the receptionist in the lobby. A number of his first clients came from the friendships he'd established as a member of the Butler University Alumni Association. He moved to C.B. Dutton where he met Ben Dutton, with whom he'd eventually form the firm Dutton Kappes and Overman. Over time he came to specialize in business law, a term that under-defines the field.
"Business law can extend from intellectual property, patents, labor disputes and contracts to personal injury, estate planning and even family law," he said. "If the CEO's son has a traffic accident, the company's attorney will be involved."
Adaptability, however, isn't the only key to success in business law. The other is an understanding of that business. Without such knowledge it's impossible to accurately represent a corporate client's legal interests. Learning about different businesses and how they work stemmed from Kappes' youth when he and his brother would go on sales calls with their father.
Continually evolving
In time, Dutton Kappes and Overman grew to more than 30 attorneys and a partnership that lasted for 30 years. As that firm began to dissolve, Kappes established another, Lewis & Kappes P.C., where he still practices today.
Through his 65-year career, he's observed much. Some of his observations can be classified as trend and others as truth. One truth is that law evolves, not just in the United States, but elsewhere.
"Our laws have evolved since I began practicing," Kappes said. "When I started, it was a lengthy legal process to establish a company, to become incorporated or establish a legal partnership. It was necessary to petition the courts. Now it's easy to become incorporated. When I traveled to Asia on legal business in the 1950s, I saw that their system was far behind ours. Today, those nations are legally similar to what we were back then. They require the same sort of lengthy legal process to incorporate that we did 60 years ago."
His perspective allows him to keenly consider whether the practice of law is improving as it evolves. A legal trend he identifies is the growing length of the discovery process, and he questions whether it efficiently uses clients' time and money.
"When I started practicing law, there was precious little in the way of discovery," Kappes said, "and so you had what I call the 'sporting theory of justice': You went with what you knew and what you had, but you never really got to take a peek at the other guy's cards like we do today. As a consequence you went to court, but you had to be prepared and pretty flexible and fast on your feet because evidence could come up that you had no idea ever existed. Now, that doesn't happen very often because you have the discovery rules and you pretty much know.
"While there's a powerful argument to be made, 'Why let everybody go blindly into these lawsuits?' I'm not sure we're doing it as efficiently as we should. Cases take far too long to resolve, and as a consequence I'm not sure that there's a uniformity of delivering a good product at a fair price. I'm not as worried about the good product – we're certainly capable of that – I worry that such things as law's rules, such as discovery, have become an impediment to the settlement of disputes rather than facilitating it."
Cultivating the community
Philanthropic works extend back to Kappes' earliest career and include involvement in the Boy Scouts, Butler University, the Masons, the Indianapolis Scottish Rite and Fairbanks Hospital. As with many aspects of his life, Kappes' work in the community stems from personal interest and family ties.
"My brother was our kids' scoutmaster," he said. "He had three boys and I had two, and out of that batch we got four Eagles and a Life Scout. So he did pretty well."
Other organizations weren't top of mind, but friendships and business connections led to his volunteerism. Fairbanks, for instance, wasn't something Kappes knew much about, but a friend's encouragement led to his long-term involvement.
As a citizen of Indianapolis, Kappes has given back through his professional and personal work. Possessing the second-longest active law license in the state, he still works at Lewis & Kappes a few days a week.•
Please enable JavaScript to view this content.