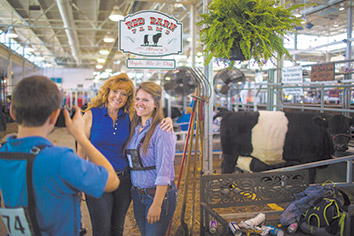 Are you a city mouse or a country mouse?
Years ago, Sherry Fabina-Abney would have identified herself as an urban rodent through and through, but today her answer would be quite different. Fabina-Abney, an attorney with the healthcare group at Ice Miller LLP in Indianapolis, moved her life and her identity to an 18-acre farm in Johnson County.
A country choice
Fabina-Abney spent her youth in northern Indiana and completed her undergraduate degree at Purdue University. After law school at Indiana University Maurer School of Law, she moved to Indianapolis and began her career at Ice Miller. It was Fabina-Abney's husband who pushed for moving beyond the suburbs when the couple contemplated setting down roots to start a family.
"My husband knew he wanted to be out in the country because his grandparents were farmers and he loved that lifestyle," she said. "We started making a circle and found a property in Johnson County."
The rural environment has had a tremendous impact on Fabina-Abney's children, leading them to community involvement and leadership as well as career opportunities they likely would not have considered if raised elsewhere. Oldest daughter Angela is a junior at Purdue University studying agribusiness and operating her own beef business. Middle daughter Allie, a recent high school graduate, is state FFA president and will spend the year advocating for agricultural issues. Son Dougie is involved in 4-H and raises and shows goats.
"It's kind of interesting how things go when you have children," Fabina-Abney said. "If someone said, '25 years from now, tell me what your life is going to be like,' I never thought I'd be out in the country, roosters crowing, cows mooing. It's actually turned out to be a lifestyle for our family. We've been able to teach our kids and instill in them a good work ethic and the value of hard work."
A rare breed
What's black and white and bred from heirloom Scottish stock? A Belted Galloway, of course.
About 12 years ago, Fabina-Abney and her family began to raise livestock on their farm. Angela begged for a calf to
raise and show at the 4-H fair. The couple agreed – on the condition that they start a herd and take on the responsibility of raising and breeding them. A neighbor introduced them to the Belted Galloway, a breed of cattle whose pure bloodline can be traced back to Scotland.
"They are a long-haired breed and they are well known for their meat tenderness," she said. "They are what's considered a heritage breed. They are from one of the oldest pure-bred genetic pools of cattle."
The breed's signature black and white (think Oreo cookie) coat and long mane (think bison) make it attractive – so attractive that one of the reasons Fabina-Abney's husband, Doug, chose the breed was because it would look good in their front pasture.
"We have the largest registered herd of Belted Galloways in the state of Indiana," she said. "It's like registering a pure-bred dog. Typically their hair can get up to 6 inches long. They also have a long undercoat so in the wintertime they don't need as much fat to cover their body and keep them warm. That's why they're leaner. They're great foragers. If you go back to their heritage, Scotland, a rocky, rugged territory, they'd have to eat anything to survive."
Similar to dog shows, the family shows their bovine beauties at fairs and competitions, including this year's Indiana State Fair. Because of the rarity of Belted Galloways, the Abneys entry was in a class by itself.
"This was the first time they were shown as a class," Fabina-Abney said. "We were grateful that the State Fair let us do that to give the Belted Galloway group a place to show their cattle."
It was as the family's involvement in breeding Belted Galloways grew that Angela decided to open her own business – Red Barn Meats, LLC.
"When she was in high school, through FFA, she started her own freezer beef business that she continues to run and operate," Fabina-Abney said. "She goes to various farmers' markets – she does the Bloomington market, the Greenwood market, Franklin and she does the one over here at the statehouse – she buys our steers when they're ready to be harvested and she processes that and sells that as meat with her private label."
Red Barn Meats is purveyor of not just beef, but pork, goat and eggs. Angela works with her father, sister and brother to manage the business while attending school full-time.
Greener pastures
Choosing a life beyond suburbia has shaped Fabina-Abney and her family in countless ways. She looks at her oldest daughter as an example, citing how the life choices she's making are a direct result of where and how she grew up.
"My husband and I didn't come from an agriculture background. It's a lifestyle for our kids and our kids want to continue that lifestyle in whatever career they choose," she said. "It's interesting how the kids have taken off with the whole agriculture passion."
This story of a city mouse who became queen of the country may seem to disprove Aesop's moral. Like most fables, however, the true meaning deepens upon reflection, and for Fabina-Abney, the lesson ultimately becomes, "You make choices and you live them."•
Please enable JavaScript to view this content.