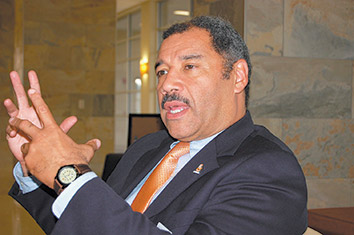 Within the Allen County legal community, the opening of Indiana Tech Law School has drawn mixed reaction.
Some lawyers question opening a new law school and see the idea of producing more attorneys in a tight job market as exploiting students, according to David Van Gilder, attorney at Van Gilder & Trzynka P.C., in Fort Wayne. On the other hand, some are supportive and positive about the school. As of opening day, many are ambivalent.
 
The reality is Indiana's fifth law school has built a new facility, hired faculty, enrolled students and started classes, so the local bar association has really one option. It needs to support and collaborate with the school, Van Gilder said, or the local bar will be cast in a very negative light.
Indiana Tech Law School Dean Peter Alexander has noticed growing support from the bench and bar. About 75 local judges and attorneys have signed on to be mentors for the students, and non-profits and government organizations have offered more than 100 externship placement possibilities for second- and third-year students.
Of course, the students will ultimately determine the success of the school. As the doors open, Indiana Tech Law School has 30 students in its inaugural class.
"It is possible they won't attract enough people to make an economic go it," Van Gilder said. This is a "hard time to start a law school."
Sustaining a 5th school
In the blogosphere, the criticism of Indiana Tech has been unrelenting. High-profile professionals along with many disgruntled law school graduates have questioned Indiana Tech's motives and implored students not to attend.
Even the board of directors was skeptical of the idea when Indiana Tech President Arthur Snyder first approached them about three years ago, said Robert Wagner, vice chair of the board.
However, as the board studied the idea, consulting outside counsel and reviewing the finding from a feasibility committee, the board arrived at the conclusion that northeast Indiana has a need for its own law school, said Wagner, attorney at Shambaugh Kast Beck & Williams LLP.
He conceded the review was conducted before employment rates of law graduates declined and the burden of student loans hit the news. Not all the Allen County attorneys the board talked to were optimistic about the school.
Still, the board wanted to make post-graduate options available to Indiana Tech students as well as give northeast Indiana students who want to become lawyers the option of attending law school close to home.
Wells Circuit Court Judge Kenton Kiracofe can understand the benefit of having a university within driving distance. The Allen County native attended IPFW as an undergraduate because going away to school would have been too expensive. Still, he conceded his feelings are mixed about opening the new law school.
"I hope the law school is successful," the judge said. "My concern is just the cost of going to law school. Having a regional law school doesn't solve that."
Hands-on curriculum
Alexander has tirelessly countered the ongoing denunciations, maintaining Indiana Tech will be different from the established law schools.
He explained the school is combining best practices from most law schools around the country. Its curriculum involves bringing theory and practice together earlier in the students' school career and talking about ethics and professionalism at the start rather than waiting until graduation is looming.
"So with no history, no recalcitrant faculty, no administrators saying, 'Don't do anything dangerous,' we have no barriers," Alexander said. "We decided to go out and find those best practices around the country, add some of our own and bring them all here from the start. So in a way, this is just a grand experiment to see how much creativity a law school can have and be successful."
The school plans to have seven clinics where students will have the opportunity to do a range of legal work from mediating disputes between undergraduates and writing wills for Indiana Tech faculty to filing the intellectual property paperwork and helping an Indiana Tech engineering student or professor bring his or her invention to market.
Indiana Court of Appeals Judge Paul Mathias noted how the school will fare is uncertain, but its approach toward involving the legal community is different and poses a stronger paradigm than many other law schools.
A native of Allen County and former Allen Superior Court judge, Mathias welcomed the school, saying it adds substantial value and pride to the local legal community.
"It's an exciting development for Allen County and Fort Wayne and the presiding bar there," Mathias said. "But more importantly, it's an exciting alternative to traditional law schools. It is certainly an alternative that merits consideration from folks who are thinking about attending law school."
Van Gilder agreed, saying he believes Indiana Tech's emphasis on clinical work as well as the school providing mentors for all students is probably the best way to educate attorneys.
As for those who question the school's approach, Van Gilder pointed to his own experience teaching as an adjunct faculty member at the University of Saint Francis in Fort Wayne.
Over the three-year period he has taught graduate-level courses in the environmental health program, students enrolling for online classes have doubled. While he was skeptical of putting college classes on the web, he admitted it has become the trend in higher education.
Guadalupe Luna, professor of law at Indiana Tech Law School, said she wanted to be a part of the new law school because of its commitment to ethics and to giving students more hands-on experience. (IL Photo/ Kelly Lucas)
In light of that experience, Van Gilder concludes just because something new has come along, that does not mean it can't be successful.
Lawyers and jobs
Indiana Tech founding faculty member Guadalupe Luna countered the common complaint against the school that it will be bringing more lawyers into a market that has little need by arguing that the data showing fewer jobs for attorneys is skewed.
Jobs at the big law firms that were regularly filled by law school graduates have dried up but, Luna said, the need for legal representation among people at the bottom and middle of the socioeconomic scale remains strong.
The school's holistic approach will prepare students for "defending the common man" as well as working in law firms by teaching the core doctrine along with showing students, first hand, the impact court decisions can have on people's lives.
Van Gilder echoed Luna by saying there are not too many lawyers but rather too many lawyers not doing the right things. Allen County and the surrounding counties have plenty of work for attorneys, but the caveat is not all of it is paying work.
Of the 800 members of the Allen County Bar Association, he said, just 180 offer their services for the Volunteer Lawyer Program of Northeast Indiana, Inc. The influx of graduates from Indiana Tech Law School might provide more volunteer attorneys.
From his bench in Wells County, Kiracofe has seen both too few attorneys and too many people representing themselves. The root of the problem is not a lack of lawyers but rather the economics of the county. Few residents can afford attorneys whether they are available or not, and those practicing law have to get paid for their services in order to support themselves.
Auburn attorney W. Erik Weber of Mefford Weber and Blythe P.C. believes the new law school can be a positive for the lawyers who have established offices in the region. The firms may be able to hire the Indiana Tech law students as interns during the school year. At present, the distance to northeast Indiana makes taking an internship while classes are in session impractical for students studying at law schools in other parts of the state.
Many opportunities for volunteering and interning may be available to Indiana Tech law students, but what about paying jobs after they graduate?
Van Gilder pointed out finding a position is hard right now for graduates of any law school. The key to getting a job is being able to do the work without needing a lot of handholding.
After graduation from American University, Van Gilder worked in a windowless office doing discovery, researching and writing briefs. Yet he did not have the practical skills to write a will or work on a domestic violence case or help a business owner with an immigration issue.
Today, as someone who hires attorneys, Van Gilder said he prefers lawyers who can talk to people, have empathy and know their way around a courtroom. Usually the candidates who fit that description, he said while admitting he was making a sweeping generalization, did not graduate at the top of their law school class and often had to have a job to pay the tuition.
If Indiana Tech law graduates applied to his firm for a job, Van Gilder said he would interview them and gauge their skills just as he would any graduate from any other law school.•
Please enable JavaScript to view this content.