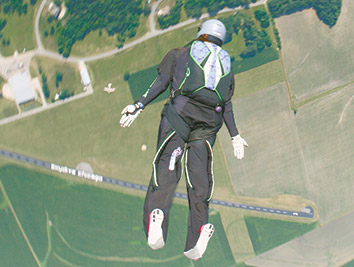 Twelve thousand feet above rolling Indiana farmland, attorney Amy Romig prepares to jump, as the saying goes, out of a perfectly good airplane. Most of the plane's passengers are jittery first-time skydivers, but Romig's nerves are just fine. That's because she's done this 1,300 times.
Dressed in a flight suit and armed with three separate altimeters, she looks exactly what she is: experienced, calm, and careful. She puts on her helmet and jumps, almost casually, out of the plane. She's gone in an instant. A first-time skydiver in the cabin screams in alarm when Romig exits the plane, but Romig doesn't hear her. She's already rocketing toward the ground, the wind roaring in her ears, tearing through the sky at 120 miles per hour.
 
Romig, a partner at Plews Shadley Racher & Braun LLP, just celebrated her nine-year "sky-versary," as she has affectionately dubbed it. Initially wanting only to check an item off of her bucket list, she never suspected that skydiving would quickly become her passion.
If skydiver doesn't fit your image of the typical lawyer, think again. The average drop zone is a huge melting pot, full of individuals from many walks of life. A chiropractor, an engineer, a mechanic, several musicians, and — of course — an attorney are all present on this jump day.
Romig posits that the personalities attracted to law and skydiving actually overlap.
"One thing that lawyers do is make sure that they're well prepared," she explained. "They come up with strategies, they prioritize and think out the risks, and skydiving is a lot the same way. You make sure you're adequately prepared, and you plan exactly what you're going to do. It's very similar to when we prepare for hearings in that you think about what might possibly happen and prepare for all eventualities."
Romig
Romig is not the only attorney at Plews Shadley Racher & Braun who has taken the leap. Eight associates have tried it, often at the encouragement of Romig, and her very first dive was with two of her colleagues.
Brett Nelson, one of the two attorneys who jumped with Romig on their maiden flight, had — and still does have — a fear of heights. In fact, a desire to overcome that fear was one of the main reasons he went skydiving in the first place. Though he has never been able to totally conquer his fears, they aren't enough to safeguard him against the allure of skydiving.
"Absolutely, when I hit the ground, I knew," Nelson said. "Nothing had ever been that fun and exciting for me, and I knew I'd do it again. Of course, those first four or five seconds before I went out the [airplane] door, I was equally sure that I'd never, ever do it again."
Despite his fear, Nelson has jumped over 800 times.
Nelson
Romig, on the other hand, doesn't recall being scared at all on her first jump. She was too focused on completing each step of the dive correctly to have time for jangling nerves. Any pre-jump jitters she may have felt were alleviated by the thorough organization and day-long training provided by Skydive Greensburg, now Skydive Indianapolis.
"I felt completely confident," she said. "They trained us so well, and you're a lot less scared when you know what's coming and you're fully prepared."
One thing attorneys who have made this leap of faith agree on is that skydiving is the ultimate way to relieve stress and escape the grind of daily life.
"It's absolutely wonderful," Romig said. "For that minute that I'm in freefall, all I'm thinking about is what I have to do during that minute in freefall. I don't think about work. I don't think about whether I'm going to be late for daycare. I don't think about whether I've changed the oil in my car. I'm purely focused on what I am doing for that minute. I can't think of any other activity I do that does that for me."
But Romig is quick to clarify that skydiving is much more than just a thrill. Calling it 90 percent mental and 10 percent physical, Romig notes that skydiving is a very technical and disciplined sport. That, along with its ability to always provide new goals and challenges, is what appeals to her.
"I was going to be an engineer," she said, "but I got bored and decided I didn't want to turn the same valve for the next 20 years. I chose law because things were new and exciting and I always had a challenge, and skydiving is the same way." Even after 1,300 jumps, she claims she still learns something new every time.
Having mastered the basics, Romig quickly moved on to competitive skydiving. Each year, she attends the USPA National Skydiving Championships, where she competes on an eight-person team to determine which team can complete the most formations during freefall within a set time limit. This two-week event not only satisfies Romig's competitive streak, but also provides a real sense of community.
"It's really rare for your rec league basketball player from NIFS to get to play on the same court as LeBron James, but I get to do that," she said. "I get to see the best skydivers in the world, and they'll talk to me and help coach our team and give us suggestions. It's a very small community, and it's very collegial."
Romig's eight-way competition is just one event of many. There are a surprising variety of disciplines within skydiving, including one in which acrobatics are performed mid-air, and another in which divers deploy their parachutes almost immediately and demonstrate their canopy skills.
"Some people like the canopy part so much that that's all they do," Romig explains. She pauses slightly, then smiles. "Obviously you can't do just the freefall part."•
Please enable JavaScript to view this content.