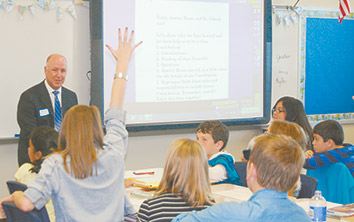 Rites celebrating our rights will take place across Indiana on Sept. 17, the 10th official observation of Constitution Day.
This year, judges around the state reached out to schools and teachers in their counties offering to speak to classes primarily in grades four through 12. The Division of State Court Administration encouraged judges to talk to students about how the state and federal constitutions are amended.
"One of the things we wanted to show the kids was, people talk about the constitutions as being living documents, but do they really process that and understand what it means?" said Elizabeth Osborn, coordinator for court history and public education programs at the Indiana Supreme Court.
Osborn said at least 45 trial court judges, a Court of Appeals judge and Supreme Court justices plan to speak in at least 100 classrooms and reach more than 3,000 students. "We've been happily surprised," she said.
State court administration has produced copies of state and U.S. constitutions and other materials for judges and court officers who will be talking with students.
Lake Superior Judge Julie Cantrell will be making her first Constitution Day presentation, and she recruited five judicial officers to speak to classes in northwest Indiana. Cantrell said she used Facebook to connect with teacher friends before putting a call out to judges and court officers.
 
Judges will be talking to students in fourth, fifth and eighth grades on Sept. 16, tailoring the content to specific standards for each level. "Basically the first activity is talking about what the Constitution is and why we have it," Cantrell said. Then the classes will talk about the process of amending the state and federal charters.
She said she also intends to talk about local issues in the news that have been impacted by the Indiana Constitution.
On the other side of the state, Ohio-Dearborn Magistrate Kimberly Schmaltz has a full day of constitution instruction planned and will meet with every class at Manchester Elementary School in Aurora, where her daughter is a teacher.
"I think it's really important for kids to get excited about the constitution and it's so important that they have that foundation and appreciation of the freedoms they have," Schmaltz said.
Schmaltz has done Constitution Day events for years and has a little something different for varying grades levels. Kids in kindergarten and first grade get to sign their names to replica constitutions, for instance. Second- and third-graders will learn fun facts about the constitutions.
For Schmaltz's fourth- and fifth-grade classes, students will participate in mock trials and play roles as prosecutors, defendants, defense attorneys or jurors. Sixth-graders will take part in a true-false elimination quiz about the constitutions, with the last person standing crowned constitutional law champion.
But the sixth-graders of Manchester Elementary won't be the only ones competing to be constitutional law champion. The American Civil Liberties Union of Indiana will sponsor Constitution Day Trivia Night from 6 to 9 p.m. at Black Acre Brewing Co., 5632 E. Washington St., Indianapolis. Tickets are $20 advance and $25 at the door.
Other events related to Constitution Day include:
At Indiana University Maurer School of Law on Sept. 17, Duke University law professor Jeff Powell will speak on presidential war powers and Syria.
At Notre Dame Law School on Sept. 18, 7th Circuit Judge David Hamilton will present "Statutory and Constitutional Interpretation – A View from the Front Lines."•
Please enable JavaScript to view this content.