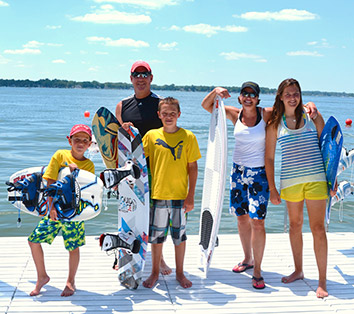 It's one thing to talk about work-life balance; it's another thing to actually find ways to achieve it. Keeping personal lives rich and maintaining connections with family and friends can be challenging, but those who've employed creative means to do so say it eases pressures often felt in a time-consuming profession like the practice of law.
Lake escape
Allen Superior Judge Wendy Davis and her family found their outlet in a lake house on Lake Wawasee in Kosciusko County. Summer weekends, she and her husband and three kids – ages 16, 13, and 8 – head up to the lake to play on the water and enjoy one another's company. "It's fun because the five of us can do it together," she said.
The summer schedule requires some scheduling finesse on Davis' part. She and her colleagues rotate on-call warrant duty. In summer months, she said she takes weeknights, and her colleagues take most weekends.
The lake house is actually her parents' place, so Davis'
brothers and their families are also often there through the course of the summer. Not only does the lake house give the family a chance to have fun together, but Davis said it has also served as a backdrop to have great conversations with her kids and their friends.
"It's a great time to reconnect as a family," she said. "We spend time singing, laughing and encouraging each other as we learn new tricks."
The benefits to her family are enormous, she says. "You've gotta find ways to get back to your family and find out what's important. If you don't have good relationships with your family you don't have anything. That security of spending time with their family, I think it gives our kids a lot of security in themselves."
During the school year, staying in touch as a family can be difficult. "We fight to have a family dinner," she said. But, she and her husband made the decision to be intentional about taking time all year, and especially in the summer, to build family bonds.
Davis credits her father, who bought the lake house a little over a decade ago, with being a great example to her and her brothers. "He was the role model, not only with business and success, but also with family," she said.
Father/daughter time
Carmel attorney Rebecca Geyer has found a unique way to connect not only with her own father, retired attorney Richard Gole, but also with other father/daughter attorneys in the Indianapolis area. She and three other women get together with their fathers for a quarterly dinner and spend a few hours chatting on topics ranging from work to family to sports and news.
Geyer said she and her father were family friends with Indianapolis attorneys Jeff Slaughter and Nicole Slaughter Hague. Slaughter knew of other father/daughter attorney pairs, and suggested they all get together for dinner, and the group was born. "We all do different things, and none of us practice together," Geyer said. "It's interesting to learn about other peoples' practices."
The group chooses different restaurants in which to meet, she said. "It's a nice way to keep in touch, and enjoy some father/daughter time."
Gole is the only attorney who no longer lives in the area. After retiring he moved to Florida, and they try to schedule dinners around his visits.
Playing the ponies
Fort Wayne attorney Stan Rosenblatt said he tapped into a long-time interest to find a new way to connect with his sons: harness racing. "I grew up in Evansville, right across from a thoroughbred racetrack," he said. "I used to spend a lot of time at the track and enjoyed it and became a horse racing fan."
An attorney friend of his was involved in standard bred horse racing, and he encouraged Rosenblatt to get involved. Rosenblatt said the suggestion came at a good time. "As my kids got older, and as they got into high school, there was not as much interaction," he said. "I was looking for something to open up communication and give us other things to talk about than 'how is school?'"
Taft attorney John Pagageorge and his daughter, Mia, participated in a 406-mile, week-long bike ride across Iowa this summer.(Submitted photo)
So, he got into partnerships with standard bred horses and started racing. The move was a hit with his kids and provided the forum for relationship he'd been hoping for. The two boys would come to the track in Anderson, sometimes alone with their dad and sometimes bringing friends along.
"The hour and a half trip there and back gives you a self-enclosed environment where you can talk and listen," Rosenblatt said.
This connection has continued through the boys' transition to college and to the working world.
Not only has it helped maintain relationships with his sons, but Rosenblatt said it is a relaxing getaway for him. "I get away from the office, and I look forward to going down and watching," he said.
Not heaven, Iowa
For Indianapolis attorney John Papageorge, he and his daughter Mia found a connection this summer cycling across Iowa. The Register's Annual Great Bicycle Ride Across Iowa – commonly known as RAGBRAI, is a seven-day bicycle ride from the Missouri River to the Mississippi River, and draws thousands of participants each year. Papageorge, an avid cyclist, and 13-year-old Mia decided over the winter to do the 406-mile trip this summer.
Mia started riding with her dad on occasion when she was about 8 years old, and their excursions gradually grew to longer and longer rides. Mia has been a competitive swimmer for about four years and wanted a break from that, so the two decided to train for and participate in the RAGBRAI.
Papageorge said he started cycling 10 years ago. "It's the only time I don't have my phone ringing – I mean, it rings but I don't answer it," he said. "I'm sort of away from the legal world, from the stress of all that, and I'm usually by myself on my bike."
Papageorge said he got lucky in that his daughter also enjoys cycling – it provides an outlet for her competitive, goal-oriented personality, while at the same time giving the two of them a point of common interest.
Finding an outlet
Loretta Oleksy, a case manager with the Indiana Judges and Lawyers Assistance Program, said it is easy to get caught up in the day-to-day pressures of life and forget that we need to take care of ourselves and our relationships.
The legal profession doesn't always encourage that sort of personal engagement, Oleksy said. "I love to hear that lawyers are getting out there and finding ways to stay connected."
There are many, many different ways families can grow together. In her own family, Oleksy said they have found success with reading a book together as a family and discussing it, chapter by chapter. That face-to-face time is essential, especially in a time when electronic communication is so easy.
With a very busy family, Oleksy said scheduling time on a calendar might be helpful, even though it seems less-than-spontaneous. "Say, 'this is our sacred time, and we don't schedule things over this,'" she advised.
A big part of maintaining overall health is developing and maintaining quality personal relationships. Oleksy said people with strong social connections have fewer health-related problems, lower risk of mental illness, faster recover from trauma and illness, and a host of other benefits. And, overall, she said, "People are happier when they are with other people than when they are alone."•
 
Please enable JavaScript to view this content.