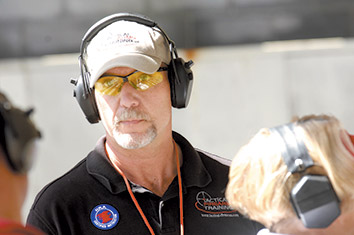 A man whose 51 guns were ordered seized by a judge who determined him dangerous after his behavior alarmed Bloomington police near the site where missing Indiana University student Lauren Spierer was last seen is asking the Indiana Supreme Court to return his firearms.
The transfer petition filed Sept. 5 by Carmel attorney Guy Relford argues state laws allowing the taking of firearms from people deemed "dangerous" are unconstitutionally vague and that the law as applied to his client, Robert Redington of Indianapolis, is unconstitutional and wasn't sufficiently supported by evidence.
Redington was never charged, and he was released after three days of observation by mental health professionals "on the specific conclusion that he was not a danger to himself or others," the petition claims.
"Only individuals who pose an imminent risk to themselves or others should be subject to the seizure and confiscation of their firearms," the petition argues. "Lawful and sane Indiana residents should not be subject to those penalties based only upon the speculation and conjecture of persons untrained in mental health – such as law enforcement officials – and unsupported by competent expert testimony."
The brief says Redington, 56, has no criminal history and has held the same job for 35 years. "Yet despite the fact that Redington has never been arrested or convicted of any crime and his property has never been used in a crime, his property has nonetheless been seized by the State without any compensation to Redington whatsoever. … It is therefore clear that the Act violates Article 1, §21 of the Indiana Constitution and the Fifth Amendment of the U.S. Constitution as applied to Redington."
The case presents a matter of first impression: Who may be considered dangerous enough under state law to have weapons taken from them without being criminally charged.
That question resulted in a split 48-page opinion last month from the Indiana Court of Appeals which affirmed a trial court order and the subsequent confiscation of firearms from Redington's home. Three judges wrote three opinions, but two upheld Monroe Circuit Judge Mary Ellen Diekhoff's order to search Redington's home and confiscate weapons after she determined he was "dangerous" under I.C. § 35-47-14-1(a)(2)(B).
The state believes the Court of Appeals got it right.
"Mindful of the right to bear arms, the Legislature passed a statute to address situations with armed mentally disturbed individuals posing danger to others; and we agreed with the Court of Appeals decision that the statute is constitutional and that the trial court judge properly applied the law in this circumstance," said Bryan Corbin, spokesman for Indiana Attorney General Greg Zoeller. "We contend the Court of Appeals should be affirmed."
Bloomington police detained Redington on Aug. 4, 2012, after encountering him in a parking garage near Kilroy's Sports Bar just off the IU campus. He had been scoping out the location with a range-finder, and his behavior was erratic, according to police. He told far-fetched stories of having met Spierer, and he asked police about their proficiency shooting at long distances. Redington also later told authorities he'd seen spirits, among other things, that prompted police to detain him on the belief that he was delusional.
Detectives took Redington to IU Health Hospital in Bloomington, where a doctor said Redington suffered from "a type of personality disorder called schizotypal," and perhaps a paranoid or delusional disorder. A registered nurse assigned to Redington said he "'appeared delusional, grandiose, and … religiously preoccupied,' in that he appeared to be experiencing 'a break with . . . reality' and that he claimed 'he would know things that would happen beforehand,'" according to the prevailing COA opinion written by Judge Elaine Brown and joined with a concurring opinion by Judge Cale Bradford.
Redington was legally carrying two handguns that were seized, along with a shotgun found in the trunk of his car. During the period of his psychological evaluation, the search of his home ordered by Diekhoff turned up another 48 firearms and ammunition that were seized, and Redington's license to carry a handgun also was suspended.
"This case appears to be an issue of first impression, and, as recent events nationwide have demonstrated, poses a question of great public interest," Brown wrote. "We find that Redington continuing to own firearms threatens to inflict 'particularized harm' analogous to tortious injury on readily identifiable private interests."
But Relford's brief cites Judge Patricia Riley, who wrote in dissent that the state failed to meet its burden showing a person is dangerous if he "presents an imminent risk of personal injury" to himself or another. She noted that the psychologist who examined Redington after his involuntary commitment testified that he was released when it was determined he didn't pose an imminent danger.
"The State provided no further probative evidence establishing otherwise," Riley wrote. "I would therefore reverse the trial court."  
The brief seeking transfer also refers to popular culture to argue that the government has no legitimate interest in depriving law-abiding citizens of their Second Amendment rights based on the possibility of a future risk.
"Indeed, the State's application of the Act to Redington is eerily reminiscent of the movie 'Minority Report,'" the brief argues, citing the science-fiction film's cautionary tale of a "department of pre-crime" in which future criminals are arrested and punished before offending.•
Please enable JavaScript to view this content.