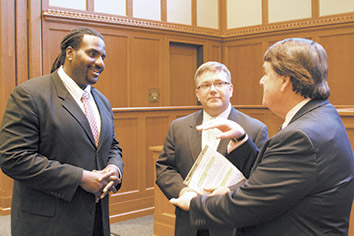 Tucked along the hallway in Biolchini Hall of the University of Notre Dame Law School is an office that reflects the new focus – and the new struggle – of legal education. It is the Office of Career Development with a sleek interior of sliding doors, computers and conference rooms, and it is designed to help students get jobs once they get their law degrees.
Retired Indiana Supreme Court Chief Justice Randall Shepard noted the necessity of making a concentrated effort to find employment at a time when the job market is tight and the loan debt is high. Addressing Notre Dame law students during the Clynes Chair Lecture in the McCartan Courtroom, he offered words of reassurance.
"I don't doubt for a minute that there are valuable employment opportunities for most people who want to become a lawyer," Shepard said. "If you find yourself getting across a series of hurdles that law school and the bar exam present, you will, more often than the critics say, have the chance to be a lawyer somewhere doing something."
Shepard's remarks on Sept. 25 were his first public comments since the American Bar Association's Task Force on the Future of Legal Education
released its draft report five days earlier. He is the chair of the committee which has been reviewing the quality of education offered at U.S. law schools and is making recommendations for change.
Notre Dame Law School, which laid the cornerstone to Biolchini Hall in 1930, has spent the past several years thinking about how the curriculum and classroom work has to adjust to meet today's demands; what skills and competencies students should acquire; and what values they should hold once they become attorneys.
According to Associate Dean for Faculty Research and Development Mark McKenna, the conversations have been hard but beneficial and important to do. Along with reaffirming what the South Bend school does well, the review has highlighted the things that can be done better.
Notre Dame concluded the externship program was one area it needed to improve, McKenna said. Many professors incorporate hands-on activities into their classrooms, but placing students in a workplace where they can apply what they have learned in law school was not happening enough.
The law school has worked to strengthen the externship program by increasing the number opportunities along with providing time for students to think about how the coursework links to their work on the job.
"So you're trying to take students who have learned a subject matter and then put them in a practice environment where they have to make use of that. Both reinforce what they learned in the classroom, but then it also helps them understand the context that you can't necessarily get from the pages of a book," McKenna said.
In the draft report, the task force asserts a key to fixing the current problems in legal education is changing the culture of law schools to become more innovative. The Shepard committee calls for fostering more experimentation by law schools and expanding the opportunities for experiential learning with the end goal of better preparing students for the practice of law.
Shepard told the Notre Dame faculty and students that the model of legal education that has been in place has served the country well. He disputed critics who claim law schools are forced through a meat grinder that makes them all the same. Law schools, he said, occupy all kinds of intellectual niches, geographical objectives and they choose a different mix of faculty and curriculum. They are not cookie cutter institutions.
However, he continued, they are highly regulated. And while the schools say these practices are a sound way to organize instruction and they would implement them regardless of whether the accreditation standards required them to or not, there should be room for innovation.
"Our proposal is in the draft report, that the accreditation system ought not only empower people who have a solid plan that varies from (convention) but to actually invite people to come in with more dramatic options," Shepard said. "Oblige them to describe why this might be a better system, oblige them to describe how we will know whether it's better or not … and then let everybody take a look at it and see whether maybe that could be more widely embraced."
Cost and, in particular, the way law schools fund legal education is another main focus of the task force's report. Shepard reiterated that under the current system of merit-based scholarships, the students with the best chance of getting a job are accorded a discounted tuition through scholarship but the students who are less qualified do not get as much financial assistance and have to borrow more to pay for their education.
Echoing Shepard's observation, McKenna said it is nearly impossible for a law school to "unilaterally disarm the way" it funds itself. The problem has gotten worse, McKenna said, as states have cut funding to state-supported schools and thereby shrunk the best way of getting a legal education, especially for students who have a greater need for financial help.
"If (states adequately funded their schools), that would take a lot of the pressure off some of those schools to finance their school entirely through tuition," McKenna said. "Then, if their price point came down a lot, it wouldn't be as pressing to figure out how you allocated the tuition dollars. Now, I don't want to pretend like tuition would come down enough that it would still not be a burden, but it would at least take some of the pressure off of doing that."
To help Notre Dame students manage debt, in 2001 the law school started the Loan Repayment Assistance Program aimed at covering the education loans of law graduates who go into lower-paying public service or non-profit work.
The repayment program not only eases the financial burden, McKenna said, it widens the job market by giving students the option of working in government or charitable organizations. By putting more lawyers in legal services, this helps tackle the conundrum in the job market of law graduates going without jobs while many non-lawyers are going without legal assistance because they can't afford it, he said.
McKenna advocated for law schools to get their students thinking more broadly in terms of job opportunities and beyond the prestige firms, but he conceded that can increase the financial burden on the school. The funding mechanism depends on tuition as well as philanthropy so, McKenna said, "you need some students making a lot of money when they get out in order to fuel the machine."
Among the collection of faculty and students listening to Shepard's lecture was Geoffrey Bennett, who brought a fresh perspective to the ongoing debate over American legal education. Bennett is an English barrister and the director of the law school's London Law Programme.
In the United Kingdom, the solicitor and barrister law degrees are taught at the undergraduate level and include a year of apprenticeship. Also, students who have completed their college studies in a different discipline can add a one-year graduate course in law where they are taught the core subjects and are then able to sit for professional exams.
Once they graduate, students trained as solicitors mostly join law firms while barristers mostly open their own offices and, until recently, had to be self-employed.
Bennett was hesitant to detail what American law schools could learn from the UK legal education system, but he did point to law being a post-graduate subject in the U.S. rather than something taught at the undergraduate level. He speculated that adds enormous expense and students coming from college are not functioning at a higher cognitive level because they often do not have any knowledge of law that they can then build on in law school. They start their legal studies from scratch.
"So I think that strikes many of us in the UK as being a colossal extra expense to qualify as a lawyer," Bennett said. "I think there's a lot you can say about British lawyers, but I don't think anyone is able to suggest that they are technically worse than their American counterparts, so it seems to work."•
Please enable JavaScript to view this content.