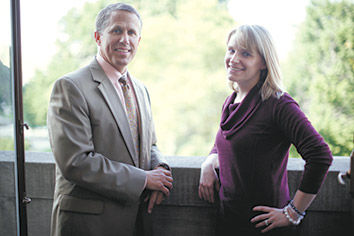 Passing the bar. The term, for most, refers to passing a test, but the word "bar" has a number of legal meanings. Its origin, for example, referred to an actual bar or partition that separated the working and public areas of a courtroom.
For those studying law, passing the bar exam is the only way to jump that bar, the only way to gain admittance to that most sacred of legal territories. Yet many new lawyers find that admittance and belonging are two different things. Armed with law degrees and a license to practice, they really need help with the "how to" part of being a lawyer.
Informal mentoring has traditionally helped new lawyers transition to life in the legal profession, but more and more legal entities see the overarching benefit of formalized mentoring programs. The Indiana State Bar Association introduced its Mentor Match program for just such a purpose, offering tools and information to segue participants into legal relationship building. Willing to share their own experiences with another, mentors lend a hand so as new attorneys jump the bar, they land on their own two feet.
A movement to mentor
Mentor Match grew from the realization that new lawyers needed further practical experience to transition successfully from law school to the legal community.
Headed by Maryann Williams, director of sections at the ISBA, and Magistrate Caryl Dill, among others, the committee began by researching what other states offered in their mentoring programs.
"We looked at curriculum-based models," Williams said. "So as you're going through this curriculum, you're building a relationship and that person becomes someone you can ask questions of. We didn't want it just for new lawyers."
A bonus came when both mentors and mentees who completed the program could qualify for Continuing Legal Education hours or Applied Professionalism Course credit. Indiana was the first state to offer CLE credit for completing a mentoring program; many others now have followed suit.
According to Williams, the curriculum's purpose is to establish a foundation and framework from which the match pair can build their relationship. Understanding the importance of creating pairs that are not only compatible professionally but also personally can be tricky.
"You can't match people by computers," Williams said. "I look at their practice area and the area they practice in. Sometimes I have to do cold calls, where I call up somebody in Angola and say, 'I don't know you, but you're a member. Would you be willing to be a mentor for someone I have up there.'"
Seeing the value in the Mentor Match, organizations have approached ISBA requesting use of the program's infrastructure that they then adapt to meet their own needs. Examples include the attorney general's office, Ice Miller and those who choose to have mentoring groups as opposed to one-on-one matches.
To each his own
Mentor Match is nothing if not flexible. As the ISBA committee developed the program, their main goal was to create a springboard from which participants could build a relationship. Participants' personalities and personal goals ultimately determine what the match becomes.
"We met at an interesting point in our careers," said Ilisha Dowell, an attorney with the Indiana Department of Child Services. "She [mentor Sonia Leerkamp] had recently left her position where she was the prosecuting attorney for Hamilton County, where I was living. I was in an interesting position because I was looking for my first attorney position, so she was kind of walking out the door when I was trying to walk in the door."
Leerkamp, now a special prosecutor for Indiana, agreed that the pair was able to gain insight from the other's experiences. Their relationship became a friendship and the two still keep in touch.
"We got to the point where we would talk about our families and interests outside of law," Leerkamp said. "One of the things we talked a lot about was that she was working as a paralegal and she had been an attorney for a while, so I really got to see through her eyes the difficulties of young attorneys."
Concentrating on the curriculum was important to U.S. Southern District of Indiana Magistrate Judge Tim Baker when he agreed to mentor Katie Boren, but the two enjoyed outings to legal functions and meetings and an informative trip to the county jail.
"When you join the bar it's kind of an overwhelming thing and you don't know enough to have questions," Boren, a clerk for Indiana Court of Appeals Judge Ezra Friedlander said. "When you're in law school you've been preparing to enter this community, but when it happened I still felt it was a stretch to call myself a member of the bar."
Lynch
For Baker and Boren, their mentor relationship established a positive professional connection that helped introduce the new attorney to the Indianapolis legal community. Another benefit was the development of professionalism, ethics and community involvement – qualities important in the practice of law.
"The practice of law is, by its nature, a service profession, and as lawyers our job is to help others – that includes both the paying clients and the non-paying folks," Baker said. "If you look at public service it's very common to see the lawyers out there doing that kind of work … it's just part of the profession."
Come together
Primary objectives of Mentor Match are developing relationships and sharing information, but bridging generations and creating professional partnerships is often an added bonus.
Reynold Berry, a partner at Rubin & Levin P.C., for example, was matched with a mentee who was older, a circumstance that enriched the experience for both.
"He was new to the profession and I had some experience in the profession," Berry said. "That said, I had a lot I could learn from him. Regardless of who the mentee is, there's still a lot you can learn from them."
While Baker and Leerkamp felt similarly impacted by their mentoring relationships, David Lynch and his mentor, Amy Noe, of Amy Noe Law in Richmond, forged a professional relationship as well.
"The first time I met with her I remember being very frank with her and saying, 'I don't know what the heck I'm doing here,'" Lynch recalled.
Her suggestions helped Lynch get on his feet in the years following their completion of Mentor Match. When she called him for lunch early this year, he was blindsided by an offer to become an associate in her firm.
"I had the chance to work with somebody who I could learn from, who has an amazing staff, who has a stellar reputation in the community," he said. "It was a great choice for me."•
Please enable JavaScript to view this content.