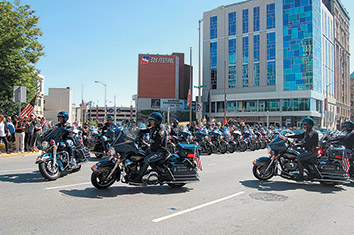 On Sept. 26, I had a birds-eye view of the funeral procession honoring fallen Indianapolis Metropolitan Police Department Officer Rod Bradway. From IBJ Media's second-story windows at the corner of Washington Street and Pennsylvania Avenue, my co-workers and I watched throughout the day as officers from jurisdictions throughout the state and Midwest arrived to show their support.
As the police cars rolled by, I couldn't help but read, re-read and ponder the words "protect and serve." As an editor, it is my job to think about words – what do they mean and do the ones we are using accurately say what we want them to say. On this day, I think that "protect and serve" took on a much deeper meaning for many. While in today's world nothing is certain, how many of us have to think about death as a possible consequence of just doing our job?
This renewed emphasis on the risk law enforcement officers take made me appreciate even more the show of support for Officer Bradway and his family. After the funeral service at Banker's Life Fieldhouse ended, the procession began. Hundreds of motorcycles, police cars and other emergency vehicles made their way up Pennsylvania Avenue to Washington Street and began the escort of Officer Bradway to his final resting place at Crown Hill Cemetery.
Vehicles representing cities throughout Indiana including South Bend, Terre Haute, Cumberland, Crown Point and Whitestown were there. Chicago's finest came to pay their respect, as well as police forces from many Indiana colleges and universities. Even the Kentucky Wildcats had a car in the procession. Given the way many Indiana folks feel about the Wildcats, it made me smile to wonder what Officer Bradway would have thought of that. Under the circumstances, I have to think he would have been touched.
I did hear stories of people who were put out by the inconvenience the street closures caused. A co-worker was astounded by her ride in the elevator with a woman from another state who questioned why Indianapolis would shut down an entire city for something like this – "people die every day," the woman said – and she commented that her husband is a firefighter. I saw a story on TV about a woman who ranted about the inconvenience of the closures on Twitter. Seems she learned a lesson about respect and the dangers of social media in one fell swoop. The story indicated she had to shut down her Twitter account due to negative feedback and threats.
I have to wonder how a person could see the outpouring of gratitude and brotherhood among the officers that day and not be completely alright with a little inconvenience. After all, each of us still gets to go home to our families tonight.
I'd like to say thank you to the members of law enforcement who gathered at the corner of Washington and Pennsylvania that day. You weren't there to remind those of us who watched you of the risk that those who protect and serve take on even the most routine of days, but the message delivered by the show of force, respect and brotherhood was powerful.•
Please enable JavaScript to view this content.