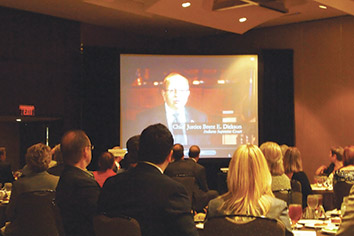 How many hours of pro bono work did you perform last year?
That's a question lawyers likely will have to answer soon, but not without some debate over another question: What constitutes pro bono work, exactly?
The Indiana State Bar Association's House of Delegates last week approved a proposal championed by Indiana Chief Justice Brent Dickson that for the first time would mandate attorneys report the number of hours of free legal service they provide annually.
Outgoing ISBA President Dan Vinovich said the resolution passed with a couple of provisos – that there be further study on what constitutes pro bono work and an assurance that the proposal won't be a step toward mandating attorneys provide pro bono work.
"My understanding is eight states, I believe, do currently have this, and it seems to be increasing in trend," Vinovich said. "The concept is a noble vision."
Several proponents of pro bono reporting point to Florida as an example. Pro bono reporting has been required there for more than two decades, and the result has been a steady increase in service hours reported and dollars contributed to legal aid groups, both of which are tracked by the Florida bar.
Twenty years ago, lawyers in the Sunshine State donated 806,874 hours of pro bono work and $1.5 million to legal aid groups. For the year ending June 30, 2012, those hours had more than doubled and lawyers' legal aid contributions more than tripled to almost $4.9 million.
"It turns out there is an uptick in volunteerism when mandatory reporting is put into place, but it is not a magic wand that will solve problems," said Indiana Tax Court Judge Martha Blood Wentworth, who also chairs the Indiana Pro Bono Commission.
Dickson stumped for the reporting proposal in an address to the Indianapolis Bar Association earlier this month. He told Indiana Lawyer that the Supreme Court is looking for suggestions from lawyers on how to encourage more pro bono work and how to implement the reporting requirement.
"We're really looking for not just lawyers to do pro bono work, but how do you incentivize it," Dickson said. States such as Arizona, for example, provide continuing legal education allowances in exchange for hours of pro bono service, and some have suggested other potential rewards for pro bono work.
Marion Superior Judge Mark Stoner, who chairs IndyBar's Pro Bono Standing Committee, likes the idea of defraying CLE costs for pro bono work. "Given the prolonged tough economy, particularly for solo practitioners, I believe this would give them sufficient incentive to perform pro bono work. Everyone would benefit: Lawyers would receive additional training, lawyers' costs would be reduced, and citizens would receive more and more varied pro bono services."
But many attorneys don't need an incentive. They say the work holds its own rewards.
Case studies
A couple of weekends ago, 67 refugees from seven nations took a step toward securing their futures with the help of 15 attorneys who volunteered part of a Saturday to help walk them through the immigration maze.
Sponsoring agency Neighborhood Christian Legal Clinic in Indianapolis said this month's Refugee Green Card Day event was the first in which lawyers were joined by doctors and photographers. This "one-stop shop" allowed refugees from countries such as Burma and Sudan to get all the help they needed to prepare and file documents to adjust their immigration status.
"Every time we've gotten really positive feedback from attorneys," said Rachel Van Tyle, staff attorney for the legal clinic. "It's happy work. You're helping someone become a legal permanent resident of the United States. That's one of the reasons this event is so successful with volunteer attorneys."
The Green Card Day events take place twice a year, in February and October, months that tend to coincide with federal refugee settlement patterns, Van Tyle said.
Attorneys who help out in such events come from many walks of life and types of law practice.
Events like this are ideal for pro bono work because the commitment is defined and discernable, Van Tyle said. The clinic keeps track of the hours attorneys volunteer and reports those numbers to the Pro Bono Commission. She thinks mandatory reporting is "a great idea," particularly because many law schools are placing greater emphasis on service and volunteer work.
While Indiana has no requirement, the commission sets an aspirational goal for lawyers to perform 50 hours of pro bono work annually.
Cohen & Malad LLP attorney Ned Mulligan is a member of the IndyBar Pro Bono Standing Committee and co-chairs the bar's Ask-a-Lawyer program, which earlier this month dispatched attorneys to 11 Indianapolis Public Library branches, offering free legal advice to more than 600 people. Common needs are in the areas criminal law, family law, bankruptcy and landlord-tenant disputes.
Mulligan said the need for legal representation far outstrips the ability to meet it. "It's apparent to me there are a lot of people who have legal problems and some of them have serious legal problems, and they don't know where to go and they don't know who to see."
Question time
Requiring pro bono reporting is a good step, Mulligan said, but it's important that lawyers who do volunteer work are those who want to. And, he said, it's important to determine what kind of work will be counted as pro bono. For instance, is serving on a pro bono committee the same as representing a client in a matter?
Dickson said there are plenty of such questions, and the court will welcome the bar's help in sorting out the answers. He posed a hypothetical: If an attorney does legal work for his church or the Red Cross, is it pro bono?
"I don't know how I come out on it," he said.
What about cases that start out with paying clients, but at some point the client can no longer afford to pay? If the attorney agrees to continue her representation without charge, the rules say that's not a pro bono case, Dickson said. Whether that distinction should continue if reporting is required is another consideration, he added.
Another unresolved question: Should each attorney's reported pro bono hours be publicly disclosed on the Roll of Attorneys?
There is at least one area where Wentworth said there is no question. She's repeatedly heard worries that the reporting requirement would be a step toward requiring attorneys provide pro bono service.
"One of the reasons people are against mandatory reporting is they feel like it's a slippery slope" toward a service requirement, she said. "I don't know how many ways we have to say that's not the case."
The bar doesn't want mandatory pro bono, and neither does the Pro Bono Commission, Wentworth said. Indiana caselaw doesn't favor mandatory pro bono, she said, noting a 2001 Indiana Supreme Court ruling in David T. Sholes v. Christine (Sholes) Patterson, holding, among other things, that appointed counsel in civil cases must be compensated.
Vinovich noted that in the couple of states where a mandatory pro bono scheme was enacted, it was later ruled unconstitutional. He doubted such a proposal would survive an Article 1, Section 23 challenge under the Indiana Constitution, and besides, "No one has indicated Indiana would be going this direction if we take this step."
Wentworth said what's in mind instead is nothing short of a change in culture in the profession to favor more volunteerism.
"We knew we could not make a cultural change without the state bar and the local bars as well," she said. "There's no question this will be talked about, and there will be a wide array of people asked to weigh in on it."•
Please enable JavaScript to view this content.