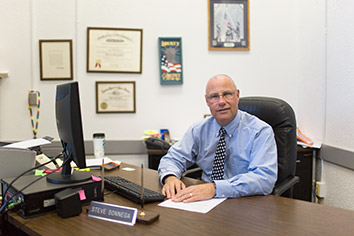 Morgan County Prosecutor Steve Sonnega has heard the criticism that he's on the wrong side of the law when he argues that Indiana's expungement statute is unconstitutional. But he insists he's right.
"My No. 1 driving force was victims' rights," Sonnega said, explaining why he recently urged a judge to strike down the law restricting access to criminal records.
"We apply the law, that's our job," Sonnega said. "If we've got a law that on its face gives victims zero say in the process? Sometimes we have to do what we think is right."
Indiana's expungement law took effect in July, but not without complications. Even a sponsor, Rep. Jud McMillin, R-Brookville, said he plans to seek some changes in the upcoming legislative session.
Meanwhile, despite its complexity and shortcomings, the law has proven popular. At least 300 expungement petitions have been filed in Marion County alone.
Morgan Circuit Judge Matthew Hanson rejected Sonnega's constitutional arguments Oct. 28 and granted an expungement to a person convicted of misdemeanor reckless driving years earlier. In such cases, I.C. 35-38-5 says courts "shall" grant expungements if requirements of the law have been met.
Hanson's order denied most of Sonnega's constitutional arguments but left an opening, and Sonnega said he aims to take it in an upcoming case. Because the state was the victim in the reckless driving case, Hanson ruled that constitutional claim regarding victims' rights wasn't ripe.
"Without the ability of a court to consider a victim's statement … it would seem the statute is ineffectual when it comes to victim's rights, and therefore violates the Indiana Constitution," Hanson wrote. "… Since there is no real victim in this case, this issue of victim's rights will have to be left for another day when a victim does make a statement that cannot be considered because of the inherent conflict with this statute."
Sonnega said he'll raise the argument again in a case set for January in which a petitioner seeks to expunge a misdemeanor battery conviction. He pleaded guilty after his child molestation trials in the 1990s ended in hung juries. Sonnega said the victim in this case objects to expungement. Requiring the court to grant an expungement without considering the victim's voice in such a case "offends my prosecutor DNA more than someone saying, 'You're a prosecutor; you're supposed to stick up for the law,'" Sonnega said.
It's that "shall" language obligating judges to grant expungements without considering what victims have to say that concerns Sonnega and that, he believes, merits a constitutional test.
"Our argument is simply that the statute ties the court's hands and slams the door on victims' voices," he said.
Attorney Glen E. Koch II of Boren Oliver & Coffey LLP in Martinsville represented the client who successfully sought expungement of the reckless driving charge. Koch said he was taken aback when Sonnega raised constitutionality arguments. "Normally the executive is enforcing the law, not challenging them," he said.
Koch believes the law is constitutional, and the General Assembly was within its rights to craft the law as it did. Lawmakers wouldn't have chosen to require courts to take action if that wasn't its intent, he said. His client, a professional driver, wanted to get the conviction off his record for future employment and promotion opportunities.
Koch said the client had completed his sentence and had a clean record for the period of time required to qualify for expungement. "Now we have an opportunity through this second-chance statute to reward that behavior," he said.
McMillin
Beech Grove attorney Dave Byers said lots of people are looking for second chances. His office has had a brisk response to Halloween-themed ads aimed at helping people "haunted" by their criminal pasts. "There really is a lot of public interest," he said.
Byers said he knows and respects Sonnega, "but in this case I just respectfully disagree. Clearly, it's something that's within the power of the Legislature to pass a law like this."
Still, he and Koch said there are parts of the law where changes are need. For instance, expungements are filed as "miscellaneous" cases that are open to review, so it's easy to find out if someone has been granted an expungement. Byers said he'd like to see the filing fee repealed, and Koch said it might make more sense to file the petitions under seal or in the criminal cases where records ultimately would be sealed.
McMillin said he's working with prosecutors, public defenders and courts to try to address some of those concerns. The courts might be able to create a new filing category so that expungement petitions can be filed under seal, for example.
"One of the steps we hope to take is to clarify time guidelines, when you're eligible," and what the exact requirements are to qualify, McMillin said.
"Our goal with this new language will simply be to say, if you meet the time requirements, if you've completed your sentence and you have paid all the court costs, fines, and fees, and you've been clean the required amount of time, you should be eligible for expungement," he said.
The expungement statute also ties in with Indiana's Criminal Code reform that passed the Legislature this year and is scheduled to take effect in 2014 with a goal of reducing prison and jail populations and reducing recidivism, McMillin said. "It's a huge tool in that effort," he said.
"Our goal should be through expungement to look at who they are now and not who they were five years ago," he said.
"I get the concept that you've paid your debt to society," Sonnega said. But requiring courts to clear those records might reward people who haven't truly been rehabilitated, he said, because it limits the courts' authority for inquiry.
Sonnega believes Indiana is an outlier among states with expungement statutes because of the requirement that judges restrict access to criminal records in certain cases, typically misdemeanor and Class D felony convictions.
"The court should decide each case using criteria on a factual basis," he said. "Our victims don't get a fair shake."
McMillin doesn't believe the constitutional arguments against the law have merit, and he noted the statute requires victim notification in many cases. Victims have an opportunity in serious felony cases to object or support the petition, as do prosecutors, he said.
Sonnega's constitutional challenge stopped short of involving the Office of Indiana Attorney General Greg Zoeller. "We believe that the discussion concerning the expungement statute raised by the county prosecutor involving victims' rights should be addressed with the Legislature," spokesman Bryan Corbin said in a statement.
"The Morgan County court's ruling on the constitutionality of the statute should be respected; and since the statute has been affirmed, no appeal is planned by the State," he said.
Despite the legal and political machinations, Byers, the Beech Grove attorney, said it's clear many Hoosiers are embracing the second-chance opportunity.
"I just sense that the public has a real hunger for this," Byers said. "It's kind of about forgiveness, isn't it? I just think that's a great thing."•
Please enable JavaScript to view this content.