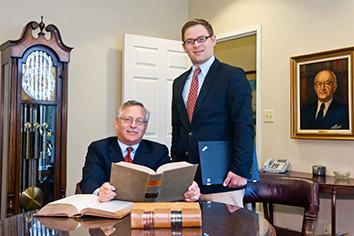 Not until his third year of law school in 1979-1980 did Bill Jonas sit down at a computer and research opinions and caselaw. Up to then, Jonas had pulled books, digests, compendiums and journals from the library shelves.
So new was the big red LexisNexis terminal Jonas sat in front of as a student that he did not trust the technology. While he searched the computer databases, he also continued to pull books from the shelves to make sure the answers were correct.
Not until his third year of law school in 2012-2013 did Ben Jonas take a book from the library shelves and shuffle through its pages. Like his dad, Ben did parallel research by calling up the Internal Revenue Service code on his computer to aid his search in finding the key passages in the printed text.
The experiences of the father and son attorneys illustrate the rise of technology in the legal profession. Hardware like laptops and tablets, along with software that can manage cases, sort through piles of electronic documents, take dictation and clip articles, are continuing to roll into law schools and law firms and change how lawyers do their jobs.
As a sign of the growth of technology, the American Bar Association in August 2012 adopted several amendments to the Model Rules of Professional Conduct in regard to a lawyer's responsibility for understanding and using technology.
"You don't really have a choice in terms of adapting to technology," Ben Jonas said. "If something comes out that makes you more efficient, you don't have a choice" but to use it.
Other attorneys agree that the technology is enabling them to be more efficient and effective in serving their clients.
Solo practitioner Stephen Terrell no longer keeps his computer desktop cluttered with electronic file folders for the cases he is handling. Instead he relies on a cloud-base case management system that stores and organizes all the documents, notes, emails and phone numbers related to any particular case.
Admitted to practice in 1980, Terrell's interest in technology goes back to law school when, like the elder Jonas, he started learning how to do computer research. He continued honing his electronic skills on the job, as did many fresh graduates, since many partners at law firms did not want to use LexisNexis or Westlaw.
Terrell has seen more lawyers adopting gadgets and computer programs into their practices, possibly pushed by clients who expect electronic communication and access. At a recent conference, he said more than half the attorneys attending his presentation had tablets rather than the once ubiquitous paper notebooks.
At South Bend firm of Hammerschmidt Amaral & Jonas, most of the law books have been moved to the basement. The office now relies on Casemaker, a program provided through membership to the Indiana State Bar Association that not only does legal research but also proofreads briefs.
"I'm not sure that law graduates today could do (research) through the book the way we did," Bill Jonas said. "I'm not sure why they would."
Drudgery
Ben Jonas uses a laptop with an external monitor and his smartphone as a part of his practice. He also makes use of a Facebook page started by former classmates at the Indiana University Robert H. McKinney School of Law to share tips and advice.
His father uses Casemaker frequently but no longer does parallel research. The elder Jonas has become so comfortable with technology that he believes computer-assisted research is much more likely to highlight all the major cases than the traditional book method.
Technology's biggest benefit, Bill Jonas said, is that it levels the playing field between small and large firms. The lawyers have the same access to resources, so winning a case is not determined by who has done better research but by who has the better insight.
Chuck Schmal, attorney at Woodard Emhardt Moriarty McNett & Henry LLP in Indianapolis, made a similar observation.
Technology, he said, is removing some of that drudgery from the practice of law and enabling attorneys to spend more time on doing substantive work. However, lawyers still have to know where to find information, how to analyze it and what to do with it.
"Technology is neither good nor bad," Schmal said. The important thing is "how it's used."
As a patent attorney, Schmal remembered the excitement he felt when patent applications could be accessed online. Prior to that, he had to physically go to the U.S. Trademark and Patent Office, look up the citation, then search by hand through stacks of paper to find the document he wanted.
Schmal regularly uses a variety of programs and devices as part of his work. Billing is tracked by time management software; emails are dictated directly into the computer via a voice-recognition program; an app enables legal research to be done on his smartphone; and remote desktop technology means he can access his office computer from home.
Foundation in print
When Indiana University Maurer School of Law built an addition onto its library in 1986, several people wondered if the new space would be needed since all the talk was about society becoming paperless.
On a recent Monday, Linda Fariss, director of the Maurer Law Library, stood on the main floor surrounded by shelves of books and students seated at tables hunched over laptop computers. While the use of electronic databases and materials continues to grow, paper is still available and widely used.
From their first year in law school, the students' education in legal research includes both printed and electronic materials, and throughout their three years they will look something up in a book as well as online, Fariss said.
The process is the same at Valparaiso University Law School with students first learning how to research in books before moving to online resources. Both Fariss and Emily Janoski-Haehlen, associate dean for law library services at Valparaiso, said learning to use the print materials gives students a strong foundation in research so, whether working in print or online, they know what to ask and where to look for the answer.
For an increasing number of students who have grown up Googling Wikipedia rather than thumbing through the Encyclopedia Britannica, the learning curve is especially steep.
At Valparaiso, the law school introduced a new research lab this year to help these tech-savvy students learn how to identify fact-patterns and figure out where to look next, Janoski-Haehlen said. A recent exercise on maneuvering indexes elicited the frustrated cry from one student, "Can't we just go online?"
Bill Jonas is not ready to be paperless. While a lot of his younger opponents in the courtroom use tablets, he still relies on an old-fashioned notebook which holds copies of the complaint, response, motions and supporting cases.
Once he finds the opinion on the computer, Bill Jonas will hit the print button. He described himself as a tactile learner who needs to hold the hardcopy in his hands and make notes in the margin.
Ben Jonas inherited that trait. He said having a printed version to read and mark enables him to better grasp the legal concepts than if he reviewed the information on a computer screen.
Just a few years older than many of his classmates at IU McKinney, Ben Jonas was reminded of how quickly technology makes once-common practices seem outdated. Many of the other students, seeing Jonas reading a printed paper, called him "grandpa."•
Please enable JavaScript to view this content.