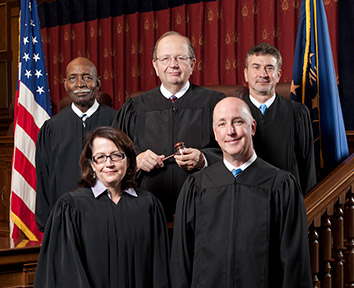 A review of the work of the Indiana Supreme Court in 2012 by Barnes & Thornburg LLP attorneys finds Justices Steven David and Mark Massa establishing themselves respectively as swing votes and active dissenters.
Those are among the observations in the annual review, "An Examination of the Indiana Supreme Court Docket, Dispositions and Voting in 2012," prepared by Barnes partners Mark J. Crandley and P. Jason Stephenson and associate Jeff Peabody.
The paper notes it might be too early to draw conclusions about the court so soon after a year of many changes. Brent Dickson replaced Randall Shepard as chief justice, and Massa and Loretta Rush were appointed. But change didn't slow the court, according to the report.
"In a year of such great transition, one would expect the Court's overall workload to be impacted. That proved not to be the case," the analysis says, noting 103 opinions were handed down in 2012, up from 86 in 2011.
The report noted David sided with Shepard and Dickson in more than 90 percent of cases, while Massa in his first months on the bench wrote nearly as many dissents – five – as majority opinions – seven. Joining the court late in 2012, Rush took part in just nine opinions, all unanimous decisions.
Among other findings:
• David and Shepard voted together in 96 percent of cases; David also agreed with Dickson in 90 percent of cases.
• In the 16 3-2 decisions, David and Dickson were in the majority 12 times and Justice Robert Rucker nine. Rucker and Sullivan each wrote 10 dissents.
• The rate of reversal in criminal cases continued to fall. Just 56 percent of criminal cases the court accepted were reversed, down from 81.6 percent in 2008.
View the report at www.theindianalawyer.com/2012SupremeCourtReview.•
 
Please enable JavaScript to view this content.