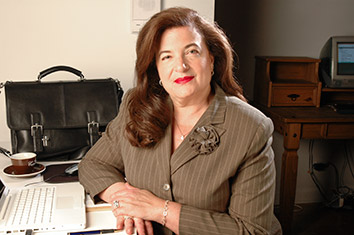 Valparaiso University has tapped a capital defense attorney and academic clinician to lead the law school, underscoring the growing importance of hands-on training in legal education.
Andrea D. Lyon, associate dean for clinical programs at DePaul University College of Law in Chicago, has been appointed dean of the Valparaiso University Law School effective June 2, 2014. She has experience teaching and practicing law as well as holding administrative positions.
"The match between Professor Lyon's gifts and commitment and the law school's mission and curricular emphases suggests she is very much the right person for the right position at the right time," said Mark Schwehn, provost and executive vice president for academic affairs. "She will make a splendid addition to our entire community of learning."
Ivan Bodensteiner will continue as interim dean until Lyon assumes office. She will be the first woman dean at the law school.
Initially, Lyon's candidacy for the top post at the Valparaiso University Law School was met with skepticism in some quarters.
Lyon is a nationally known criminal defense expert, defending more than 40 capital cases at trial and writing about her experiences in a memoir, "Angel of Death Row: My Life as a Death Penalty Defense Lawyer." She has also
blogged about her work and her views of justice for the Huffington Post.
Questions were raised as to whether she had the academic background needed to be a dean and if she could be the diplomat that sometimes deans are required to be. However, those concerns dissipated after the first meetings and turned into a cascade of calls for her appointment.
"She has the unusual ability to relate to all kinds of people and get them on board," said Rosalie Levinson, Valparaiso professor of law and chair of the dean search committee.
Lyon pointed to her time in arguing against the death penalty in front of juries who supported capital punishment.
"I am used to talking to people who don't agree with me," she said. "My personal politics are mine and have no place in the law school. People don't have to agree with me to work with me."
The search for a new dean began in the spring after Jay Conison stepped down to become dean of the Charlotte School of Law in North Carolina.
With the help of the Illinois-based recruitment firm Witt/Kieffer, the nine-member search committee, comprised primarily of law school faculty, took advantage of the free time the summer offered to identify and interview candidates.
The group was working in a competitive environment because many law schools are looking for new deans, Levinson said, but Valparaiso received a number of applications from all over the country.
Among the pool of candidates of mostly academics, Lyon stood out with her experience arguing cases and helping law students develop their practice skills, Levinson said. Her blend of work in the courtroom and classroom fits with the movement in legal education toward giving students more hands-on training.
At DePaul, Lyon is also a clinical professor of law and director of both the Clarence Darrow Death Penalty Defense College and the Center for Justice in Capital Cases.
She teaches in the death penalty clinic at the Center for Justice, providing instruction in doctrinal law, trial practice, preparation and strategy to represent clients in state and federal courts.
The mix of theory and clinical experience was the mainstay of Lyon's own legal education at the pioneering, public-service-focused Antioch Law School in Washington D.C. There, Lyon said, the professors supervised the students in the clinics and always related the doctrinal work to the practical skills being taught.
As impressed as the search committee was with Lyon, she was equally impressed by Valparaiso Law School. She is excited about the school's new curriculum, noting the traditional large-lecture format with students being taught only the caselaw method has to go because the market will not tolerate it.
No longer can students pick up the practice skills on the job, she said. They need to arrive already knowing how to interview a client, investigate facts and interpret a statute.
Consequently, hands-on experience has to be given to all law students, Lyon continued, not just the ones who elect to participate in the clinics. Students have to be intelligent about the law and understand the philosophical underpinning, but they also need to be able to talk to a client.
Lyon's ideas on legal education resonated with Valparaiso law school alumnus Eugene Schoon. Since graduating in 1980 and joining the international firm Sidley Austin LLP in Chicago, he has seen the legal profession change to where now students have less time to acquire practice skills.
Meeting Lyon before she was appointed dean, Schoon said he particularly liked that she has been a practicing attorney as well as an academic. She knows what it is like to be in the courtroom and run a trial.
Lyon spent the bulk of her legal career in public service. After graduating from Antioch, she returned to her native Chicago and joined the Law Office of the Cook County Public Defender where she held several positions and eventually became the chief of the homicide task force. In 1979, she became the first woman to serve as lead counsel on a death penalty case.
Defending individuals charged with capital crimes and holding prosecutors and police accountable matches her reason for going to law school in the first place. Lyon became a lawyer because she wanted to make the world a better place for people and, she added, she remains just as idealistic.
"I'm very excited and pleased with the decision," Schoon said. "I think the law school's approach was very thoughtful. I'm happy and looking forward to working with her."
Schoon returns to campus each fall for a welcome hosted by minority students and encourages his firm to hire Valparaiso law graduates. He said the school is "doing really interesting things now" and attracting quality students.
Even so, he noted, the school needs a strong leader to get through these "challenging post-recession economic times" and to continue the tradition of teaching students the importance of professionalism, ethics and good judgment.
Lyon said she is ready. Although she does not officially start as dean until next summer, she has already been contacting faculty to solicit their ideas about how to meet the challenges in legal education.
"I'm all in," Lyon said. "This is my school and my team and all in means all in."•
Please enable JavaScript to view this content.