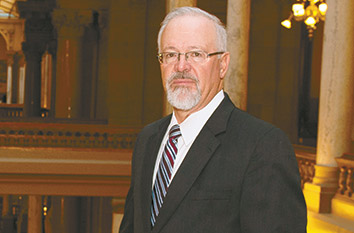 David Powell, former Greene County prosecutor, recalled the construction worker who explained his attraction to methamphetamine.
He could stay up for five or six days at a time, go to work, come home and do every chore his wife wanted, stay up all night partying, and then go back to work the next day. He felt like he owned the world.
Eventually, the good times ended and the construction worker got tangled with the law. His story is not unusual and the repetition across Indiana of addiction leading to jail is fueling the push to provide these kinds of offenders treatment rather than a trip to prison.
 
Powell, now executive director of the Indiana Prosecuting Attorneys Council, is part of that effort. He strongly believes that addressing drug dependency and mental health issues can reduce the state's recidivism rate and, in turn, lower the crime rate.
Indiana is set to implement a new criminal code for the first time since 1977, and a key idea behind the revamped law is keeping low-level offenders in their communities to provide them with treatment. The consensus among various groups that this is a better approach to deterring crime has amazed even those who have long advocated that programs and services be available for inmates.
However, Powell tempered the expectations that much will be accomplished by bolstering treatment.
"I don't think we should see this as we're going to save 50 percent of the people," he said. "If we save 5 to 10 percent that don't recidivate because of treatment, that would more than pay for the program."
Treating recidivism
Money was the primary motivator to update the criminal code in House Enrolled Act 1006. Currently, the Indiana Department of Correction has a population of 29,500 which has been predicted will surge to 34,120 in the next decade. With the state's penitentiary system able to house roughly 30,000, an increase in inmates could send the Legislature looking for hundreds of millions of dollars to build a new prison.
Conversely, by reducing the number of offenders who commit crimes and repeatedly return to prison, Indiana could reap significant savings. The Re-Entry Policy Study Commission Report, released in July 2013, looked at the Marion County incarceration rate and found that lowering recidivism by as little as 1 percent resulted in a cost savings of $1.55 million.
Like Powell, former Knox County Sheriff Steve Luce said not every offender can be reformed, estimating only a third of inmates really want to stay out of prison. But the programs he started cut in half the number of fights, arguments and rule violations in his jail. The improved jail situation decreased the amount of litigation arising from disgruntled or hurt inmates, saving the county money.
Although support for treatment programs is strong, such services are not available in every county. Powell said at present offenders can only get help with their addictions or mental health condition if they pay for the treatment themselves.
He voted against recommending the General Assembly adopt the new code because he saw a lack of provisions – namely funding – for counties to establish such programs.
"My concern was what were we doing to local communities when we lower penalties for those drug dealing crimes, especially, and place these people with drug problems back in the communities where there's no place to help with their addiction and mental health issues," he said.
Prosecutors, Powell said, get frustrated when they deal with the same defendant multiple times for the same offense. He fears with the new code's reduced penalties for some lower-level crimes, the lawbreakers who do not get help will still end up in the DOC after being incarcerated in their local jails longer.
Today, low-level offenders are overrunning the DOC. In 2012, the state system admitted 9,867 individuals who had committed either a Class C or Class D felony, more than double the 4,368 who were incarcerated for murder, Class A and Class B felonies combined.
In a presentation before the Criminal Law and Sentencing Policy Study Committee, the interim legislative group charged with reviewing HEA 1006, Powell offered statistics that illustrate curbing recidivism requires addressing several interrelated issues. Along with their addiction, which is often complicated by mental health issues, 61 percent did not complete high school, 57 percent have no job and 73 percent are poor.
The new code lowers sentences for some offenses which could exacerbate the problems for communities, Powell said. The defendants either won't be incarcerated long enough to complete a treatment program or, if they are given a choice, they will opt to serve time because they will be released sooner than if they enter treatment.
Henry County is an example of a small, rural county with only limited treatment options available. Circuit Judge Mary Willis sees people who struggle with mental illness which causes them to commit infractions. With medication and therapy they get better, but without sustained help, they regress and fill the jail.
She was hesitant to say how treatment, in general, would impact recidivism, but she called the push for more services a step in the right direction.
Oversight and money
Using treatment programs to reduce recidivism is the most important part of the new criminal code, Powell said. In fact, he argued that if reforms are instituted for dealing with reoffenders, the current criminal code could remain in place and the rate of incarceration, as well as the rate of crime, would still decline.
He recommended Indiana take one or two years to get programs up and running and evaluate how they are working before introducing the changes in the criminal statute.
That proposal drew support from Larry Landis, executive director of the Indiana Public Defender Council. He echoed Powell by saying the focus should be on treating drug addiction and mental health, providing supervision and offering re-entry programs that help former inmates get jobs, housing and treatment.
Services that change behavior, he said, will reduce recidivism, which will decrease the DOC population as well as the crime rate.
Allen Superior Judge John Surbeck pointed to his community's re-entry project as proving programs can be successful at keeping offenders from returning to jail.
"The penitentiary environment doesn't help people. When you put good people with bad people, the bad people don't get better, the good people get worse. So that's why it works so much better in the community. If you can do community-based sanctions, they're far more effective," he said.
The Working Group on Recidivism, appointed by the Criminal Law and Sentencing Policy Study Committee and chaired by Rep. Greg Steuerwald, R-Avon, has recommended that communities be allowed to develop their own programs to meet their unique needs. Oversight and accountability measures should be part of any new treatment service.
Also, the group advised that funding be granted only to programs certified through the Indiana Department of Mental Health. In addition, a statewide system for measuring the success of these projects should be established.
The working group is proposing redistributing a larger portion of the more than $41 million collected in alcohol tax each year into addiction programs. In addition, the body recommended the state consider raising the alcohol tax.
Having sat across from grandmothers and parents pleading for their children to be given treatment, Powell believes society may be accepting of something other than a "lock-them-up-and-throw-away-the-key" approach to punishment.
Still, he reiterated, the assistance needs to be provided or communities will be saddled with the burden of more offenders and less resources.
"We should not pass criminal code reform for the sake of it," Powell said. "The real problem we have in Indiana is recidivism and lack of treatment for an addiction and mental health issues. These (issues) are very expensive, they drive crime at a high level. We need to address these issues whether or not (HEA) 1006 ever goes into effect."•
Please enable JavaScript to view this content.