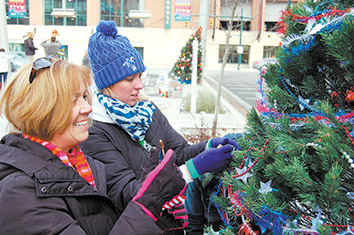 For more than a decade, lawyers Will and Alicia Gooden have hosted a holiday party at their home and asked their attorney friends to bring a toy that could be donated to a worthy charity.
"Every year it got a little more packed," said Will Gooden, a partner at Clark Quinn Moses Scott & Grahn LLP, and an Indianapolis city-county councilman. "It was a chaotic but fun atmosphere."
Alicia Gooden, an attorney with The Mediation Group in Indianapolis, estimates the parties that she and her sister, Elizabeth Kallas, started years back have collected $25,000 to $35,000 worth of toys. But the events were outgrowing their home, so the Goodens this season chose to stage the event at Flat 12 Bierwerks in Indianapolis on a recent Saturday evening.
 
"We really wanted to see if this can be a springboard to something bigger and greater," she said.
By all accounts, it could be. About 100 people turned out and donated more than 200 toys and hundreds of dollars to buy gift cards, Alicia Gooden said.
The Goodens aren't alone among attorneys whose traditions of giving make a difference during the holidays.
"You need to give back to the community," said Dave Hollenbeck, a partner with the Valparaiso general practice firm Blachly Tabor Bozik & Hartman LLC. He said that was a commitment when Quentin Blachly and Glenn Tabor founded the firm 52 years ago.
"It's been instilled in all of us, and we attempt to instill it in all who come along," Hollenbeck said.
So it is that the 40-plus attorneys and staff at the firm volunteer time each holiday season as bell-ringers for the Salvation Army at various locations around Porter County. Additionally, the firm each year adopts a family and provides toys and gifts.
 
Attorney Alicia Gooden (center) and her sister, Elizabeth Kallas, deliver toys to Rex Fisher, director of development at the Shepherd Community Center on Indianapolis' east side. Gooden and her husband, Will, who is also an attorney, host an annual toy drive. This year they held the drive at Flat 12 Bierwerks and collected more than 200 toys for the community center to give to children in need. (IL Photo/Dave Stafford)
"We selected Salvation Army to do this because we've always admired their commitment to taking care of those who for one reason or another are less fortunate than we are," Hollenbeck said.
This year, the firm's adopted family is a mother and father who lost their jobs and have three children to provide for. "The lists are long when the needs are great," Hollenbeck said.
The Hollingsworth & Zivitz firm in Carmel continued a tradition this year when it adopted a family in need from among its clients and purchased gifts for them. The firm also collects for Toys for Tots drives and clothing for the Wheeler Mission in Indianapolis, said founding partner Kena Hollingsworth.
Those are things the firm has done for years, Hollingsworth said. But this year, lawyers at the firm added another charitable offering: The firm will donate 10 percent of its December profits to charity, she said.
"Small things, when you can come together, can make a really big difference in peoples' lives," Hollingsworth said.
Amy Wheatley, an attorney at the Law Office of Nick Stein in New Albany and president of the Floyd County Bar Association, said her firm began a tradition years back dispensing with holiday gift-giving and instead helping out those in need.
Each year, Wheatley said, lawyers and staff at the small practice select several children from the local Salvation Army Christmas Tree and go on a shopping spree for toys, clothing, coats and whatever else the children might need. "We all get together and wrap it up before we deliver it," she said.
It's a tradition that brings the firm together in the giving spirit of the season, "rather than spending money on something that we don't need or some sort of food item that God knows we don't need this time of year," she said.
Randall J. Zromkoski, an attorney at Blachly Tabor Bozik & Hartman LLC in Valparaiso, and his wife, Jo Ellen, ring bells for the Salvation Army, as does everyone at the firm. For decades, the firm has helped the Porter County charity in various ways during the holidays. (Photo submitted)
Bingham Greenebaum Doll LLP marketing coordinator Caitlin Church said the firm annually conducts a loose change collection and directs the proceeds to those in need. This year, donations will go to the victims of November's deadly tornados in Peoria, Ill.
Church said the firm also donated money to purchase a tree for the City Sidewalks Tree Decorating Contest on Georgia Street in Indianapolis. Proceeds from the event benefit the Pack the Pantries Food Drive. Barnes & Thornburg LLP also sponsored a tree in the contest.
Members of BGD's Women's Forum also collected donations for four charities: Coburn Place, which assists survivors of domestic violence; the Mary Rigg Neighborhood Center; Indiana Coalition Against Domestic Violence; and Child Advocates Inc.
The gifts and proceeds the Goodens collected at their annual party this year will benefit families served by the Shepherd Community Center on Indianapolis' near-east side. Its mission is to break the cycle of poverty in the community.
Rex Fisher, director of development at Shepherd, said the facility will open its doors for parents Dec. 21 and 23 to select toys they will wrap and take home to their children. He said the center usually distributes about 3,000 toys annually.
Fisher said the toys do much more than make a child's Christmas special.
"This is really a way we can partner with our parents," Fisher said. Being able to allow parents to provide Christmas for children, "that's a big deal," he said. "It's an opportunity to connect our staff with parents and form a deeper relationship."
"This is all about making kids happy and giving a little joy at a time when there might not be a lot of joy in their lives," Alicia Gooden said.•
Please enable JavaScript to view this content.