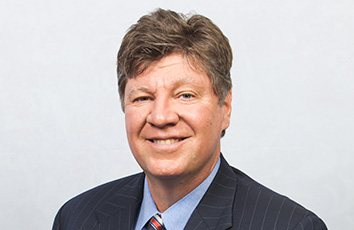 Evansville attorney Jim Johnson always wanted to be a lawyer, but he did not always want to be a leader.
The litigator will become the president of the Defense Trial Counsel of Indiana at the start of 2014. He will guide the organization as it works on a long-range plan with the goal of remaining responsive to members' needs as well as adapting to changes in legal work.
Johnson is excited about assuming the top job although he admits he had to adjust to the idea of leading a statewide organization.
A longtime member of DTCI, he stepped away from the board in 2004 because he was not sure he was ready or mature enough to handle a leadership position. He rejoined the board in 2008 and began the move toward the presidency.
"I just thought I was ready to give back to the profession," Johnson said, quickly adding that reason sounds like such a cliché. "I was just ready to become more involved."
Within the legal community, Johnson is described as a "well respected member of the bar" and a "very effective advocate." While he may have harbored doubts at one time, DTCI treasurer Michele Bryant has confidence in his abilities.
"I think Jim will do a fantastic job as president," said Bryant, partner at Kahn Dees Donovan & Kahn LLP in Evansville.
Even while he was not on the board, Johnson was still involved with DTCI. He served for 10 years as chair of the Amicus Committee, a position that combined his interests in appellate work and legal writing. He headed up the process of determining in which cases DTCI would file a brief and soliciting other attorneys to do the writing. He said the work was collaborative and discussions were focused solely on the law, not on the politics.
Johnson shied away from calling the committee's efforts a success but he did note that many times the courts would rule in favor of the position DTCI had advocated.
Born and raised in a blue-collar family in Evansville, Johnson earned his bachelor of science degree at Florida State University and his law degree at Indiana University Robert H. McKinney School of Law. He first practiced at Matchett and Thopy in Shelbyville before returning to his hometown and joining the firm that is now Randolph Fine Porter & Johnson LLP.
He has always been a litigator, cutting his teeth on insurance defense for more than 10 years before morphing into commercial litigation. Johnson's attraction to appellate work developed early in his career. He liked what he called the purity and intimacy of working through the briefs and the challenge of presenting oral arguments.
Outside of the office, Johnson serves on the board of directors of the Ronald McDonald House Charities of the Ohio Valley. There, he not only lends his legal expertise to the organization but also volunteers regularly at the house.
Jeremy Evans, the charity's executive director, described Johnson as being deeply and personally connected to the charity and bringing a wealth of knowledge to the board. Seeing his work on the board gave Evans confidence that Johnson will do well leading DTCI.
"Jim's good humor, loyalty and leadership are a valued asset to our charity, and I feel certain that he'll be of immense value as the president of the Defense Trial Counsel of Indiana," Evans said. •
IL: You will serve as president of DTCI in 2014. What are your plans for the organization?
JJ: In 2014, DTCI will conduct a Long Range Planning Conference (LRPC). I hope through this process to ensure DTCI is responsive to its members.
IL: There are many local, state and national organizations for attorneys. What role do you see DTCI as fulfilling?
JJ: To serve attorneys in Indiana who are primarily representing defendants in civil cases.
IL: The practice of law is undergoing fundamental changes with the loss of jobs and rise of technology that can do legal work. Do you see DTCI as having to make any fundamental changes in the future to respond to these developments?
JJ: This is one of the main reasons for the LRPC. No one has all of the answers. The hope is by surveying the members and bringing officers, board members and members together, we can begin to answer these questions.
IL: As an attorney, what attracted you to civil litigation?
JJ: My first job as a law clerk in law school was with a defense firm (Hume Smith Geddes Green & Simmons). That job opened my eyes to civil litigation.
IL: In 2007, you were named DTCI's Indiana Defense Lawyer of the Year. What have you learned about being a defense attorney during your career?
JJ: It is a privilege to handle civil litigation cases in Indiana. The practice level is high, the cases are interesting, and the attorneys are good to work with (for the most part).
IL: You were admitted to the Indiana bar in 1987. How has civil litigation changed over the years?
JJ: Technology has made things easier and faster. However, the basic practice has not changed. We represent one client at a time and do the best we can based on the cards we are dealt.
IL: Your firm, Rudolph Fine Porter & Johnson, posts on its website that its primary goal with new attorneys and lateral hires is to further educate, train and develop their skills. These days, many firms want attorneys who already know the nuts and bolts of practicing law. Why does your firm consider education as a primary goal?
JJ: Our approach hasn't changed. We want to train Rudolph Fine Porter & Johnson attorneys to be as good an attorney as they can be.
IL: Your alma mater, Florida State University, will play in the 2014 BCS national championship. If you were offered a first-class plane fare, deluxe hotel accommodations, and a free ticket to the game but you had to sit with the fans of the opposing team, wear the T-shirt of the opposing team and cheer for the opposing team, would you go to the game?
JJ: In a heartbeat. I have always wanted to see a game in the Rose Bowl, and I would get a free Auburn T-shirt. Go Noles.•
Please enable JavaScript to view this content.