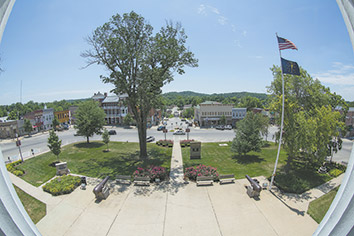 Chris Flook has an eye for Indiana's courthouses and courthouse squares. He's photographed all 92.
"It made me fall in love again with Indiana," the Ball State University telecommunications professor said. He hopes the photo collection he's making available to the state's Bicentennial Commission is just the start of a project renewing a focus on town and city centers that Flook said many Hoosiers take for granted.
 
"It's only a handful of states in the United States that have courthouse squares," he said. They're regular features only in communities in Indiana, Illinois, Georgia, Kentucky, Missouri, Tennessee and Texas, according to project research.
Flook believes Indiana and the other states where courthouse squares are the rule reflect the westward expansion era that carried with it a desire to express the values of a young nation.
"It's a very Jeffersonian thing – the rule of law is at the center of public life and social
 
Festival-goers listen to a concert on the Morgan County Courthouse square in Martinsville. (Photo submitted)
life. Our temple," he said referring to the courthouse, "is the rule of law where you can come in and take care of whatever business you need to."
As part of the Indiana Courthouse Squares project Flook is directing, photos of Indiana's courthouses and courthouse squares have been posted on the project website, the first of what Flook hopes will be a three-phase effort as the state's 200th birthday in 2016 nears.
Ball State funded the first round of the project, and Flook said he's seeking grants of about $10,000 for a second phase to produce mini-documentaries about each square. He hopes the material becomes a springboard to a third phase that could offer project-funding resources for communities to maintain or improve their centers.
Native Minnesotan Joanne Stuttgen remembers the first time she and her family approached the courthouse square in Martinsville when she was relocating as a grad student at Indiana University in Bloomington in the early 1990s.
"We saw that stunning courthouse and square and commercial buildings, and we had never seen anything like it before," Stuttgen said. "The reason we live in Martinsville is the courthouse square."
Stuttgen now is president of Rediscover Martinsville, which recently received a $250,000 Main Street grant to rehabilitate façades of buildings on the square. About 10 structures will get improvements in what Stuttgen said would be "the most significant work and change in downtown Martinsville since forever, maybe."
But even communities such as Martinsville face battles to preserve their historic courthouses and support the businesses and offices in the squares. Stuttgen and others see a role for state funding as a way to help cash-strapped counties.
Stuttgen said Morgan County officials in the 1990s proposed tearing down the pre-Civil War courthouse and building a new one away from the square. "Now the talk is starting again," she said.
Local officials sometimes argue against continuing to use historic courthouses because of antiquated systems and the inability of staff to maintain the structures. A handful of Indiana counties have replaced their historic courthouses with more contemporary, austere, utilitarian buildings.
Stuttgen said there is a legitimate concern about the added expense of caring for courthouses, which she said require detailed, scheduled and properly supervised maintenance.
"We just need an attitude change that we need to take care of them because they absolutely can't be lost," she said. "You don't wreck your antiques by repairing them badly."
Indiana has no state-sponsored resources specifically for courthouse preservation, let alone funding earmarked for courthouse squares. Before its statutory authority expired in January 2012, the Indiana Courthouse Preservation Advisory Commission issued a report that urged a state-sponsored program for historic courthouses.
But legislation in the 2013 General Assembly that would have established a $2 million revolving loan fund for historic courthouse preservation first was stripped of money and then stalled in the House of Representatives after sailing through the Senate.
Sen. Jim Merritt, R-Indianapolis, said it's doubtful he will introduce similar legislation in the coming short session, but he said the state does need to develop a strategy and funding mechanism to preserve courthouses.
Architect Ron Ross of Fort Wayne served on the commission and said the coming bicentennial could make lawmakers likelier to act on longstanding recommendations to fund needed courthouse repairs and maintenance.
"My emotional response is, I hope so," he said. "There are plenty of studies around that support the courthouse and the courthouse squares as economic catalysts to downtowns. I believe that to be true," Ross said.
He said Fort Wayne is a good example. The courthouse square remains the hub of a vibrant city center with a mix of retail, government, office, restaurant and residential uses.
But the vitality of a courthouse square also depends on the community, Ross said. In some county seats, particularly in smaller rural communities hit hard by prolonged economic decline, "those communities seem almost convinced there's nothing they can do to bring it back."
Ross said the advisory commission recommended that Indiana take a look at Texas as a model.
Established 1999, Texas' Historic Courthouse Preservation Program in its first seven rounds of grants delivered to counties more than $207 million in funding, including full restoration projects for 63 courthouses out of 235 eligible historic structures. Texas also established a stewardship program to educate and train local county staff where grants were awarded.
For the money Texas has invested in grants matched by local communities, the state claims its courthouse preservation efforts created about 9,700 jobs and generated $269 million in income, including more than $43 million in state and local tax revenue.
Historic courthouses and courthouse squares in the Lone Star State also have provided backdrops for at least 17 major motion pictures, from 1971's "The Last Picture Show" to recent films including "True Grit" and "Bernie," according to the state.
Flook sees a connection between courthouse squares and Indiana's "brain drain," citing studies that show young, highly educated professionals are drawn to communities that are aesthetically pleasing and have popular gathering spaces. "Those can be easily facilitated by a courthouse square," he said.
"This is a unique thing Indiana has," Flook concluded. "This is something we should be proud of."•
Please enable JavaScript to view this content.