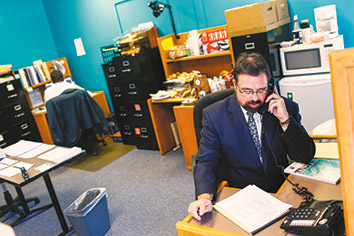 Hundreds of Hoosiers received free legal help in January thanks to efforts of local and state bar groups that marked the Martin Luther King Jr. holiday by providing free legal assistance.
The Indiana State Bar Association several years ago began recognizing the holiday with Talk to a Lawyer events in which volunteer attorneys offer free legal advice to people in need at either walk-in or phone-in events.
"It was a panoply of need," Bloomington solo attorney Carl Salzmann said of calls he fielded from people who contacted the District 10 Pro Bono office. Attorneys there met face-to-face or answered calls Jan. 20.
Salzmann and other attorneys said the inquiries run the gamut: family law matters, landlord/tenant disputes, expungements, property disputes, bankruptcy guidance and more.
Traci Twait, an appellate attorney in Avon who's also director of Hendricks County's pro bono program, said about a dozen attorneys usually take part in the MLK Day walk-in events that the local bar has participated in over the past four years.
"Some people are looking to see if they even have a case," she said. "I let attorneys know, bring your business cards because some of these people will want to contact you."
Attorneys get something from helping out at the events, too, Twait said. "They like giving back to the community and feeling like they're doing something for somebody that needs the help."
Clients, she said, "are very appreciative and very grateful for the help they receive."
As pro bono resources have dwindled in recent years, outreach programs offering free legal advice have helped fill the void.
Twait
Several bar groups around the state use MLK Day Talk to a Lawyer events to supplement their regular pro bono offerings. Evansville Bar Association Executive Director Susan Vollmer said the organization conducts monthly Talk to a Lawyer events and usually receives about 50 to 75 calls a month.
Beverly Corn, administrator for the Volunteer Lawyer Program of Southwestern Indiana, said the monthly call-in events receive inquiries from around Indiana and even outside the state.
Corn said the most common cases typically are in the areas of family law, followed by elder law/will and estate questions, and criminal law.
While many local bar groups marked the holiday with Talk to a Lawyer events, the Indianapolis Bar Association conducted its most successful Legal Line call-in event earlier in the month, according to Caren Chopp, pro bono and legal services coordinator for IndyBar.
Chopp said more than 650 people received legal guidance at the Jan. 14 event in which more than 100 attorneys answered calls from the public during a two-hour stretch. "That was the highest number we ever helped," she said.
The IndyBar also stages Ask a Lawyer events twice a year at libraries around Marion County where attorneys assist hundreds of people.
Patricia Cummings, a deputy prosecutor in Monroe County, took time to volunteer at the MLK Day Talk to a Lawyer event in Bloomington.
Some of the cases are complicated and could result in great injustice if issues go unanswered, particularly in family law situations involving custody and paternity. "Unfortunately, if it's not addressed early on, it can compound the problem," she said.
Litigants are often forced, for economic reasons, to represent themselves, and Cummings said Monroe County courts have done a good job of helping pro se litigants navigate the system by providing forms and guidance on how to file, for example. But she said the Talk to a Lawyer event also is an opportunity to give these litigants some practical advice.
"The first thing I do is tell them, 'Approach everyone you're talking to with politeness and appreciation,' because it helps a lot," Cummings said. She also advises people she counsels on the importance of keeping good notes and maintaining appointments and communication with the courts.
"For some people it's very empowering to learn they can handle something on their own," she said. "For other people it's very stifling. They are overwhelmed."
District 10 Pro Bono Project Executive Director Diane Walker said the organization conducts weekly legal assistance clinics in four of the southern Indiana counties it serves.
But attorneys also take the opportunity to serve on the MLK Day holiday.
"I think for lawyers, Martin Luther King Day is about volunteering, and lawyers have really, really useful skills," Walker said. "The things they can do benefit people enormously, even if it's for a short period of time."
But in some cases, the connections attorneys make with people through these sorts of pro bono outreach events translate into active involvement in cases. Walker said some attorneys have taken on cases pro bono after a consultation where they felt compelled to do so. "Sometimes they go over and above the call of duty," she said.
Salzmann said a consultation of a few minutes often can resolve problems that have worried people who don't know how to deal with a pending or threatened legal matter. "About half the calls I took were just steering people in the right way, or telling them Indiana law says this," he said. "There are a lot of people that just need some questions answered."
Salzmann shared an example of how he was able to help a person resolve an issue after a call-in consultation. The person was being sued by a former landlord for property damage.
The attorney who filed the suit, he said, "didn't know there was an actual inspection and the damage they were claiming now had existed when (the tenant) moved in.
"As soon as that was given to the attorney, the case went away," he said.
As a solo practitioner mainly handling criminal defense, Salzmann said these events also help him keep his skills sharp.
"The nice thing is there are several other attorneys there. In solo practice, you don't get to bounce a lot of things off people," he said. "From my perspective, it's nice to get out to interact with attorneys from other firms and re-establish friendships and acquaintances."•
————–
Good advice
The Indiana State Bar Association-sponsored "Talk to a Lawyer" events are carried out through multiple local and regional bar associations and pro bono districts around the state. Contact your local bar association for information about upcoming pro bono events and how you can volunteer. The Indianapolis Bar Association hosts twice-yearly "Ask a Lawyer" events at public libraries around Marion County. The next event takes place April 8.
IndyBar also offers a bankruptcy help call-in line from noon to 1 p.m. on the second and fourth Wednesdays of each month focusing on bankruptcy and collection issues. For information on volunteering, go to http://www.indybar.org/membership/volunteer-opportunities.php
Please enable JavaScript to view this content.