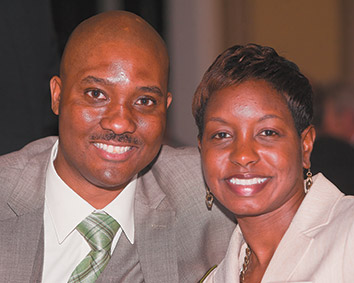 Michael Tolbert is making history as the new president of the Lake County Bar Association in more ways than being the organization's first African-American leader.
A partner with Hoeppner Wagner & Evans LLP in Merrillville, Tolbert is focused on telling the organization's story that he said could be lost if action isn't taken to preserve it. He's establishing a history committee, part of his "Triple-H" leadership initiative that also focuses on health and hunger.
 
"What we've been doing since the inception of the organization is kind of relying on the more experienced and seasoned members to sort of fill in the gaps, to tell us information about what occurred in the past," Tolbert said. He hopes a history committee will record and preserve institutional knowledge of the region's longtime attorneys for future generations.
"We want to capture all the wonderful things and accomplishments the Lake County bar has done over the years," he said. "The first thing I thought about when I knew I would be president of the bar association was, 'What am I going to do to leave a lasting impact on the bar association and make it better?"
Indiana Justice Robert Rucker, left, swears in Lake County Bar Association President Michael Tolbert Jan. 10 in Gary. (IL Photo/ Mark Shephard)
For the other two "H"s, the bar will build on immediate-past president Michael Jasaitis' wellness efforts by encouraging attorneys to have at least one annual doctor's visit for health screenings. Tolbert also will ask board members to bring food items to each monthly meeting to collect for the Food Bank of Northwest Indiana. The local bar also has a few other anti-hunger initiatives in mind.
"A lot of lawyers, we get a bad rap in terms of how the public views us," he said. "The general public views us negatively because they feel we're not invested in the community. … We're really fighting two things. We're fighting the perception of lawyers the general public has, and we're also fighting hunger."
 
EXTRA
Click here to view a gallery of photos from the Lake County Bar Association's Jan. 10 installation dinner.
Lake County Bar Association President-Elect Jacquelyn S. Pillar King said Tolbert's leadership agenda builds on Jasaitis' wellness and community outreach efforts last year that included a day of service in which bar members prepared the residence for the homecoming of a pediatric cancer patient.
"We're very excited for Mike's leadership," King said. "Frankly, we called (the growing outreach efforts) 'Mike squared.'"
Jasaitis said the bar's effort for the young cancer patient – joined by the James Kimbrough Bar Association, the Women Lawyers Association and the Hispanic Bar Association – was a highlight of his tenure, as was the first Indiana Supreme Court oral argument held in Lake County in many years.
Tolbert was installed as president Jan. 10 at a dinner in Gary. His wife, Shelice Tolbert, a partner at Kopka Pinkus Dolin & Eads in Crown Point, was installed as vice president and is in line to lead the organization in two years.
The Tolberts are active in local and state bar and judicial organizations, their community and their church, and they share a special history, too. Shelice Tolbert said they met in middle school, went their separate ways through college, but stayed in touch until they came back home and met up again as Valparaiso University Law students. About three years out of law school, she said, they began dating, and they've been married more than seven years now.
Jasaitis and Michael Tolbert also go way back. Jasaitis said they attended rival high schools, both went to Valpo as undergrads and for law school, and for a year and a half of law school had all the same classes.
"I consider him not only a great lawyer with great leadership ability, but also a genuine friend," Jasaitis said. "Michael has a fantastic agenda in store for 2014, and it's my honor to hand off the baton to the first African-American president in the history of the Lake County Bar Association."
Early influences
Michael Tolbert knew early he wanted to be a lawyer. "I'm a very competitive person," explained Tolbert, the fifth child in a family of seven whose father worked for 32 years at Inland Steel.
"I used to watch old shows like 'Matlock' and 'Perry Mason'," he said. "It really fascinated me from an early age."
Shelice Tolbert wasn't so sure about a legal career until sometime later, but she also remembers being intrigued by flickering images on the small screen. "Really, the only female lawyer I had seen growing up was on 'The Cosby Show,'" she said, referring to the character Clair Huxtable.
But then a real-life lawyer came to speak to her eighth-grade class – a Harvard Law-educated woman who had returned home to Gary. "She said, 'You can do whatever you put your mind to,'" Shelice Tolbert recalled. "That little thing made a difference to me."
That visitor, Karen Freeman-Wilson, went on to become mayor of Gary. After she was elected in 2011, Freeman-Wilson told the Tolberts she needed their help on her transition team – Michael focused on good government policies and efficient delivery of services, and Shelice served as counsel for the transition team.
"I couldn't think of any better two people than Michael and Shelice" to help in her transition, Freeman-Wilson said. "Because of their legal training, because of their commitment to the city of Gary, and they are young and reflective of what we say to young people in Gary – get your education, and come back and help."
The mayor also acknowledged feeling touched by Shelice Tolbert's recollection of the influence of that early school visit.
"I feel ancient every time she says it," Freeman-Wilson said with a laugh. But the Tolberts, she said, are likewise inspiring younger generations as mentors and teachers.
"That's what we're supposed to do as attorneys," Freeman-Wilson said. "One of the things I'm clear on, and most of my colleagues share this point of view – it doesn't stop with us."
Finding balance
As married attorneys whose general practice is concentrated in similar areas – defense litigators who represent businesses, insurance and other complex matters – the Tolberts say they find a balance by sharing fulfilling things they enjoy and setting aside "date night" time for themselves. "Saturdays are our time," Michael Tolbert said.
And Shelice Tolbert acknowledges that a fair amount of the couple's time when they're not practicing is taken up by bar activities, church and community functions. "When it comes down to it, we're usually involved in the same things," she said, "and if we didn't enjoy these things, we wouldn't do them."
But finding the elusive work-life balance isn't always easy.
"The fact that we pretty much do the same things, we're in the same practice areas, we are competing for the same clients, which makes it a little difficult at times," Michael Tolbert said. "I can't think of a better person to lose a client to."
Shelice Tolbert estimated that 80 percent of her practice involves litigating, but she makes down-time a priority. "I do try to make sure I keep that balance so it's not consuming."
"I think first and foremost, when we put God first, it creates a balance for everything we put our energy into," she said. "Also, don't forget to have fun. Do things outside the law."
Over the holidays, for instance, she and her husband went roller skating – something they hadn't done since they were kids.
The Tolberts also find time to teach or mentor. Michael Tolbert, for instance, is a frequent presenter on getting expert evidence admitted and strategies in personal-injury defense. He also conducts a seminar called "Bridge the Gap" that provides new lawyers valuable practice tips.
Shelice Tolbert is an adjunct professor at Valpo, where she is a co-instructor of a trial-practice course in which students try a case from jury selection through closing arguments. "It actually keeps me on my toes," she said.
Michael Tolbert also gets something back from helping others succeed as legal practitioners. "Very rarely will people say, 'I got here all by myself,'" he said. "It really, really is a powerful thing to be able to help somebody and assist somebody in their professional growth."•
 
Please enable JavaScript to view this content.