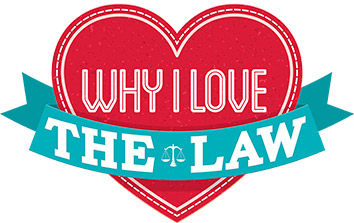 In honor of Valentine's Day, we asked Indiana Lawyer readers to tell us why they love the law. The responses contain a common theme – people – whether it's working with talented colleagues, teaching others about the law or helping people navigate through the legal waters.
If you're inspired to share why you love the law after reading these responses, feel free to comment on our blog, First Impressions, at www.theindianalawyer.com. We'll have a post up Feb. 12 specifically for your love letters to the law.
———-
 
I love the law because I like lawyers – well, most of them – particularly those who recognize we should solve rather than create problems and those who follow the advice of a wise judge that "collegiality costs nothing." I love the law because it requires mutual adherence to established rules resulting in orderly resolution of disputes that no other part of our society can resolve. I love the dignity of the courtroom, the privilege of representing others and the wisdom and experience required to do so effectively. I love that no day brings the same challenges as the day before.
Bob York
Robert W. York & Associates
————
 
Stevenson
Tonight at dinner my mom asked if I like my job, to which I said, "Yeah, I guess I do." She said she asked because I never have anything negative to say about it. I love the law for three main reasons. First, I love the honesty of when people address real problems. Second, I get to work with extremely bright and talented people, both in my office and on the opposite side of the bar. Third, my kids think the law enforcement badge I received after my first year as a deputy prosecuting attorney is very cool.
Caroline (Kennedy) Stevenson
Hamilton County Prosecutor's Office
————
Smith
Aristotle said, "At his best, man is the noblest of all animals; separated from law and justice he is the worst." Look around the world at places where the rule of law does not exist or is in serious peril and I think you find that Aristotle was absolutely correct. That is why I love the law.
Hon. Mark A. Smith
Hendricks Superior Court
————
 
Cox
I love the law because it enables me to be both teacher and student on a daily basis. Every new case presents a unique set of circumstances, an interesting cast of characters, and often novel and challenging legal issues, requiring me and those with whom I work to learn and grow both professionally and personally.
Dina Cox
Lewis Wagner LLP
————
 
Dugan
I love the law because it is cross-disciplinary, continually evolving and rich with permutations and surprises. I love that the foundation I am gaining in law school will empower me to embark on a lifelong educational pursuit – one with very practical implications for my clients. A career in the law, it seems, offers endless opportunity for community service coupled with personal intellectual enrichment. I'm glad I've chosen this profession.
Joseph C. Dugan
Indiana University Maurer School of Law, J.D. Candidate 2015
————
 
Kuhl
Weddings and light bulbs. Last year on Valentine's Day, my wedding ceremony was performed by one of my best law school buddies, now a judge, in one of those gorgeous small town county courthouses. Also last year, because I'm the attorney in the family, my brother asked me to officiate at his wedding. Had I not been a lawyer, I could not have participated in this way. Law is often at the heart of life's most touching moments.
As far as the light bulbs go – When a person comes to you with a question, maybe not even a legal matter but just because you're a lawyer, and you have the ability to give them a new way of thinking to solve it, then you get to see the "Aha!" moment of realization cross over their faces. It's like there's a light bulb shining right there above their head, lighting up. And you've just made their day a lot easier. That's the kind of empowering stuff lawyers get to do.
Laurie Kuhl
Director, Business Account Management Incentive Team, Indiana Economic Development Corp.
————
 
Faulkenberg
I love the law because it protects those that need protecting … especially children. Those that are neglected, abused and at risk are given a voice. I work as an attorney for Kids' Voice of Indiana, and I see the law protect children every day. The law can save a child's life and provide a better and brighter future for children and the community. When a child is safe and loved, there is no telling what they can do! "In serving the best interests of children, we serve the best interests of all humanity." (quote by Carol Bellamy)
Lindsay Faulkenberg
Kids' Voice of Indiana & The Children's Law Center
————
 
Trimble
At the risk of sounding corny, I wake up every single day and look forward to going to work. Why do I feel that way? The people. I love other lawyers, judges, colleagues, clients and everyone who we encounter in the legal world. By and large they are honest, intelligent, caring, interested (and interesting) people who live life as problem-solvers. They not only seek to solve the problems of their clients, but also the problems of our profession, our judicial system and our community. I am enriched by all of them!
John Trimble
Lewis Wagner LLP
————
 
Maley
I love the law because:
• the law is fascinating;
• law intersects everything in life;
• law is made by people and affects people; and
• lawyers are smart, creative, passionate people.
John Maley
Barnes & Thornburg LLP
————
 
Kurzendoerfer
I love that the law makes sure that all involved in a legal proceeding, citizens and non-citizens, have the same right to a fair trial. As the daughter of an attorney, I grew up loving the law. Today, I am still involved with the law from a different perspective. I am a Spanish legal interpreter. In this country, not only do defendants have the legal right to "have their day in court," but they have the right to understand what is happening in a courtroom in their own language. Not all countries have laws like this, but we do.
Vivian Kurzendoerfer
Piña Colada Interpreting Services LLC
————
 
Dubovich
For some, the law is a green-eyed mistress who jealously demands attention every waking hour, sucking the life from their souls. Those lawyers probably do not practice family law. I am a family law practitioner, which is a fancy way of saying I help people through difficult times. One day, the client might be a father desperately trying to reconnect with his young son. Other times, the client is a single mom trying to collect child support. Making a difference in people's lives and in the lives of their children is a blessing. How could anyone not love that?
Debra Lynch Dubovich
Levy and Dubovich
Please enable JavaScript to view this content.