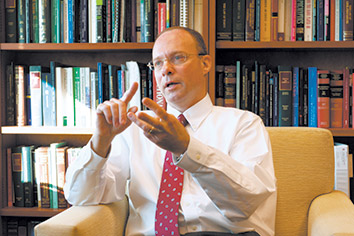 At the end of a long conversation about the Indiana University Robert H. McKinney School of Law, Dean Andrew Klein showed his passion for the law.
He had spent the previous hour outlining the future of the law school and the changing demands on legal education when he turned his attention to the books he has read. One that continues to have an impact on him was a biography of Thurgood Marshall's early career, "Devil in the Grove."
In reading about Marshall's work before he argued Brown v. Board of Education and before he became a Supreme Court of the United States justice, Klein was most struck by how the community held Marshall in high esteem because he was an attorney.
"So when someone needed justice, when someone needed a person to fight for what is right, they didn't go to the investment banker, they didn't go to the mechanical engineer – all of which are noble professions," Klein said. "They looked to a lawyer."
With scores of IU McKinney graduates working in Indiana law firms and businesses, and holding leadership positions in the Statehouse as well as the federal government, many are likely looking to Klein.
His arrival in the dean's office came after 13 years of teaching and scholarship at the law school and a turn as chief of staff for Indiana University-Purdue University Indianapolis Chancellor Charles Bantz. To the law school, Klein brings a love of teaching, an understanding of how the entire IU system works, and an appetite to solidify friendships and create new partnerships to better the quality of education.
IU McKinney reaps great benefits from its location – the proximity to state government, major law firms and corporate headquarters, plus having the advantage of being the only law school in the metropolitan area. Klein has the task of not only maintaining the institution's standing but also meeting new challenges.
His tenure will likely be shaped by his passion for the law and legal education.
"I have a great love for this school and the legal community," Klein said. "I think society needs excellent lawyers, and I think this particular school has an excellent model for providing legal education to those who are going to be part of the bar and part of this community going forward."
Vision
Klein stepped into the dean's office at a time when IU McKinney, like other law schools across the country, struggles with declining applications and falling revenue. Fewer college graduates want to pursue a career in the law, and legal education has been criticized for graduating students ill-prepared to practice and awash in debt.
Talking about IU McKinney, the affable dean spends time discussing the programs, externships and clinics currently offered to students rather than detailing what he envisions for the future. That may be a reflection of what he describes as the "difficult time" through which law schools are going. Thinking far ahead may not be possible when there is too much to pay attention to and watch for today.
"I really think when things settle and we come through this difficult period, I'd love for our school to be viewed as a model for the best of what a law school can do to train professionals and leaders," he said.
IU McKinney Vice Dean Antony Page rejected the notion that Klein lacked a clear plan for the school and instead described him as a "realistic visionary." Page said Klein will set the direction for the school by leading in a manner that builds consensus.
"Andy keeps in mind what is actually possible and feasible," Page said. "I believe Andy does have a vision for the school but he wants to keep that vision grounded in what is possible given the world that we live in and the constraints we have."
Klein has experience getting the faculty to support a plan during a turbulent period.
He was the associate dean for academic affairs when the law school's former dean, Anthony Tarr, stepped down in 2005 and Susanah Mead assumed the position of interim dean.
The law school was in crisis then. It was facing a $2 million deficit and a three-year deadline imposed by the university administration to erase the shortfall from the budget. Faculty skirmishes over charges of racism had also become public.
"If Andy hadn't been there, I don't know what I would have done," Mead said, recalling those two years she held the dean's chair.
She and Klein worked as a team during that "wonderful, crazy and very difficult" time. A key was explaining to the professors and staff what the school was up against so they would understand why they were not receiving raises and open positions were not being filled.
Klein's skills at diplomacy and "sticking to his guns" proved invaluable. As Mead pointed out, "You can't be everybody's best friend when you have to make cuts."
In the end, the law school got back into the black one year ahead of the deadline and, Mead said, everybody ended up smiling.
"If there were complaints about the faculty or anything, he was able to smooth things over in a way that made all parties feel as if their concerns had been addressed," Mead said of Klein.
Setting the foundation
Klein begins his day with a workout on either the elliptical trainer or the stationary bike before arriving at his office around 9 a.m. He usually heads for home about 7:30 p.m. unless he is attending a bar association function or alumni association meeting.
Making the external contacts and building support for the school in the community is the primary duty Klein has as dean. Connecting with alumni and the legal community across the state is "absolutely critical, absolutely essential," Page said, because these individuals review the resumes of IU McKinney graduates.
"We all understand here – as maybe we didn't understand five or 10 years ago – we need to help make sure our students have opportunities to get jobs and get good jobs," Page said.
Individuals who know Klein describe him as genuine, someone who cares about others and likes people. He often tells Page how much he enjoys attending the various events and occasionally seeks to organize some of his own as he did when he was visiting China recently. He put together an impromptu dinner for alumni who live and work in that country.
"Because he's new, I like to think he's going to set the foundation before he looks further ahead," said IU McKinney graduate and U.S. Bankruptcy Court for the Southern District of Indiana Judge Robyn Moberly.
Part of that foundation includes reaching out to feeder colleges and contacting potential students. As a parent who has sent her children to graduate school, Moberly said having a dean personally contact an applicant makes a big impression and can convince the student to enroll.
Klein likened legal education to an oversold stock that is now at a buy-low moment. Rather than looking at the current condition of the job market, law students need to look to what the opportunities will be when they graduate, he said.
"The attitude that says 'Don't go to law school today, it's a horrible investment,' is sort of like the person who, at the end of 2009 or start of 2010, said don't buy stocks because the stock market just crashed," Klein said. "The person who went ahead and dipped in looks pretty good right now."
Asked about disparaging commentary about law schools on the Internet, Klein whispered a rebuke to stay away from the blogs. "Some angry anonymous comments" posted online, he said, reflect neither the attitude nor the good experiences most attorneys have had.
"I tell students, you should be proud to be a lawyer," Klein said. "You have the capacity to do incredible good in ways that people in other professions don't, and that ought to be on your mind other than what some commenter wrote on a blog, hiding behind an anonymous name."• ——————– Andrew Klein
Age: 50
Hometown: Chicago
Cubs or White Sox: Cubs
Education: University of Wisconsin, majors: economics and journalism, 1985; Emory University School of Law, 1988
Clerked for: Judge Joseph Hatchett, U.S. Court of Appeals for the 11th Circuit
Law firm experience: Sidley Austin LLP in Chicago for three years
Academic life: began as faculty member at Samford University Cumberland School of Law in Alabama
Family: Wife, attorney Diane Schussel, and two sons, Tim and Jason
Hobby: huge sports fan
If not a lawyer would have become: probably a sports journalist.
What kind of year are the Cubs going to have in 2014: "Horrible."
 
Please enable JavaScript to view this content.