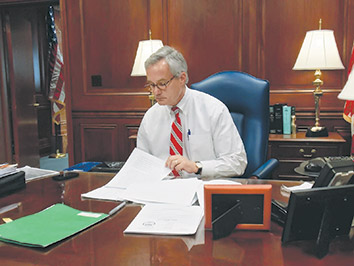 Judges of the U.S. District Court of the Southern District of Indiana are among the nation's busiest. They have been for years, and that's unlikely to change anytime soon.
Among the 94 U.S. District courts, Southern District judges carry the sixth-heaviest load based on weighted cases, with each handling an average of 724 cases.
Chief Judge Richard Young said the workload continues to increase even though the need for help has been apparent for decades. The Judicial Conference has authorized another judgeship for the Southern District since at least 1997.
 
"The Judicial Conference can authorize 50 new judgeships," Young said. "If Congress doesn't fund them, it doesn't mean anything."
Young said the District's workload "absolutely" argues for funding an additional judgeship, but odds are against it. "Congress is not outlaying funding of these new judgeships very often."
John Maley, a Barnes & Thornburgh LLP partner who practices in federal courts around the country, isn't optimistic either. "In the current environment, in the last
seven to eight years, it seems to be even more challenging to get that funding," he said. "I don't think we're going to see relief from the nation's capital."
Young in December presented an overview of the court's work at a Federal Civil Practice Update in Indianapolis. The statistics show a rising number of civil filings are increasing the caseload per judge. Civil filings in the District, for example, have risen from just under 2,500 in 2009 to more than 2,800 last year.
Roughly half of the Southern District civil caseload involves prisoner petitions or civil-rights claims, which on average make up about one-third of claims in districts nationwide. Prisoner petitions, particularly habeas matters, are assigned the heaviest weights.
But even when cases are tallied without weighted measures, the District's judges remain among the nation's busiest. The five active judges and one senior judge carry a total average caseload of 700, compared to a national average of 579. On that metric, the District judges rank as the nation's 12th busiest.
Southern District Clerk Laura Briggs said that in addition to the judgeship already authorized, Judicial Conference guidelines recommending a maximum load of 430 weighted cases would allow authorization of a second additional judgeship.
"If we had seven authorized judgeships, we'd still be over 430," Briggs said.
Young said part of the reason the District judges' caseload statistics have hovered near the top of the federal judiciary is that the District for years has had just one senior judge, Larry McKinney. Other districts have the benefit of multiple senior judges who can relieve heavy caseloads.
"We don't have that luxury at this time," Young said.
Northern District of Indiana
Chief Judge Philip P. Simon of the Northern District of Indiana said he's grateful to have three senior judges, two of whom carry full caseloads and one who carries half a caseload. That keeps the Northern District judges' workloads closer to the level recommended by the Judicial Conference. At 494 weighted cases per judgeship, the Northern District of Indiana ranks as 39th busiest in the nation on that measure.
Because federal judges after age 65 are entitled to retirement at full salary, Simon said the cases they take dilute the caseloads for active judges. "It really is true to say they're donating their time to the public," he said of senior judges.
Without the contributions of Senior Judges William Lee, Rudy Lozano and James T. Moody, the caseload of judges in the Northern District would be closer to those of their Southern District colleagues.
"We're not under near as big an emergency as they are," Simon said of the Southern District. "They have a real emergency."
Indiana University Maurer School of Law professor Charles Geyh said federal judges facing heavy caseloads invariably will have less time to focus on civil matters because criminal cases take precedent.
"The consequences for the administration of justice are not good," Geyh said. "That isn't to say crises or catastrophes 
are going to occur, it's simply to say there are only so many hours in a day and judges are having to spend less time on each case and having to do triage."
Meanwhile, Geyh said there's no reason to believe case filings will decline, so the caseload per judge will likely continue to increase. "It's a simple problem without a simple solution," he said.
 
Southern District judges handle the fifth-highest number of civil cases nationwide, according to federal court statistics. The average of 595 civil cases handled by each judge in the District last year compares to the national average of 420.
While caseloads have risen, Young said the District judges have worked to shorten the average duration of cases and reduce the number of cases that are more than three years old.
Maley said statistics bear out how the District Court has structured itself to handle a heavy volume with tight resources. Magistrate judges, for instance, are effectively employed, and the court has a high success rate in fostering settlements, he said.
"Even though they have a higher caseload, they're holding their own nationally" in efficiently processing cases, Maley said.
For the year period ending in September 2013, the median time between case filing and resolution was 8.8 months, down from the 9.5 months for the prior year period, and closer to the 2013 national average of 8.5 months.
As of September 2013, there were just 53 cases lingering more than three years in the District. That continues a decline dating to 2008, when there 195 cases more than three years old.
"What that means is we're working pretty hard," Young said. "We're cranking it out as best we can."•
Please enable JavaScript to view this content.