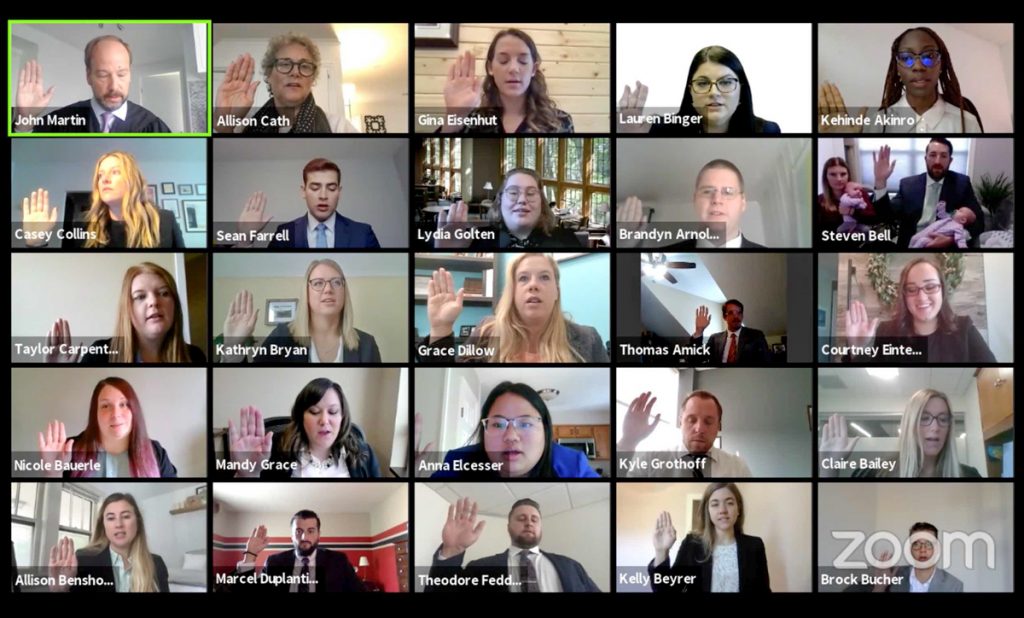 The following new lawyers were admitted to practice last month. Many of those listed below participated in virtual admission ceremonies Sept. 21. Here are Indiana's newest lawyers.
Edmund Leonard Abel
Maxwell James Adams
Kehinde Abike Akinro
Matthew Timothy Aldridge
Nicholas George Alexiou
Marina Cherice Allen
Thomas Russe Amick
Ariona Alexis Anderson
Brandyn Lee Arnold
Olivia Marie Ash
Weston Thomas Augustyniak
Carah JoelAnn Armand Austin
Sarah Elizabeth Austin
Rhea Anish Bagaria
Claire Elise Bailey
Peyton Mills Balasko
Justin Dean Barbour
Oliver Michael Barie
Terra Dodd Barley
Nicholas Garrett Bauer
Nicole Marie Bauerle
Steven Richard Bell
Katherine Diane Bender
Allison Nicole Benshoof
Mitchell Robert Berry
Zoe Stephanie Bestmann
Kelly McCarthy Beyrer
Morgan Brianna Bick
Lauren Ashley Binger
Claire Beth Black
Kathleen Elizabeth Boaz
Elizabeth Meyers Boeglen
Sara Jo Booth
Jacob Garrett Bowman
Shyann Ronea Boyer
Corinne Elizabeth Brandt
Kole Matthew Brinegar
Andrew Gregory Brown
Ashley Nicole Brunko
Kathryn Ann Bryan
Autumn Irene Bryant
Brock Carlton Bucher
Kristy Ann Burkhardt
Delainey Paula Burnett
Jacob Daniel Butz
Taylor Michelle Carpenter
Lindsay Ann Carter
Allison Ann Cath
Brian Christopher Cavanaugh
Joseph E. Cavello
Elizabeth Anne Charles
Raelynn Linnae Chastain
Emily Roesch Chastain
Jon Scott Christy Jr.
David Wayne Cliffe
Jamar Aurice Cobb-Dennard
Heather Natalia Coleman
Nell Charlotte Collins
Casey Shea Collins
Michael Brian Coppinger Jr.
Chelsea Elizabeth Cramer
Sloan Finley Crawford
Natalya Justine Cross
Katharine Clare Czinke
Olivia Nichole Daily
Zachary Holdon Damron
Riley Wyatt Daniel
Matthew Frederick Danielson
Christopher Chase Davis
Ranger Eric Davis
Alan Kirby Davis
Richard James Dawson Jr.
Adam York Decker
Christa Leigh DeNeve
Makayla Cheyenne DePoy
Dominic Antonio Desando
Reid Dickerson
Conner Ross Dickerson
Grace Elaine Dillow
Monique Danielle Dixon
Aleksandar Djuricic
Jane Marie Doll
Maria Sofia Downham
Kelsey Marie Dreessen
Michael Lakin Ducker
Marcel Antonio Duplantier
Rachel Elise Ehlermann
Drake Lee Eilert
Courtney Elaine Einterz
Gina Marie Eisenhut
Christopher Michael Eith
Anna Wei Elcesser
Hannah Lynn England
Jessica Margaret Espar
Tyler Brenden Ewigleben
Olivia Shae Detweiler Faddis
Sean Michael Farrell
Casey Alessandra Farrington
Alexander Arnold Fay
Theodore Robert Feddeler
Jason Alfred Feuerstine
Arriana Danielle Fitts
Jordan Douglas Florian
Otto Nicholas Frenzel V
Ashley Amber Gamble
Soroya Antoinette Garner
Jacob Andrew Gattuso
Sarah Nicole Gattuso
Alex John Georges
Lydia Ann Golten
Matthew Jacob Goldsmith
Adam Michael Goss
Margaret Waelder Graber
Mandy Jane Grace
Timothy Ryan Greer
Preston Roy Grimes
Kyle Guenther Grothoff
Brock Brady Hagerman
Brendan Michael Haile
Keltie Anne Haley
Ashley Michelle Hanson
Durham Jared Harris
Derek Anthony Harvey Jr.
Adam Jay Harvey
Spencer Joseph Hatfield
Ambrosia Nicole Hauser
Jacob Edward Hawkins
Colin Parker Hayes
Justin Maxwell Hays
Andrew Robert Heck
Blair Nathaniel Hedges
Cassie Nichole Heeke
John Knute Heinz
Olivia Anne Hess
Travis Lane Hillenbrand
Annie Jo Hills
Allison Lauren Hilmer
Rachel Elaine Hogenkamp
George Andrew Hornedo
Dustin Andrew House
John Aloysius Humphrey
Emily Susan Hunter
Kevin Alexander Imhof
Cayla Mary Irlbeck
MacKenzie Adair Johnson
Melissa Elaine Jones
Jason Michael Judd
Thaddeus Miles Keefer
Shanna Deane Kelly
Dyllan Marquis Kemp
Hayley Rose Kemp
Sean Michael Kilgore
Grant Alexander Kitcoff
Sofie Nicole Klapow
Hannah Marie Kochanek
Emily Davin Kopp
Avrohom Kram
Christa Kay Kumming
Cameron Paul Kuntz
Lauren Rae LaBaumbard
Daniel Allen Lamb
Alexxis Jade Lara
Sarah Elizabeth Larimer
Laqwesha Lana Lawson
Elizabeth Brook Lecher Hochstedler
Meredith Ann Lee
Rhett Christopher Lee
Stacy Jeewon Lee
Hannah Margaret Lehmann
Blake Tyler Lehr
Hilary Kathryn Leighty
Siyu Li
Bridget M Liddell
Nicholas Stephen Loehr
Shaniqua L.M. Loving
Kurtis Charleton Loy
Terrill Rae Luhrsen
Allison Noelle Lynch
James William MacDougall
Zachary Gerald Maciejewski
Lyla Tarek Ahmed Mahmoud
Alexander David Mann
Minelli Eriknaz Manoukian
Joshua Lee Marsh
Jessica Grace Martin
Ian Thomas Mathew
Keaton James Maurer
Stephen Ross Maxim
Molly Michelle McCann
Rebecca Jean McColm
Haylie Breanne McCracken
Chase Matthew McDermott
Megan Maureen McFearin
Samuel Louis McGlone
James Thomas McGovern
Jennifer Estrella McKinney
Kelsey Elizabeth McNeill
Dustin Wade Meeks
Alexandra Nicole Metcalf
Star Swan Meyer
Angela Star Meyer Goebel
Kurt Harrison Miller
Jacob Julius Miller
Savannah Kate Mitchell
Henry Jacob Moellring
Michael Alan Moffatt Jr.
Alexander Ian Moffett
Natalie Ann Mongarella
Christopher Robert Moon
William Dean Moore
Benjamin James Morrical
Kevin Michael Murphy
James Patrick Murphy II
Nicholas Christopher Naum
Colleen Elizabeth Naumovich
Miranda Alicen Nehrig
Katherine Alexandra Newman
Brittany Anne Nicholson
Weston Earl Nicholson
Sarah Yvonne Nieman
Joel Edward Norman
Devin Timothy Norrick
Trevor Duane Oakerson
Sarah Nicole Ogren
Riley Katherine O'Neal
Bob Rawlings Onghetich
Patrick Joseph O'Rear
Julie Denise Owens
Malorie Kay Palmer
Thomas Tyler Palmer
Dorothy Arong Park
Robyn Dorea Pasko
Justin Donald Pelkey
Claudio Jesus Perez
Regan Michele Perrodin
Meg Elizabeth Peterson
Alexandra Sophie Piechowicz
Mitchell Alan Powers
Robert Keith Prather
Hana Marie Priscu
Farrah Marie Pruskauer
Allison Elizabeth Pulliam
Brian Douglas Pyle
Audrea Layne Racine
Dawn Renee Rauch
Christian Allen Rector
Matthew David Reed
Eric Carl Richard
Zachary Clifford Richey
Rosemary Margaret Ripley
Aaron Lee Robbins
Scott Francis Robinson
Donielle S. Robinson
Brittney R. Rocha
Henry Tyler Rosser
Christopher Patrick Rubey
Ethan Drake Runnebohm
Adam James Ryan
Natalie Joseph Saliba
Kiratpreet Kaur Sandhu
Jordan Matthew Saner
April Dawn Satow
Jami Roxanne Sayeed
David Jacob Saylor III
Lauren Alyson Scheid
Brandon Alexander Schenck
Sydney Amanda Schroeder
Autumn Leigh Seib
Casey Anne Settles
Arqeil Jerell Shaw
Skyler J Shaw
Michael Vo Sherman
Kristina Renee Shover
John Michael Simon
Ashley Morgan Skibinski
Katherine Mary Frances Slisz
Chase Jonathan Smith
Kelly Lynn Smith
Myekeal Deaire Smith Jr.
Nathan Wayne Smith
Michael Peter Smyth
Alyssa Marie Specht
David Patrick Spicer
Nicole Rebecca King Spicer
Jared Werner Staudenmeier
Thomas Richard Steele
Adam Thomas Steinhilber
Gabrielle Anne Stephens
Mitchell James Stevens
Duncan Chase Street
Brittany Lynn Stumpf
Andrew Jacob Stutz
Riley Keegan Sullivan
Megan Marie Sulok
Jasmine Andrina Sweet
William Sweet
Samuel Robert Szynal
Virginia Anne McDaniel Talley
Jackson Elliott Taylor
Jarmeika LaNae Taylor
Rachael Rose Taylor
Kimberly Anne Thompson
Christine Armelia Thompson
Daniel Mikhail Thompson
Kylee Louise Tomblin
Jacob Ryan Torkeo
Cameron Suzanne Trachtman
Kelsey Lynn Truxal
Kyle Andrew Tucker
Maria Luisa Vaglica
Jacob Dale VanderHorst
Hope Kathryn VanOsdol
Andrew John Verhonik
Patrick John Vieth
Kathleen Elizabeth Waak
Benjamin Charles Wade
Richard Chen Wang
Brittni Crofts Wassmer
Brian O'Connor Watson
Travis Reed Watson
Tyler Makabe Watson
Veronica Ann Weaver
Allison Venetia Weber
Catherine Ann Wheatley
Janet Lynn Wheeler
Elizabeth Nicole Whitaker
Joshua Matthew White
Emily Diane Whitsett
Nicholas Eli Whitten
E. Sahara L. Williams
Scott David Wilson
Stephen Michael Wolff
Lakisha Shanae Woods
Zechariah David Yoder
Brandon Abraham Yosha
Taylor Alexandra Young
James Alexander Zimmerman•
Please enable JavaScript to view this content.