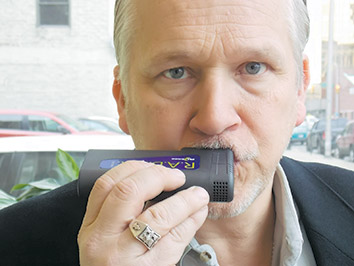 Offenders ordered to forgo alcohol in order to stay out of prison now have a powerful incentive to stay sober – they hold the key to their freedom in their hands.
Marion County and a few other Indiana localities are on the cutting edge of monitoring, having adopted a handheld, portable breath-test device that's gaining favor among community corrections officials.
Emerge Monitoring's RADAR – real-time alcohol detection and recognition – is a proprietary technology seen as an improvement over current monitoring that typically takes place at an offender's home, usually on a set schedule. The new system allows community corrections to send a vibrating signal prompting a user to submit a breath test, results of which are immediately available.
 
Also available immediately is the location of the user, because RADAR relays GPS data every time the device is used.
Marion Superior 18 Judge William Nelson presides in one of three Indianapolis courts where the devices are being used. He conveyed the story of a person sentenced to 90 days of monitoring who completed the program without a positive test.
"He asked me to keep him on it," Nelson said. "He said, 'Judge, it worked. It kept me sober for 90 days.' He thanked me for it."
Nelson's court is assigned Class D felonies, so he hears a fair number of repeat operating while intoxicated cases. He said those are the bulk of people he's sentenced to community corrections with orders they submit to alcohol monitoring. About 60 offenders in Marion County are currently using the portable devices.
Before last summer, those people would have used home monitoring. "The home unit is usually scheduled three times a day – when they get up, when they get home
from work, and before they go to bed," Nelson said.
"With this unit, it's going to be at least three times a day, but because of its portability, it's going to be more random," he said. Community corrections officers may schedule RADAR tests at specific intervals, order random tests or test on demand.
"I prefer this," Nelson said of RADAR. He said the units are more affordable and afford flexibility and discretion for users who continue to work, for instance. The units are funded through user fees, and in Marion County that can range from $1 to $12 per day based on ability to pay. That's the same fee arrangement as for home monitoring.
"It's a constant reminder of their need for sobriety," Brian Barton said of the device that program participants must carry with them. Barton was director of Marion County's Community Corrections for a dozen years before joining Emerge as director of the company's Indianapolis office.
"Marion County has always relied heavily on alcohol monitoring," Barton said. Because of jail crowding and other factors, he explained, Indianapolis has one of the largest community corrections programs in the nation.
Still, Barton said, "there was a hole in the alcohol monitoring in terms of real-time monitoring." The home-based units created lag time because results of breath tests had to be downloaded before officials would be notified of a violation.
Notice now is instantaneous. Barton said if a user presents a positive test, additional tests are taken to confirm the result, and violations can include sanctions up to revocation of community corrections and execution of a prison sentence.
At a presentation recently to Marion Superior criminal judges, some expressed concern that the device might be handed off to someone else to administer a breath test. Emerge officials explained that the device contains two independent biometric measures – a breath print and a pulse wave, both calibrated to the assigned user.
RADAR portable alcohol monitoring device. (IL Photo/ Dave Stafford)
Someone else using the device would trigger a false test alert, Barton said. Emerge officials told judges they were aware of two cases in which a participant claimed in court that someone else had provided a positive alcohol breath test. But when told that allowing someone else to use the device was a program violation, the offenders recanted and acknowledged the positive tests were theirs, company officials told the judges.
Wells County Community Corrections Executive Director Blake Poindexter said the northeastern Indiana jurisdiction was one of the state's first to test and deploy the RADAR device. "We were looking for a portable device we felt comfortable with," he said.
"We've been very pleased with the accuracy and the ease of use for the offenders," Poindexter said, adding that the county hopes to phase out its current in-home monitoring system. There currently are about 20 offenders using RADAR devices in Wells County.
The device also allows monitoring of offenders when they violate restrictions on their movements, for example. "Officers in the field after hours can check things out if we don't have compliance," Poindexter said.
Like Marion County, Wells County funds its program through user fees. The charge is $13 per day, but the county has established a fund for indigent users. "I did not have to increase that daily amount for newer technology," Poindexter explained.
Poindexter agreed that the units are beneficial for offenders who want to embrace a change in their substance abuse. "I tell them it's as much for their protection as it is for the confirmation of the court order."
When Rush County set the groundwork for a community corrections program that began last July, Director Ashley Stevens said staff members tested the devices. A pilot program is monitoring two offenders with the devices.
Stevens said the device's portability, real-time reporting and GPS features are among the most useful.
"We've worked with several different alcohol monitoring devices," Stevens said. "RADAR is exciting to us and adds a lot of elements that haven't been available in the past."
St. Petersburg, Fla.-based Emerge is a subsidiary of Bankers Financial Corp., one of the nation's largest providers of surety bail bonds, according to Barton. He said the Emerge technology represents part of the company's efforts to reinvent itself.
He said RADAR offers a combination of technology that's unique in the marketplace and easily adaptable to work with interlock devices installed on vehicle ignitions to require breath tests.
"I foresee a time that RADAR will be the device that we watch clients with," Barton said. "It allows people to go to work, have a family and strategize to stay out of jail or prison."•
Please enable JavaScript to view this content.