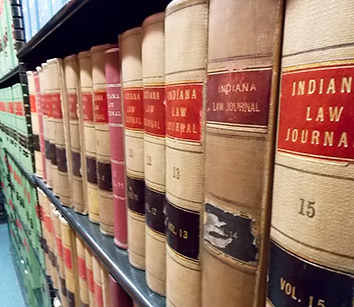 During his third year of law school, Bryan Babb did three things – eat, sleep and edit.
Babb, chair of the appellate services group at Bose McKinney & Evans LLP, was editor-in-chief of Volume 74 of the Indiana Law Journal at the Indiana University Maurer School of Law. He oversaw the work of a 70-member staff which selected articles and extended invitations for publication, cleaned the citations to match Bluebook style and, of course, edited.
He would print a hard copy of the article and, using red and blue pens, set about marking up the text. The different colors did not have any special meaning, Babb explained, but looking at two pigments was easier than reading a sea of red ink. Day and night he would spend hours editing, even having his wife drive on trips so he could sit in the back and continue working.
A former captain in the field artillery with 1st Armored Division of the U.S. Army, Babb described his turn in the editor's chair as the most demanding thing he has ever done.
Editors and former editors echo Babb's sentiments. The long hours they spent reading and editing articles honed their writing and critical thinking skills, the abilities they need and use in the practice of law.
Outside academic institutions, law reviews are seen in a different, sometimes less flattering, light. The common complaints about publications include concerns that students are editing the articles, getting a piece published can take months, and the end product has little relevance to the practicing bar.
In a 2007 column, Adam Liptak, U.S. Supreme Court correspondent for The New York Times, quoted sitting judges who said they do not read journals because the articles are too theoretical for practical use.
Indeed, when Chief Justice John Roberts made his famous quip about law review articles being too esoteric, he was adding to the criticism of the scholarly journals that can be traced at least as far back as 1936 and Fred Rodell's article "Goodbye to Law Reviews."
 
Frank Sullivan, retired Indiana Supreme Court justice, thinks the disparaging critiques are badly misplaced. Law reviews, he said, have been indispensible to him as a practicing attorney, judge and now as a teacher at the Indiana University Robert H. McKinney School of Law.
While on the Supreme Court, he regularly read the scholarly journals and required his clerks to do a survey of law review literature whenever he was researching and drafting an opinion. The articles were helpful in gaining a better understanding of a provision in a statute or the Constitution.
Sullivan pointed to his opinion in City of Indianapolis v. Armour, 946 N.E.2d, 553, 556-57 (Ind. 2011) as one example. The central issue was whether a city ordinance violated the equal protection clause of the U.S. Constitution.
As part of his research, Sullivan drew upon two law review articles and his own examination of a previous U.S. Supreme Court case, Allegheny Pittsburgh Coal Co. v. Commission of Webster County, 488 U.S. 336 (1989). He reached the same conclusion as the articles' authors that Allegheny was no longer good law and the ordinance was constitutional.
Subsequently, the Supreme Court of the United States affirmed his ruling in a 6-3 decision.
Esoteric and theoretical
Leandra Lederman, professor at IU Maurer School of Law, acknowledged at times that pieces in the law reviews can seem as if academics are talking to each other rather than offering something useful to practicing attorneys. However, the theoretical can lead to practical applications.
Lederman
David Herzig, associate professor at Valparaiso University Law School, agreed. In an article for a legal journal, he said, scholars can go beyond describing the problem and move to offering potential remedies. And there within lies the law review's strength – the proposed solution can invite discussion among people that can then lead to an answer.
Law is formulated by people collaboratively thinking about the problem and talking about a possible antidote, Herzig said. It does not get formulated in a Legislature.
The article Herzig wrote on exchange funds illustrates the point he and Lederman made. Although the topic has limited appeal, the New York State Bar's tax section referred to Herzig's article when it made recommendations to the U.S. Treasury regarding exchange funds.
In turn, the journal Tax Notes asked the Valparaiso academic to write a response to the New York Bar's suggestion, which he did in a shorter article. The conversation between the bar association and Herzig, he pointed out, was started by a law review article.
Former Valparaiso University Law Review editor-in-chief Jonathan Sichtermann reads law journals now that he is a deputy Indiana attorney general. The articles keep him abreast of development in the law and give him ideas for arguments to make in the briefs and motions he files with the court.
The law reviews are very important to lawyers, he said.
"They're esoteric, they have a philosophical voice but law reviews look at the law from what it should be. They deal in broad philosophical issues that don't come out in court," Sichtermann said. "I think you need the scholarly journals to provide the foundation to practice."
Student editors
Having published extensively in her 20-year career, Lederman has a positive perception of student-edited law journals.
"My experience talking to students at law reviews, they work really hard to do a good job," she said. "They try to pick the best articles and they want the journals, when they come out in print, to be the best product possible."
Students can be biased, picking the articles that cover the areas of law they have studied, Lederman said. Articles written on subjects not part of the first-year curriculum could have a harder time getting accepted and law professors may then have an incentive to craft their pieces in ways that tie into the topics taught in the classes that most students take.
Yet the student-edited journals can get the written works into print faster than peer-reviewed publications, Lederman said, and, in her experience when students are editing the articles, they will usually defer to the author.
Most of the student editors' time is spent checking footnotes and making sure the citations conform to the Bluebook style. In print, the footnotes are usually separated from the article by a line and student editors take full control of what is below the line.
Herzig admitted he gets frustrated by the ongoing tradition of having a citation for practically every sentence. When law reviews were available only in paper form, having detailed footnotes with page numbers were necessary for research. But now, he said, with online formats readers can use a keyword search to find the cited passage.
Easing the rigid citation rules would give the students more time to edit the text which, Herzig added, is a more useful learning activity.
Sichtermann
Sichtermann remembers his experience working on Volume 46. He devoted afternoons and evenings to editing and always got a little anxious when calling the authors to discuss his suggestions for changes to the text.
Now that he is a practicing attorney, he would like, at some point, to sit on the other side of the table by writing an article for a law review. When the student editor called him with questions and changes, Sichtermann said he would keep his own experience at the Valparaiso Law Review in mind.
"I would know where that 3L is coming from," Sichtermann said. "I would give that 3L full control below the line and we'd talk about above the line."•
Please enable JavaScript to view this content.