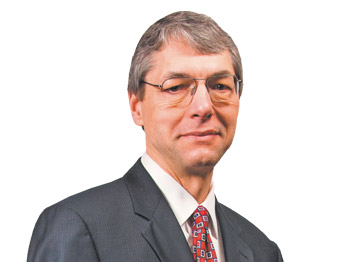 Phillip L. Bayt has shepherded Ice Miller LLP through significant changes in the business and legal markets. Phil led the effort to combine the firm with the Ohio regional firm of Schottenstein Zox and Dunn Co. LPA, which added nearly 100 lawyers and two new offices to Ice Miller. In addition to building one of the leading practices in the state for sophisticated real estate transactions, he is a civic leader who has been involved in many major projects that have enhanced downtown Indianapolis and central Indiana.
Last year you led the firm through a successful rebranding effort – the first in 10 years. Why is it important to update the firm's outward image?
It's important to share with our clients and our prospective clients some clear messages about who we are and what we do to protect our clients' interests. While our prior brand image served us well, it was time for a more up-to-date look and a new take on how we share that message.
Why practice in the area of law that you do?
Our team helps our clients build buildings and businesses to achieve financial success and add value to the community. It is personally very rewarding to see every day the tangible results of the hard work and creativity of those efforts.
How has the law in the gaming industry changed since you started?
In the beginning it was enormously exciting to be an integral part of building an entire industry in the state of Indiana from scratch – from the adoption of legislation, to the initial licensing and development of projects each in the hundreds of millions of dollars, to thousands of new jobs. The gaming companies in Indiana have now come down to earth as a mature set of businesses that compete for leisure dollars with each other in and out of the state as well as with other leisure activities. The industry remains a vital force in the Indiana economy and continues to be an important driver of tax revenue, wages and capital investment.
If you couldn't be a lawyer, what would you do for a living?
Film director. What a great and powerful way to communicate a story.
Who is your favorite fictional lawyer?
Denny Crane, "Boston Legal."
What class do you wish you could have skipped in law school?
Criminal law. I still don't know what mens rea is.
What are some tips for achieving a work/life balance?
Being a lawyer in private practice is very demanding. If you love doing that, it is all just one seamless life. If not, you should look for another profession.
What civic cause is the most important to you?
I sit on the United Way Capital Fund Committee which allocates grant dollars for new capital projects for United Way agencies. It is heartwarming to hear the stories of the great work these organizations do, and it is special to be a part of the decision-making process that can provide resources to those organizations to continue and enhance their missions to serve people in need.
What's something about you not many people know?
I actually like our dog more than I let on.
What's been the biggest change in the practice of law you've seen since you began?
Relationships were very stable when I began my career. Today, lawyers are more mobile and many clients find value in having multiple legal relationships.
What was the worst or most memorable job you had prior to becoming an attorney?
Most memorable: In college I worked at the Hungry Mind Bookstore, which was a decade ahead of its time and one of the first adopters in the country of the modern format of books, coffee shop and easy chairs as a gathering place for those who love books and learning.
Why do you think people often have negative stereotypes about lawyers?
We start from a disadvantage because we are often at the center of a dispute and either have to disagree with others or dwell on the negative. The party on the other side doesn't like us because we are advocating against that party. Our own client may not have a great experience because the client doesn't want to be in the dispute in the first place.
Is there a moment in your career you wish you could do over?
No regrets. I have enjoyed serving clients and helping to build successes for them.
We hear a lot about civility. Have you noticed a change in how attorneys treat each other since you began practicing?
I have the opportunity to interact with lawyers in many states. We are blessed with a group of lawyers in Indiana who are civil to each other and, by and large, whose word is their bond.
What's your guilty pleasure?
Dark chocolate.
What's something you've learned over the years that you wish you could go back in time and tell your younger self?
Patience.
 
Please enable JavaScript to view this content.