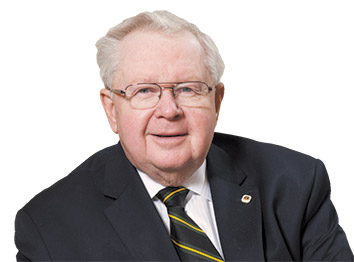 When Joseph T. Bumbleburg earned his law degree in 1961, instead of joining a firm, he shipped out on active duty in the Judge Advocate General's Corps until 1964. He was commissioned First Lieutenant in the U.S. Army Reserve. He joined Ball Eggleston P.C. in 1964, where he focuses on real estate development, municipal law, zoning and subdivision law. He also has extensive civil trial experience. Joe serves as judge advocate for the American Legion Department of Indiana, a position he's held since 1999. He's active with his law school alma mater, often serving as a judge for the Sherman Minton Moot Court Competition. Joe was on the board of trustees for Ivy Tech Community College for 15 years and currently sits on the board of directors for the Tippecanoe County chapter of the American Red Cross.
You've been practicing law for 50 years. What legal skills or traditions have faded away over the years that you would like to see return?
Civility; extemporaneous speaking in the courtroom.
We hear a lot about civility. Have you noticed a change in how attorneys treat each other since you began practicing?
Yes. The "take no prisoners" attitude and the use of discovery not as a legal tool, but as a weapon.
If you couldn't be a lawyer, what would you do for a living?
Teach history.
Who is your favorite fictional lawyer?
Atticus Finch ("To Kill a Mockingbird"); Hans Rolfe ("Judgment at Nuremburg").
What is the best thing about practicing law in Lafayette?
Lafayette is home, and I'm helping many people that I grew up with.
What was the worst or most memorable job you had prior to becoming an attorney?
I enjoyed three years of military practice in the Army and attendance at the U.S. Army Infantry School that was required before the Judge Advocate School.
What's something you've learned over the years that you wish you could go back in time and tell your younger self?
Make time to be with family.
What are some tips for achieving a work/life balance?
Find a hobby and do it.
What hobbies do you enjoy?
Antiques and going to auctions.
What's something about you not many people know?
I tend to be an open book.
Why practice in the area of law that you do?
I enjoy it. It's a field that needs to be done.
What's been the biggest change in the practice of law you've seen since you began?
Computers and electronic research.
Why do you think people often have negative stereotypes about lawyers?
TV has not helped. Many people do not know what lawyers really do.
What civic cause is the most important to you?
Continued growth of Ivy Tech Community College of Indiana.
Please enable JavaScript to view this content.