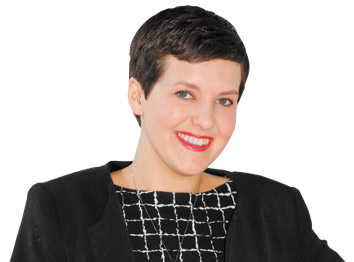 Carly A. Brandenburg (Photo/ Pete Doherty, Doherty Images LLC)
Because of her poise and easy nature, clients and other attorneys are quick to place their trust in Carly Brandenburg, whose practice areas include medical and legal malpractice defense. Licensed in Indiana and Illinois, Carly has gained substantial trial experience during her seven years in the law and has participated in numerous arbitration and mediation proceedings in both states. She is an advocate and willing adviser to young associates at the firm. Carly has led Eichhorn & Eichhorn's food drive for the last two years as part of the March Against Hunger campaign, is a valued Junior Achievement volunteer, and has provided pro bono work for a local animal rescue group.
Why practice in the area of law that you do?
In law school I gravitated toward litigation and trial practice following wonderful experiences I had with the deputy prosecutor in Owen County, Bob Andree. Now that I'm practicing civil litigation, I don't think I could get as excited about other work. I love the rush that comes from presenting arguments at a hearing or conducting voir dire to select a jury. I've been fortunate enough to get to try six jury trials and many bench and small claims trials, and I can't imagine that it could ever get old.
What's something about you not many people know?
I have been snow skiing since I was about 2 years old. This past winter my 2-year-old daughter, Fiona, skied for the first time on the very same set of skis! Thirty years later, and they were still perfect!
What was the worst or most memorable job you had prior to becoming an attorney?
My best job ever – perhaps not just prior to becoming a lawyer – was when I worked on air and behind the scenes at the "Good Morning Vail" television show in Vail, Colo. Though I was working for college credit at DePauw rather than for pay, my volunteer status earned me the right to ski for free. I must have skied my weight in gold.
What is the most important lesson you learned from your mentor?
Listen more than you speak, particularly with your clients. They are experts in their fields and areas of business. You can miss important details if you're more focused on demonstrating your own acumen than you are about hearing and understanding someone else's problems.
You're licensed in Indiana and Illinois. Is there much of a difference between the tests?
While the tests are basically the same, the practice is very different. Having the chance to split my practice between the two states gives me better perspective and has definitely made me a better lawyer.
What civic cause is the most important to you?
My husband and I mentor a 14-year-old boy. We've known him since he was 9 and are proud of the young man he's becoming. I would recommend mentorship programs or other organizations that can have a big impact for children, like Junior Achievement, to anyone interested. I'm also a big fan of the South Shore Arts Center in my community, Munster, as well. It brings so many great opportunities for theater, art, and music for people in Northwest Indiana.
You're going to teach a course to a group of second graders though your work with Junior Achievement. Which is more intimidating: entering a courtroom before a trial or a classroom full of kids?
My experience with the second graders in Hammond has given me a better appreciation for what teachers do. I must be very prepared in order to keep them engaged for an hour each Friday. However, I have to say that the most intimidating experience I've encountered was walking up to the podium this past January to argue before the Court of Appeals. Once I started my argument though, I was amazed at how the stress melted away almost immediately.
If you could meet and spend the day with one lawyer from history, who would it be and why?
John Adams. I am reading his biography, and I find it amazing that he chose to risk his steadily increasing personal and political reputation as an ardent patriot when he agreed to represent the British soldiers accused of murder following the Boston massacre. Though on the opposite side of the political tide, he acted according to his conscience.
Who is your favorite fictional lawyer?
Vincent LaGuardia Gambini – better known as "My Cousin Vinny."
What's your guilty pleasure?
Thai food, cupcakes or watching bad romantic comedies (sometimes even for a second or third time).
Why do you think people often have negative stereotypes about lawyers?
I think it stems from a belief many people have that there can only be one right or wrong answer or position. For those of that mindset, they will have little respect for the skilled orator or writer who masterfully expresses her case and thereby makes it more likely for the position opposing their own to prevail. I believe if we are too quick to judge and decide questions, we're in trouble. It's rare anymore that a person approaches an important issue willing to have his or her mind changed. When there's no risk of being convinced against your position, there's little point in debate.  
If you couldn't be a lawyer, what would you do for a living?
Own a small bistro that makes "slow food" and has a large wine list.    
Is there a moment in your career you wish you could do over?
The biggest mistakes have been great learning experiences, but sure, I'd fix a few hiccups along the way.
What class do you wish you could have skipped in law school?
Probably tax law – just not my area of interest. I took it because I liked the professor.
 
Please enable JavaScript to view this content.